China Rolls Out Pilot Test of Digital Currency
This article by Jonathan Cheng for the Wall Street Journal may be of interest to subscribers. Here is a section:
In Xiangcheng, a district in the eastern city of Suzhou, the government will start paying civil servants half of their transport subsidy in the digital currency next month as part of the city's test run, according to a government worker with direct knowledge of the matter.

Government workers were told to begin installing an app on their smartphones this month into which the digital currency would be transferred, the worker said.

Civil servants were told that the new currency could be transferred into their existing bank accounts, or used directly for transactions at some designated merchants, the person said.

China is ahead of many other countries in preparing the launch of an official digital currency. In recent years, the use of traditional paper bills and cash has declined sharply, and smartphone payments have become so ubiquitous that many Chinese people, particularly younger urban dwellers, no longer carry their wallets or cash for shopping. Instead, they use Tencent Holdings Ltd. 's WeChat Pay and Alipay, operated by Ant Financial Services Group, an affiliate of Alibaba Group Holding Ltd.
Parallel currencies are an oddity which highlight a government's desire to fully control the ability of consumers to spend their own cash. The ultimate aim of these kinds of moves is to separate the use case for money so different units can be used for different purposes. The façade of wishing to curtail money laundering or terror financing is ubiquitous to all governments and this is a trend which has global appeal for heavily indebted countries.
The wider rationale is always about control. The release of digital currencies is at best a streamlining innovation that increases tax taking efficiency. At worst it is the modern equivalent of a ration book which will be used to pay for essentials as the primary currency is debased to cover massive outstanding debts.
Since the digital currency can be produced at will, regardless of claims to the contrary, and its purchasing power enforced by government price setting mechanisms, this is an important trend to monitor considering the monetary financing that is now been practiced just about everywhere and mountain of outstanding debt countries have no intention of servicing in the long term.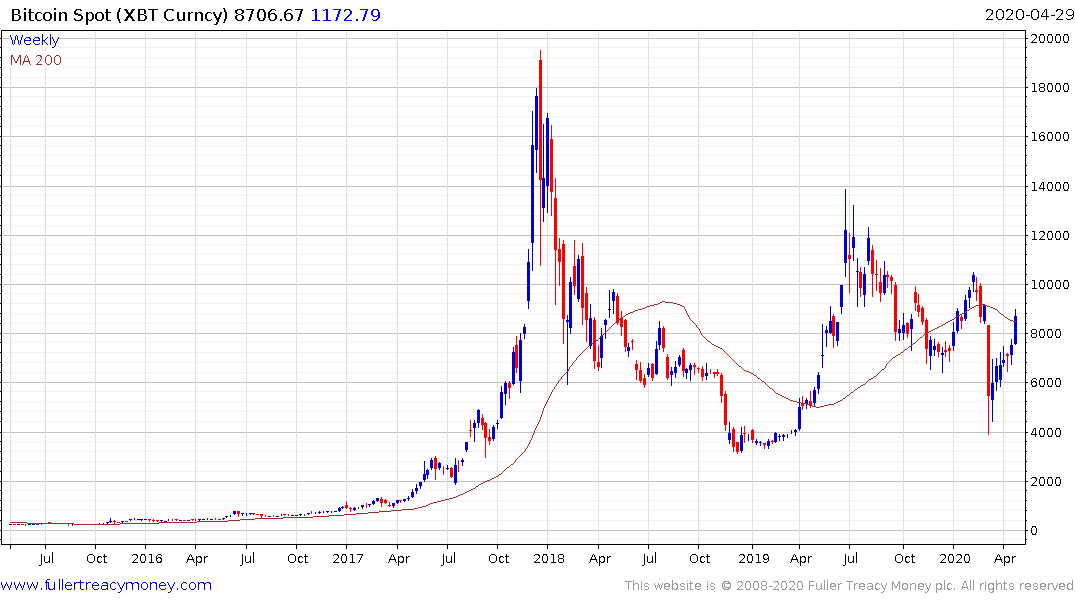 In the meantime, bitcoin's halvening is in 12 days. The price climbed through $8000 today and a clear downward dynamic will be required to question near-term scope for continued upside.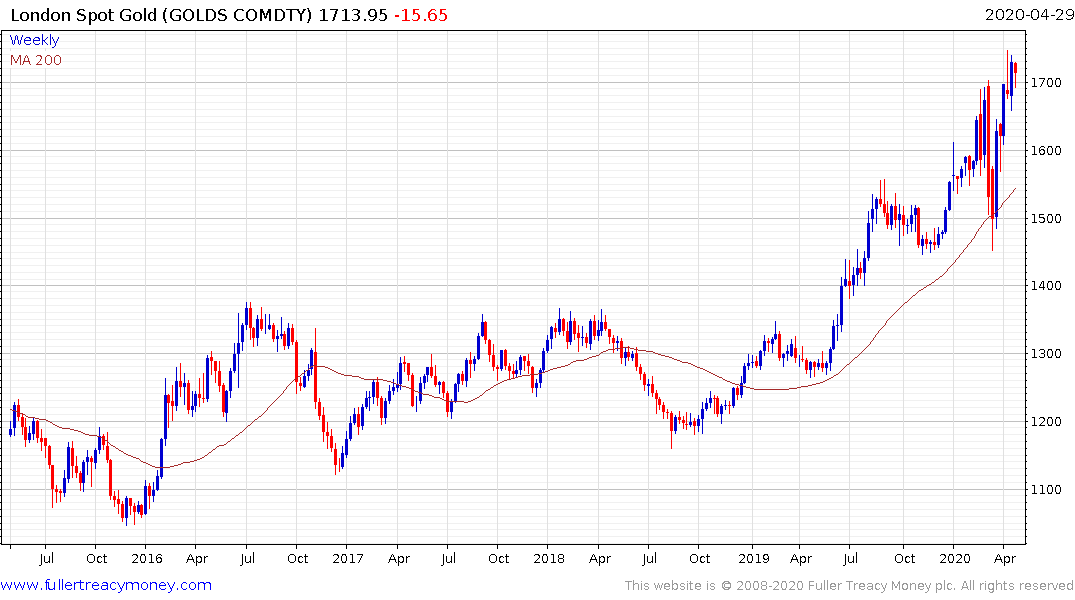 Gold continues to paused in the region of $1700 which is gradually unwinding the overextension relative to the trend mean.
Back to top