The Nasdaq-100 experienced its largest pullback in a year on Friday and there has been a cacophony of investors shouting about how everything is fine and there is nothing to see here. I'm not so sure about that. These reassurances sound shrill to me and come far too quickly after the biggest pullback in a year. In very broad brush strokes, companies that do not pay dividends should do well in a very low interest rate environment but that advantage diminishes as interest rates rise.
Nevertheless, many of the companies with the most overextended chart patterns have solid earnings and strong balance sheets suggesting the most likely scenario is mean reversion. Quite whether that happens all at once, gradually or some hybrid is yet to be determined.
That opens up the potential for some rotation out of high flying sectors into those which have potential for catch-up potential.
The Nasdaq Biotechnology sector falls squarely into that category. It pulled back sharply from its mid-2015 peak but ranged above 250 for most of 2016 and has spent most of this year-to-date ranging above 300 and has been firming from that level since Friday.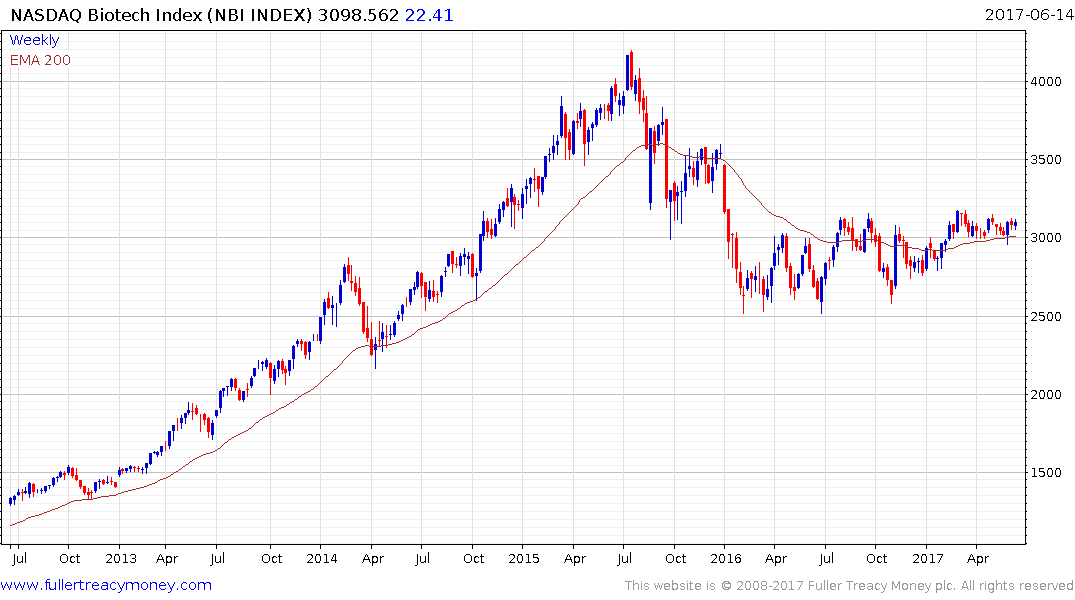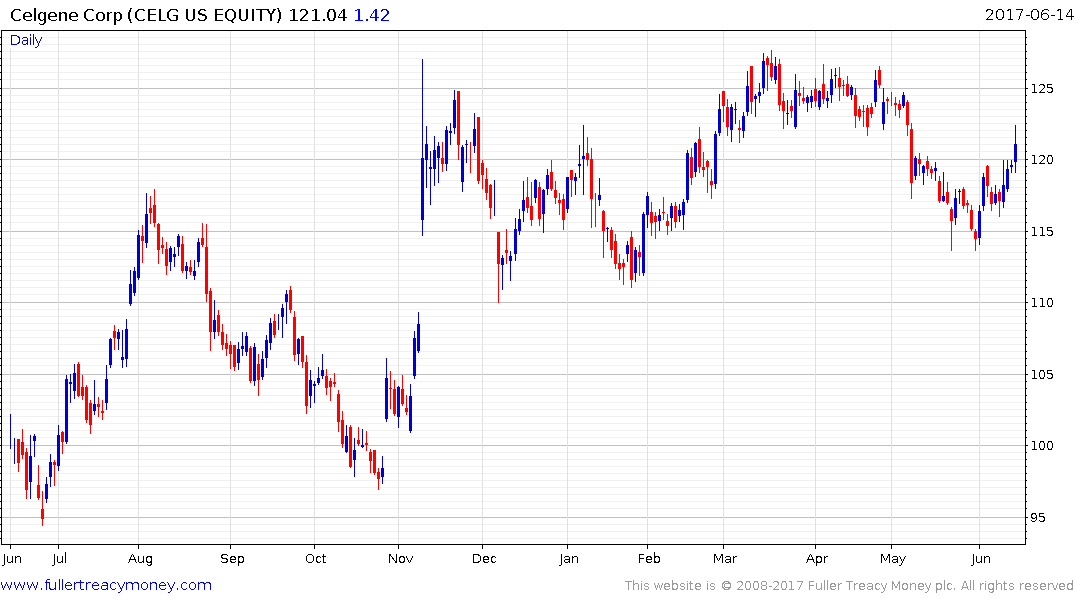 Celgene and Amgen are the largest shares in the Index. Celgene fell less that the sector and has firmed from the region of the trend mean on successive occasions this year.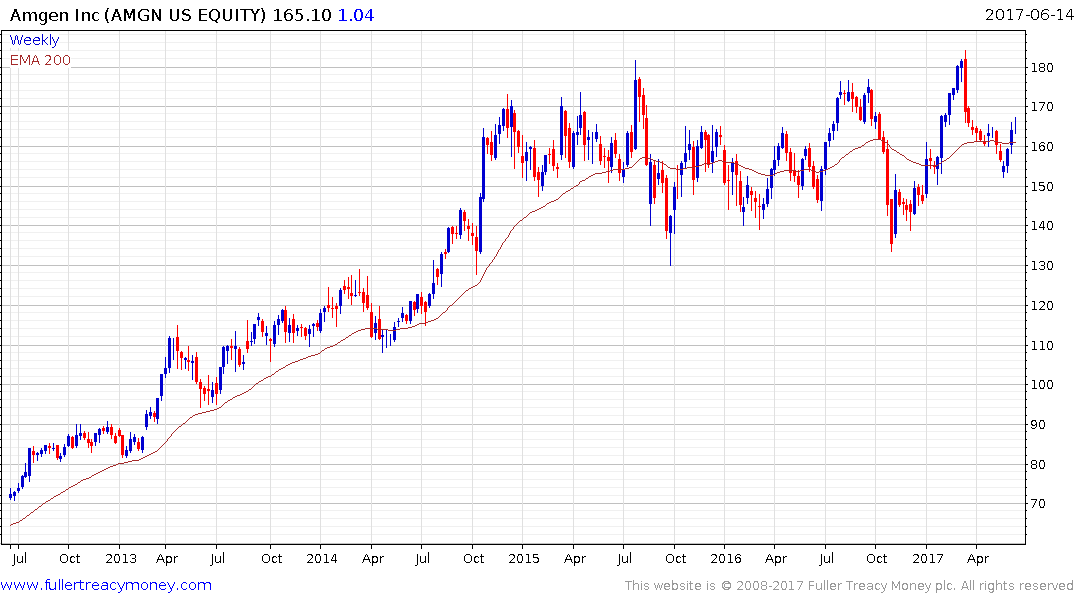 Amgen has been confined to a volatile range for over two-years; losing momentum well ahead of the Index. It failed to sustain the break to new highs in March and pulled back to the middle of the range before rallying to break the short-term progression of lower rally highs in the last couple of weeks. It still has work to do before we could conclude demand has returned to dominance beyond the short term.

The immuno-oncology subsector of comparatively small shares continues to exhibit relative strength.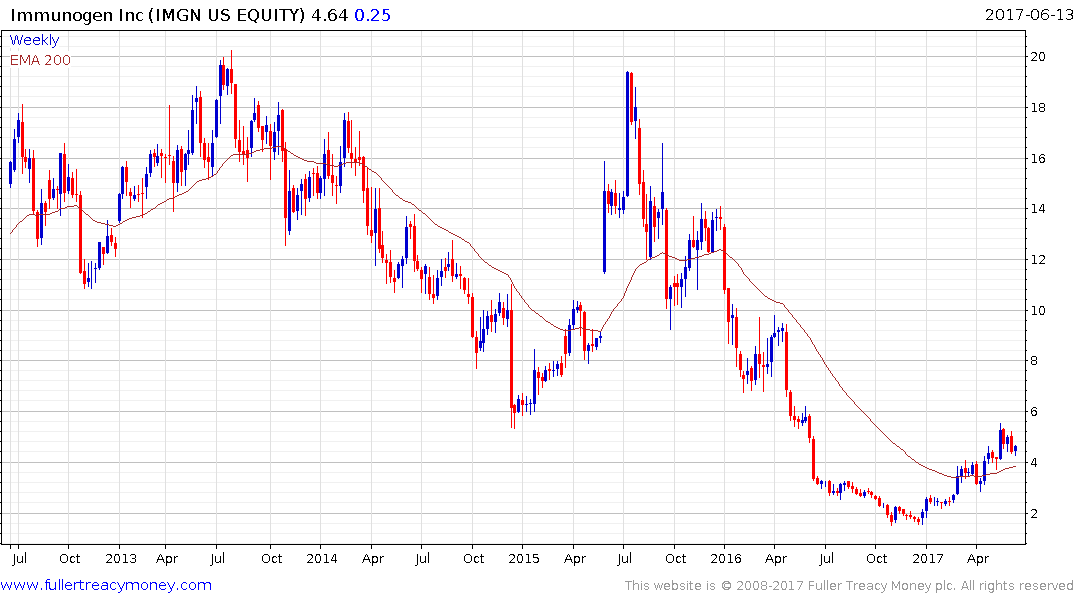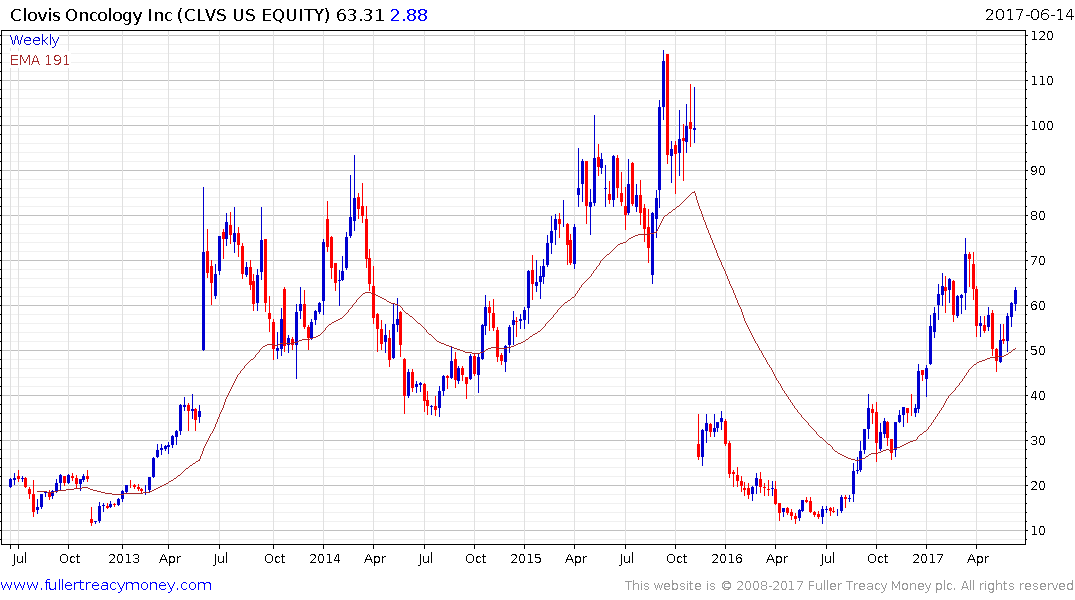 Immunogen and Clovis Oncology remain on recovery trajectories.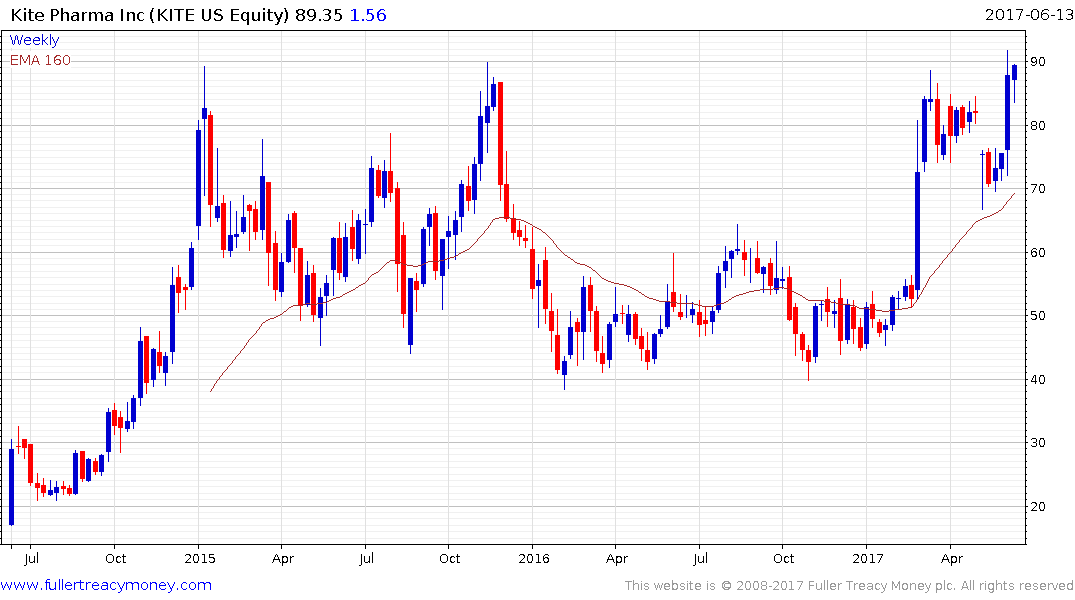 Kite Pharmaceuticals is testing the upper side of a more than two-year range.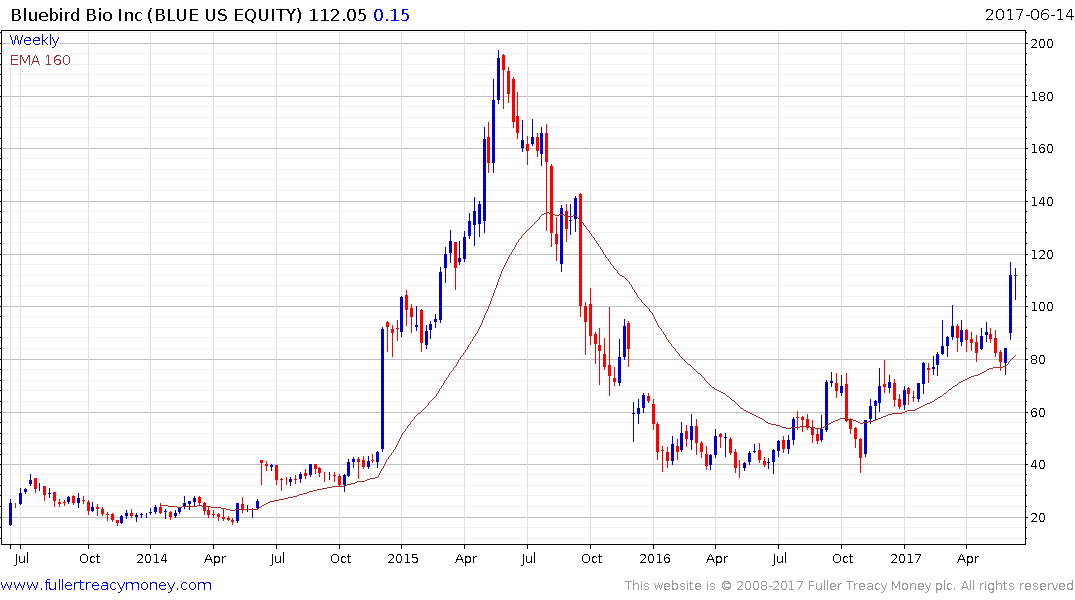 Bluebird broke emphatically higher last week and has held the move this week.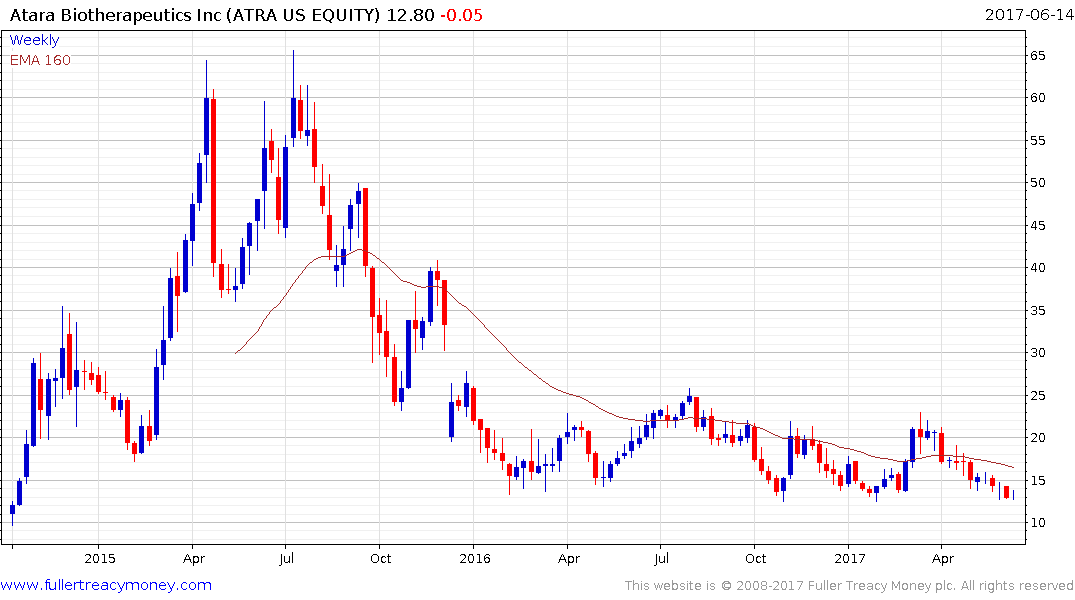 Atara Biotherapeutics is testing the lower side of an 18-month range and needs to break the short-term progression of lower rally highs to confirm a return of demand in this area.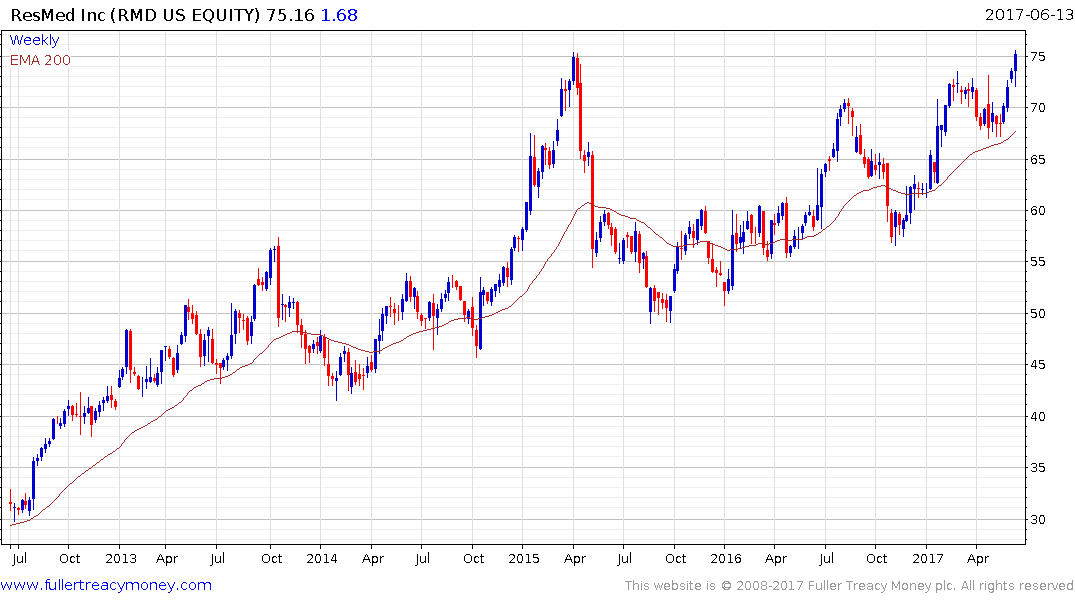 Elsewhere, Resmed has held a progression of higher reaction lows since the 2015 nadir and hit a new all-time high today.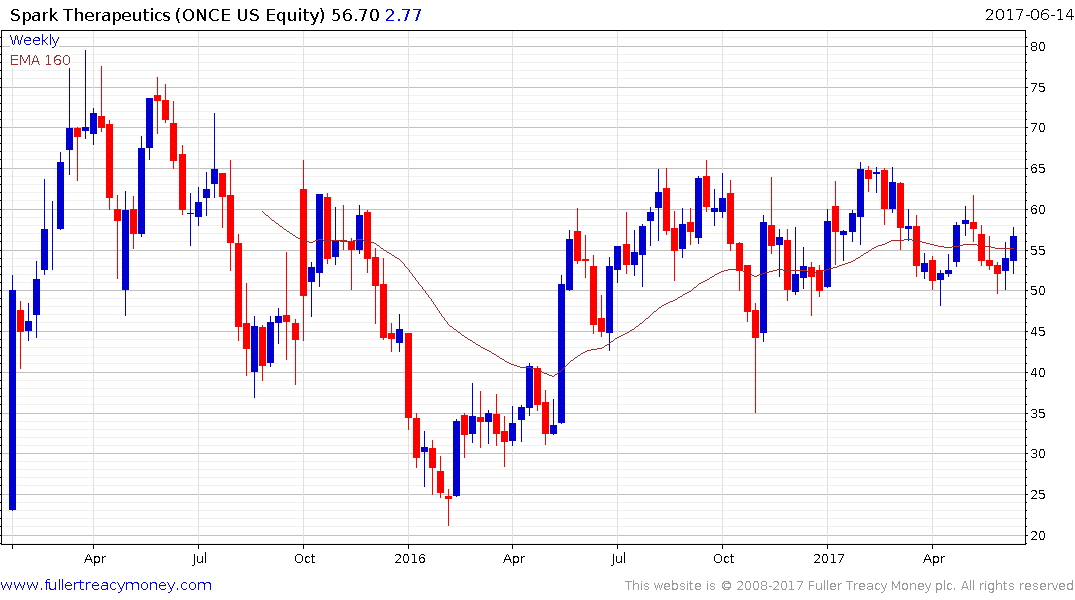 I was rather impressed by Katherine High's reluctance to succumb to hype at the MIT EmTech conference last October. She was under no illusions about the challenges companies face in bringing new products to market while being optimistic about Spark Therapeutics' potential. The share has been largely rangebound for the last 12 months but firmed from the $50 area this week.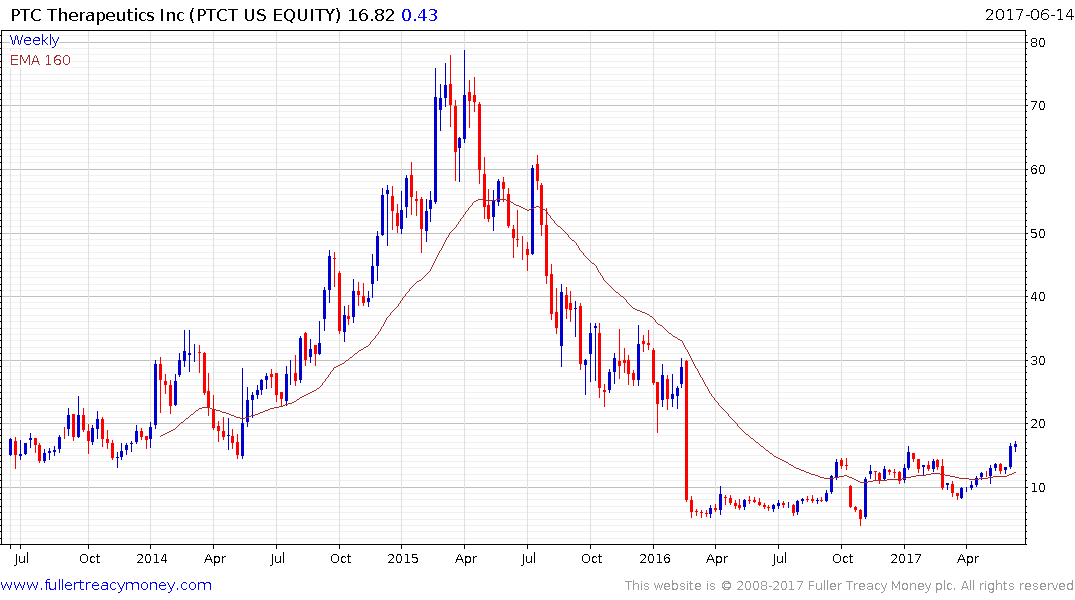 PTC Therapeutics appears to be in the process of completing a first step above its base formation.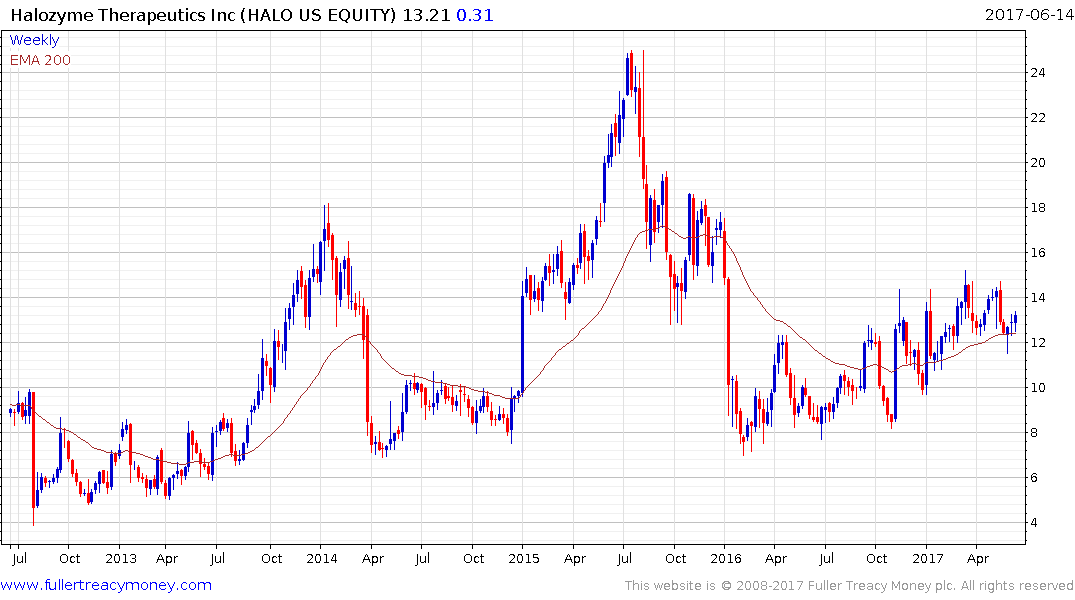 Halozyme Therapeutics is currently firming from the region of its trend mean.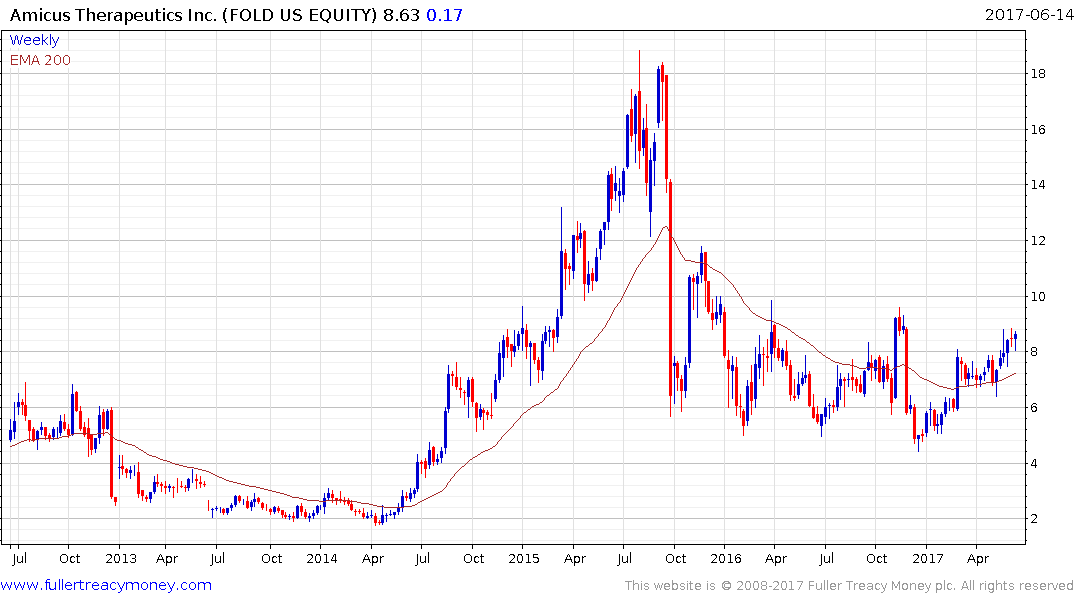 Amicus Therapeutics has been subject to quite acute volatility, even within its developing base formation and will need to sustain a move above $10 to confirm a return to demand dominance.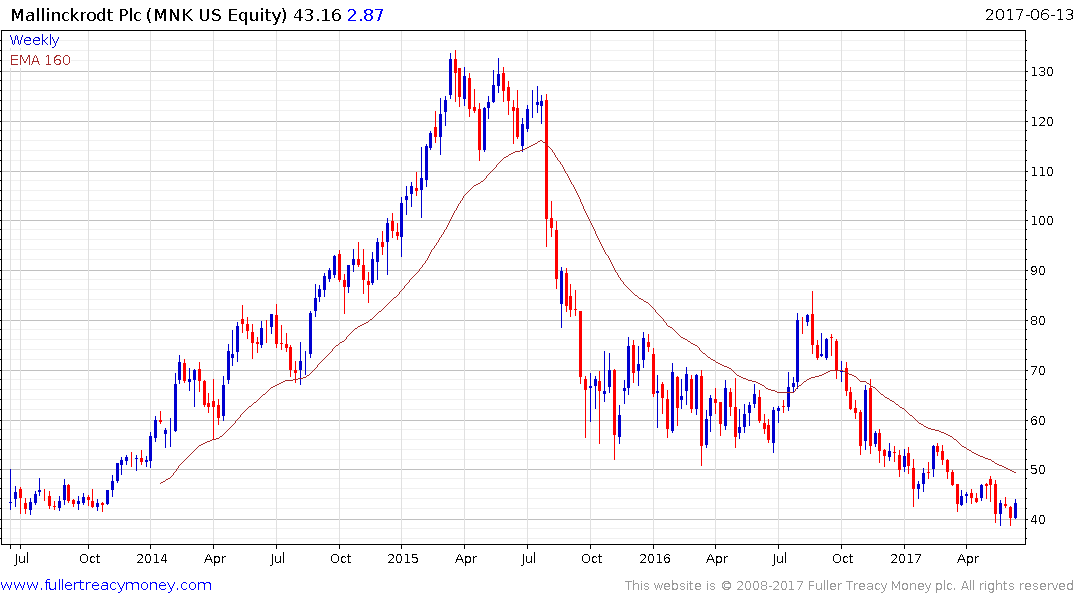 In the medical devices sector Mallinckrodt has halved in the last 10 months and management have stated they are exploring a wide range of options to arrest the decline. Quite whether that amounts to putting themselves up for sale is anyone's guess. The share has at least stabilised near $40 but needs to at least break the progression of lower rally highs to confirm more than temporary steadying.
Back to top