Art accelerates past wine to take the chequered investment flag
Thanks to a subscriber for this report by Frank Knight which may be of interest and includes a number of interesting graphics. Here is a section:
This time last year art was almost at the back of the Knight Frank Luxury Investment Index (KFLII), but 12 months later it has moved through the field to overtake wine and claim first place with growth of 21% to Q1 2018. Salvator Mundi, a work by the Old Master Leonardo da Vinci, turbo charged the headlines when it was sold for a staggering $450m last year, but paintings by less well-known artists have also been notching up multi-million dollar results, says Sebastian Duthy, of Art Market Research. "Prices for works by Impressionists and post-war artists have dominated auction sales for the past two decades. But this picture has been changing, with works by some contemporary artists appreciating rapidly in the last few years. "In March, artist Mark Bradford hit the headlines when his painting 'Helter Skelter I' was sold by ex-tennis star John McEnroe for a record $10.4m at Phillips in London. In May, rapper Sean Combs, aka P Diddy, paid $21.1m at Sotheby's for a painting by artist Kerry James Marshall. The figure represents an 800-fold increase on the $25,000 paid for the same work in 1997."
Here is a link to the full report.

Asset price inflation has been the singular success story generated by quantitative easing. The upward trend in the price of collectibles is a function both of growing economies but also of the quantity of money chasing a limited number of items. Since inflation has not been a major factor over the course of the last decade then money supply growth and the rise of a new wealthy class, not least in China, has fueled this market. With central bank balance sheets now contracting, it is a big question whether this growth will consider next year.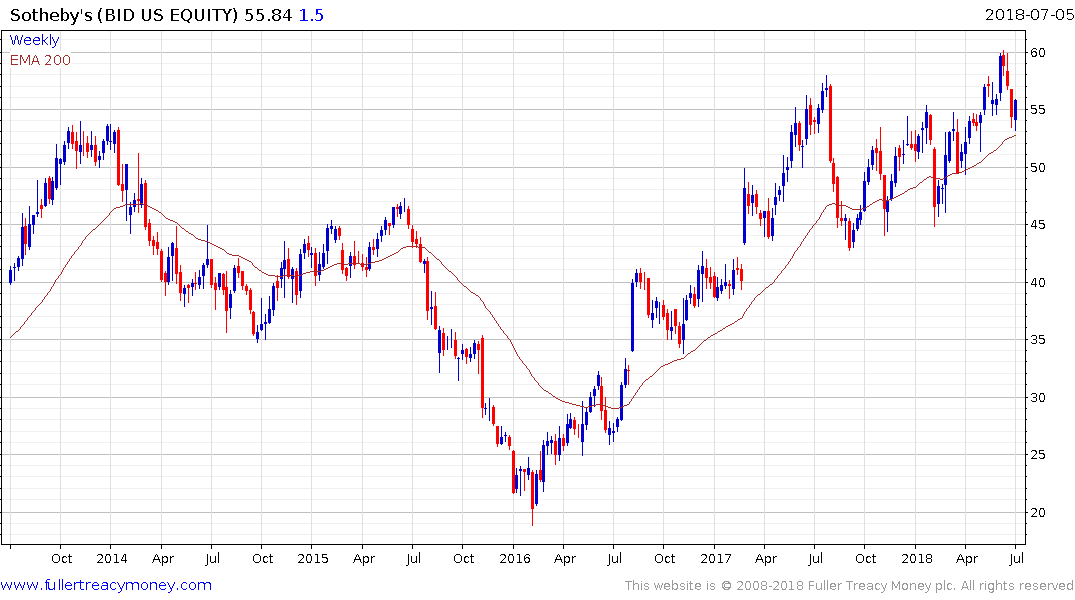 Sotheby's spent a decade ranging in a volatile manner below $50 before consolidating more or less in that region over the last year. It is currently testing the region of the trend mean, and a sustained move below it would be required to question potential for additional upside.
Back to top