Amazon Faces a Sharp Challenge from Walmart and Shopify
This article by Tae Kim for Bloomberg may be of interest to subscribers. Here is a section:
The announcement adds another major player to Shopify's growing alliance against Amazon.com Inc.'s e-commerce dominance. Last month, I wrote how Shopify CEO Tobi Lutke has often said his company's goal was to "arm the rebels" against the Amazon empire. The Walmart deal comes just weeks after Shopify signed a partnership with Facebook Inc. that allows Shopify's merchants to sell on the social-media giant's platforms under the newly launched Facebook Shops initiative. Before these moves, the aggregated online sales of Shopify's U.S. customer base already ranked as the second-largest in the country after Amazon, according to the company. And now with Walmart on board and the expanded deal with Facebook, they mark significant steps to expand Shopify's eco-system, making its platform a more viable and an attractive alternative to sellers.
Amazon is a facilitator of commerce by being a destination in its own right. When people shop, they go to Amazon in much the way we go to Google for information. Anyone who completes a transaction via Shopify's network is ignorant of the company's existence because it facilitates trade in the background. The big challenge in competing against Amazon is in easing the route to customer acquisition for Shopify sellers.
Google announced it was partnering with Shopify to help with customer acquisition last month. Facebook is also looking at integrating Shopify into Instagram and Wal-Mart is now offering to host Shopify listings on its platform.
All of these big pools of potential customers are looking for a way to compete against Amazon. Shopify is providing ecommerce solutions on the one hand but also facilitating trades for individual retailers as well. This is particularly relevant for big brand consumer goods which now wish to sell directly to consumers without using either Amazon or supermarkets.
This article by Ben Thompson from late April is one of the best explanations of the rationale for giving some credence to Shopify's growth strategy I have seen.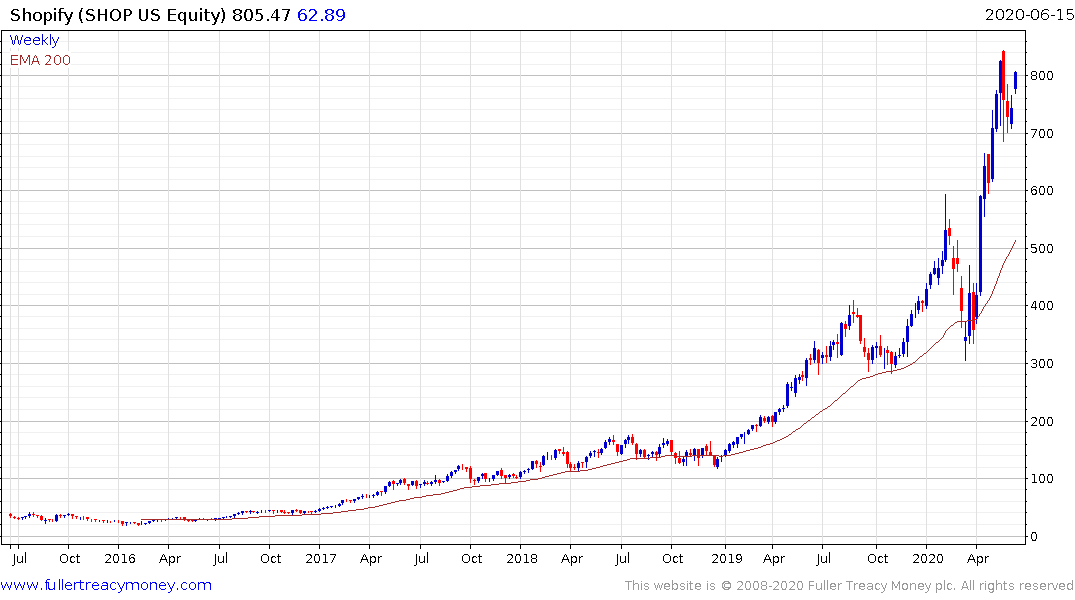 The share posted a large downside key day reversal in late May but quickly found support and rebounded over the last three sessions to retest the peak. Some additional consolidation is possible, not least because of the still wide overextension relative to the trend mean but the share remains one of the greatest beneficiaries of speculative interest arising from successive rounds of stimulus.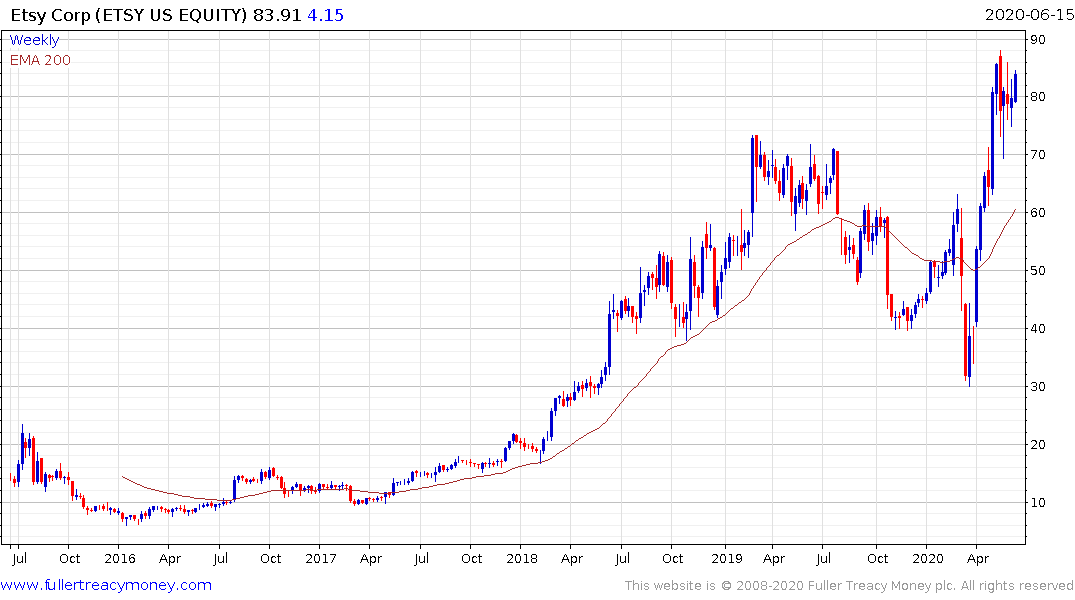 Etsy is niche platform which also facilitates trade for smaller retailers. The share broke out to new all-time highs in May and is also consolidating.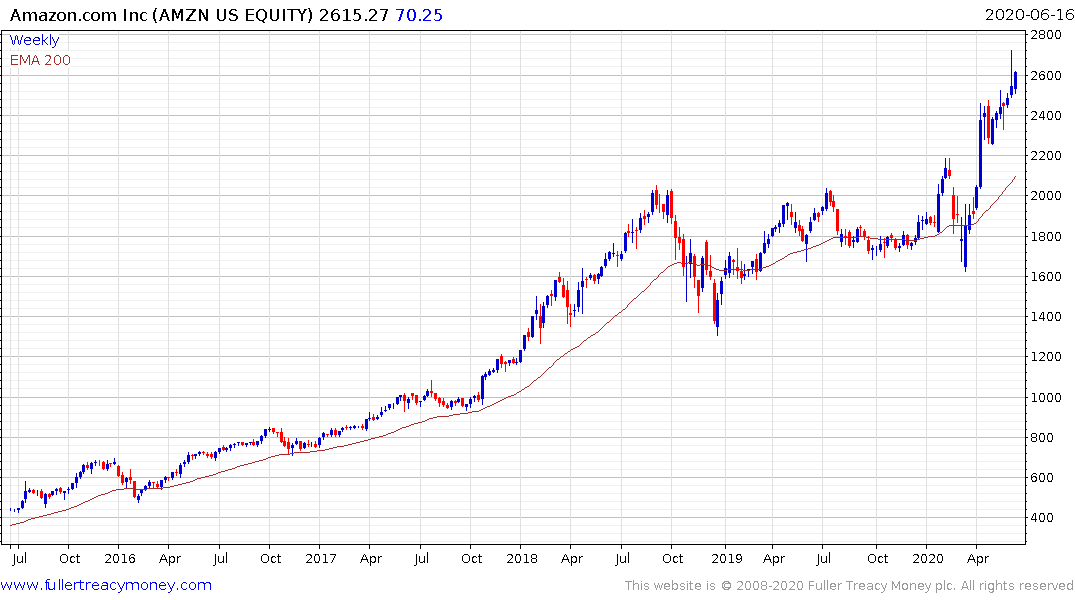 Amazon broke out in April, consolidated for six weeks and broke out again this month. It continues to hold the breakout and remains in the medium-term uptrend.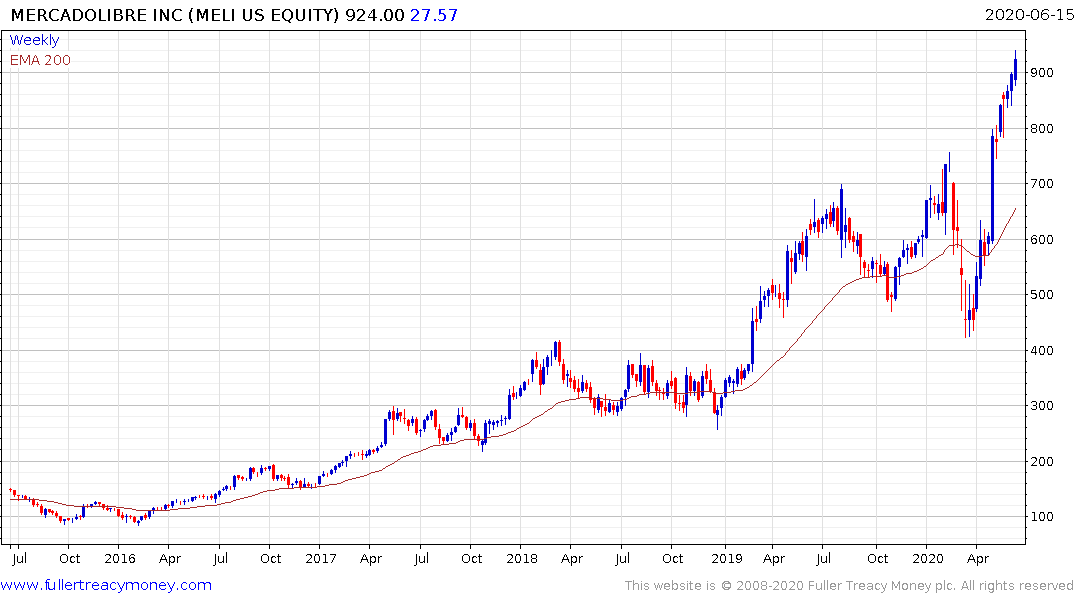 Mercadolibre, which focuses on ecommerce in South America, continues to extend its steep uptrend but is looking increasingly susceptible to some consolidation.
Back to top