Alpha: Made in China
Thanks to a subscriber for this article from the Man Institute. Here is a section:
China A has been notorious for various practical hurdles for active managers to effectively implement their investment strategies, one of which is suspension. Historically, Chinese-listed companies tend to suspend the trading of their stocks to avoid unfavourable price moves, sometimes even arbitrarily. In Figure 13, we plot the time-series of the suspension ratio of the China A-share market. The suspensions peaked in late 2015 and early 2016 amidst the market turmoil and a brief introduction of circuit break mechanism. Since then, the suspension issue has improved, driven by efforts from domestic regulators as well as pressure from leading index providers. When the market opened down 8% following the extended lunar New Year holiday and coronavirus outbreak in early February 2020, we were pleased to see no suspensions.

Conclusion
​With the abundance of breadth, inefficiency, local information and increasingly fewer implementation hurdles, we believe investing in the China A-share market can potentially benefit active managers looking to explore new alpha sources or diversify their existing strategies. In the meantime, the unique market dynamic, retail dominant investor base and the language barrier for leveraging local information pose significant challenges. As such, we believe investors should view China A-shares as a separate asset class, requiring dedicated research resources and allocation.
The question of governance is always relevant, but particularly so when the topic is return of your capital versus return on your capital. China is a difficult place to do business and there is a clear government effort to control the market narrative. That can have capricious consequences for investors in A-Share market. However, it is uncorrelated with other markets and that means modern portfolio theory practitioners will be drawn towards it as a diversifier for balanced portfolios.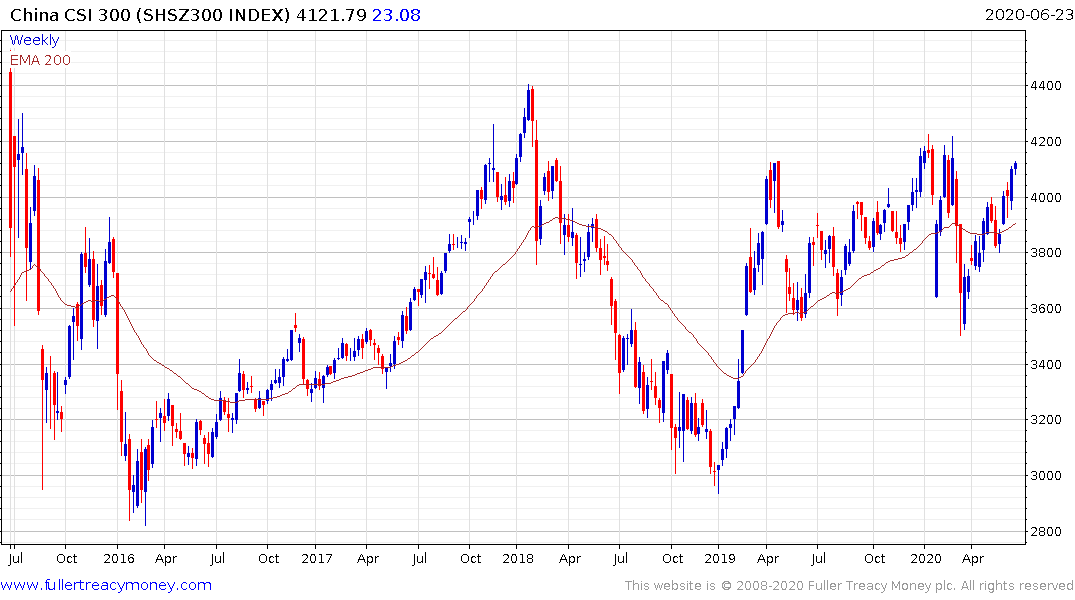 The CSI300 has been ranging, mostly below 4250, for five years. It is currently rallying back towards the upper boundary and a clear downward dynamic would be required to check potential for additional upside.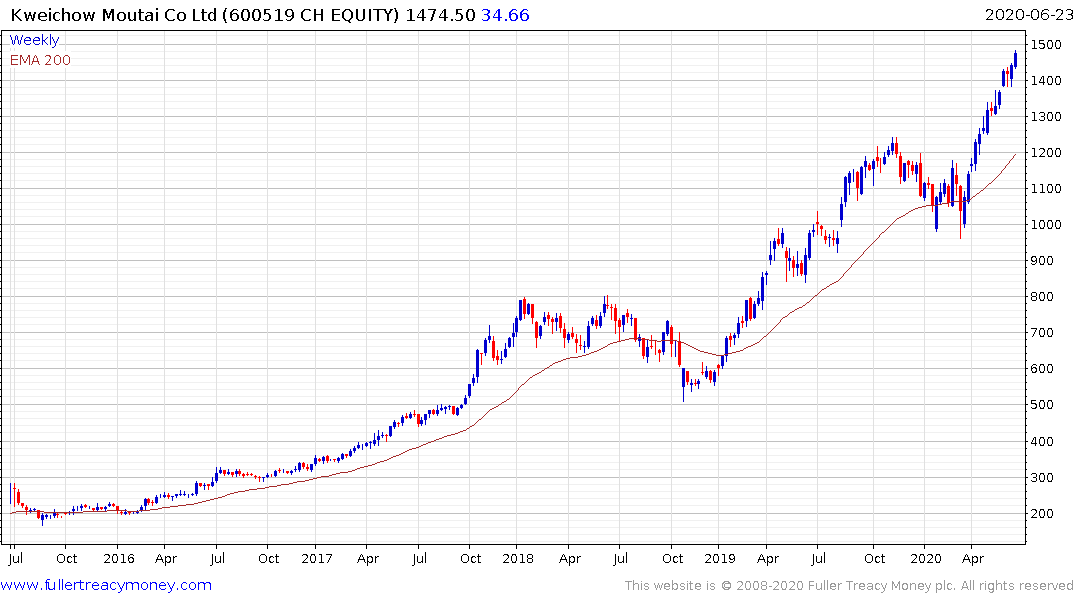 Kweichow Moutai continues to extend its accelerating advance. Its market cap is rapidly approaching that of ICBC as it threatens to become China's largest company. That's a pretty spectacular performance for a distiller. It's less surprising when the company is majority owned by the government and well-placed insiders and that Baijiu is the most common drink for sealing deals over dinner.
It offers a great example of the real key to doing well in the Chinese stock market. Follow the money as it flows towards insiders.
Back to top