A $117 Billion Chinese Wealth Manager Says It Was Scammed
This article from Bloomberg news may be of interest to subscribers. Here is a section:
To be sure, Noah is not alone. Central China Securities Co., a mid-sized brokerage, said on Thursday two asset management products totaling 240 million yuan are in danger of defaulting after the borrower falsified documents. It didn't provide more details.

For Noah, the incident has raised questions about the firm's approach to risk management, said Yan Hong, a finance professor at Shanghai Jiao Tong University.

"It exposed the lack of credit-risk controls and absence of a verification mechanism for contract authenticity, which is a low-level mistake for a manager of private credit products," Yan said.

It's not the first time that Noah's investments have run into trouble, as JPMorgan Chase & Co. analysts noted in a July 8 research report. In 2017, products managed by Gopher had exposure to China Huishan Dairy Holdings Co., which collapsed after being targeted by short sellers. In May 2018, Noah's Hong Kong unit was fined by the city's securities regulator for failing to comply with know-your-customer, due diligence and other requirements.

One lesson for asset managers is that they should talk to all of the relevant parties in an investment before committing money, said Jesse Si, a Beijing-based senior manager at Mintz Group, which specializes in due diligence investigations.
A clear trend is emerging of fund managers who invested in opaque instruments in an effort to generate outsized returns and are now suffering the consequences. GAM in Switzerland, Neil Woodford in the UK, France's H2O and a string of Chinese firms have all suffered from being unable to meet redemption requires because they invested in highly illiquid instruments.
The problem with these emerging issues is a decade of low interest rates has resulted in private asset prices being bid up to extraordinary levels. Even modest write-downs would result in funds guaranteeing instant liquidity having to take significant impairments. If we have to think about where the issues for investor security are going to arise in the next recession then the efforts fund managers have gone to in order to capture yield are at the top of the list.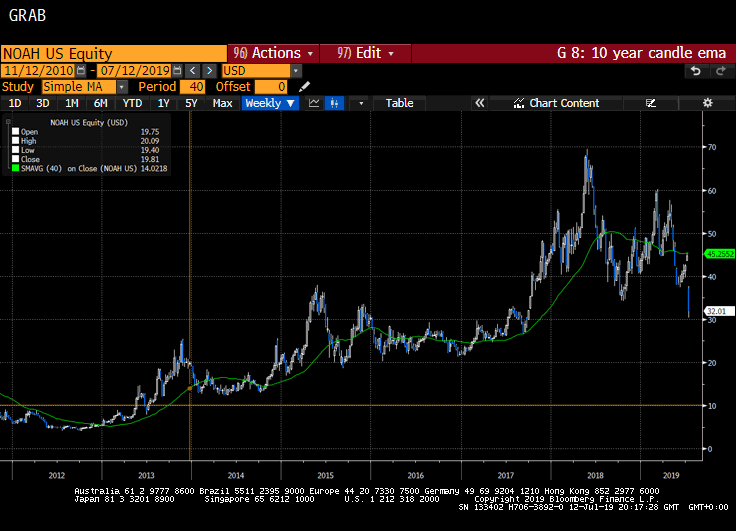 This is particularly true of China where the malinvestment resulting from a moratorium on defaults until quite recently has created some serious mispricing of assets. The economic slowdown, from the trade war, is now brining these issues to a head. Noah Holdings broke lower to new reaction lows today, to extend its downtrend.
Back to top