Secular Themes Review April 1st 2021
On November 24th I began a series of reviews of longer-term themes which will be updated on the first Friday of every month going forward. The last was on March 5th. These reviews can be found via the search bar using the term "Secular Themes Review".
The pandemic has been an accelerant. The full ramifications of what that means are becoming increasingly clear.
The pandemic took trends that have been in evidence for a while and exaggerated them. At the same time, it introduced new challenges which require new solutions.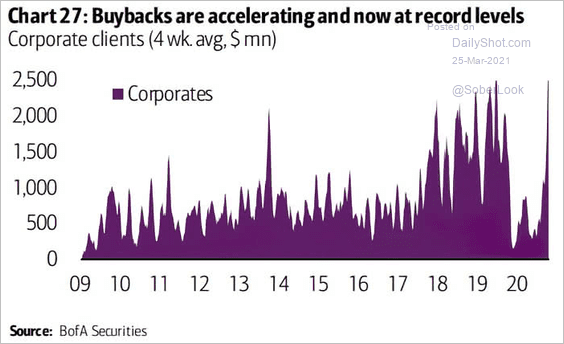 Corporations operating without the safety net of cash on the balance sheet has been a feature of the markets for decades too. They continue to be bailed out when they get into trouble. There is no evidence that the trend of using all available means to buy back shares has ended. In fact, buybacks are back at pre-pandemic levels. Companies were touting "resiliency" last summer. It appears to have been just talk. Buybacks represent a powerful tailwind for stock markets that were absent for much of 2020 but are now back in force.
Click HERE to subscribe to Fuller Treacy Money
Back to top