Petrobras Top Management Resigns in Brazil Corruption Case
This article by Sabrina Valle, Denyse Godoy and Paula Sambo for Bloomberg may be of interest to subscribers. Here is a section:
"With low oil prices and Petrobras's financial difficulties, the incentives to lean more on international oil companies to help develop the pre-salt have grown substantially," the Eurasia analysts wrote about the company's offshore discoveries. "It is clear that any substitute to Graca is likely to be someone with industry credentials and capable of conducting a 'house cleaning' of the firm."

The scandal has also engulfed Brazil's largest construction companies, which may bring public works projects to a halt, and threatens the presidency of Dilma Rousseff, who served as Petrobras chairman during some of the time when the alleged graft was occurring.

Foster, a frequent guest at the presidential palace in Brasilia, had offered to resign "one, two, three times" after the company was forced to delay quarterly results because of the scandal, she told reporters on Dec. 17. Foster said then that she would stay in the job as long as the president trusted her.

Rousseff has been a personal friend since the two worked together at the Ministry of Mines and Energy in 2003
An issue faced by many nationalised industries is that they become subject to the avarice of their politically appointed boards as well as rent seeking public officials. For Petrobras this was particularly poignant since the President of Brazil is a former executive. In the run up to the October election Petrobras rallied in anticipation of Dilma Rousseff losing. Unfortunately for shareholders she won and the additional decline in oil prices contributed to the share more than halving from what was already a depressed level.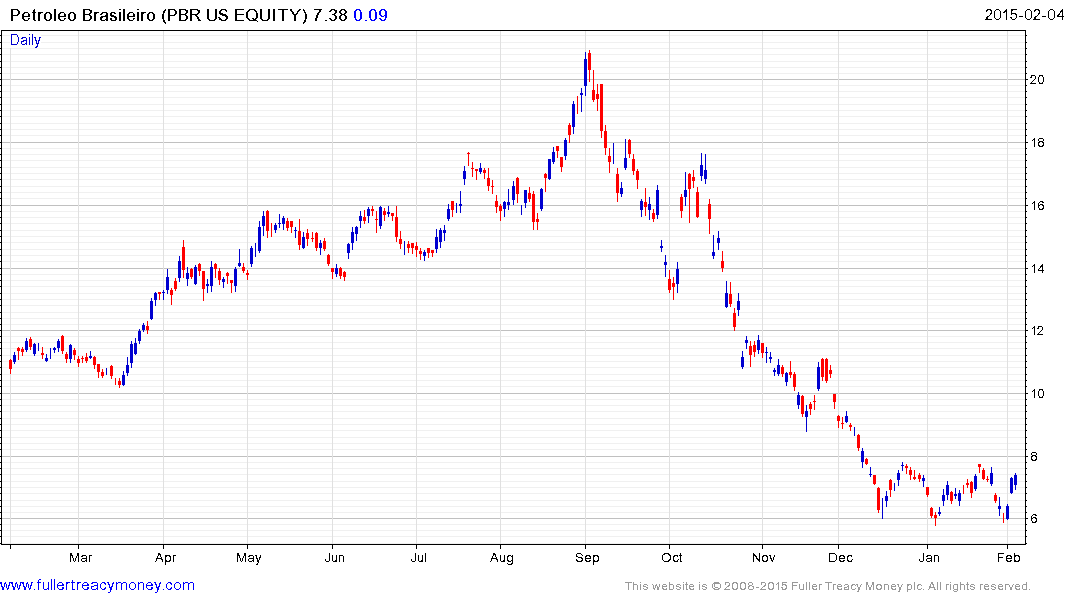 In the aftermath of the corruption scandal where billions evaporated there is potential for a new team to be brought in that can set the company back on a growth trajectory. However that will need to be accompanied by reform within the planning process and transparency in finances which the current government may not be willing to do. The prospect of opening up further development of the pre-salt deep water reserves to foreign companies would be a positive step because they would insist on transparency.
The share has stabilised in the region of $6 since December but will need to sustain a move above $8 to signal a return to demand dominance beyond the short term.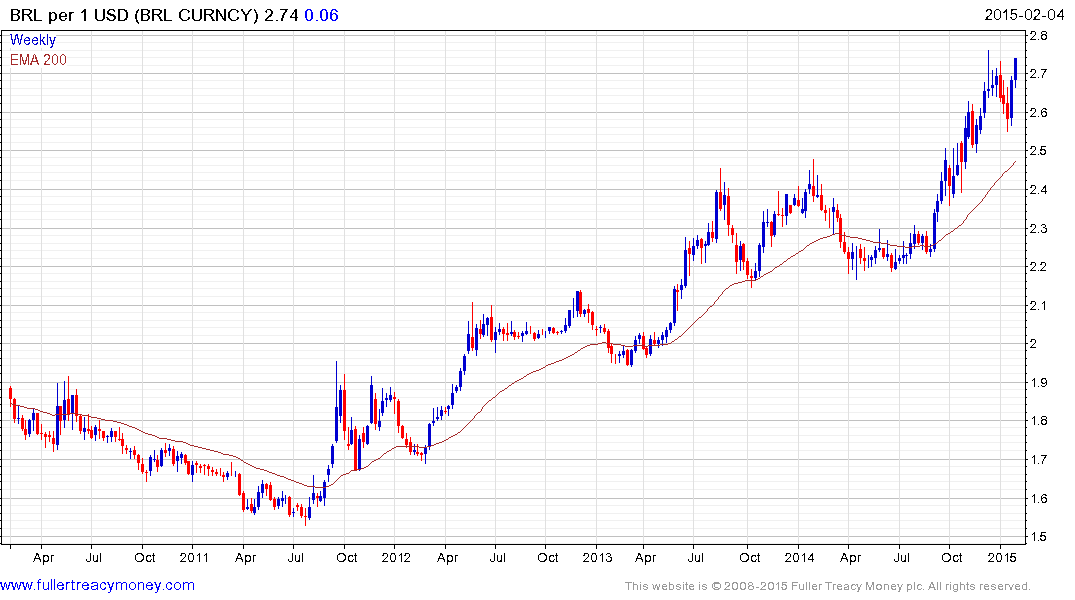 Additionally this scandal has done little to bolster confidence in the Real which continues to trend lower against the US Dollar.
Back to top