Oil Dips as Russian Pipe Flow Is Restored, Earnings Are Mixed
This article by Alex Longley and Alex Nussbaum for Bloomberg may be of interest to subscribers. Here is a section:
Russian pipeline operator Transneft PJSC, meanwhile, said it resumed full flows from the country's largest crude producer, Rosneft PJSC, after imposing restrictions amid concerns about contamination.

Oil has fallen all week as the specter of a renewed U.S.-China conflict dented the demand outlook, while American fuel stockpiles jumped. That's overshadowed worries that Iran may shut down the Strait of Hormuz, a key chokepoint for much of the world's oil shipments.
This week we have been treated to two examples of how much the energy sector has changed. First a hurricane shut down most gas supply in the Gulf of Mexico and hit the New Orleans area which is where a lot of processing infrastructure is situated. The price of gas fell instead of rising because so the market no longer relies on the Gulf of Mexico as a swing producer.
Then today, it would have been normal to expect oil prices to rise if Iran impounded a foreign oil tanker. However, that was not the case. The reinstatement of Russia's oil pipelines was more important today and the price declined. That helps to demonstrate just how much of an impact onshore US supply has had on the global energy market.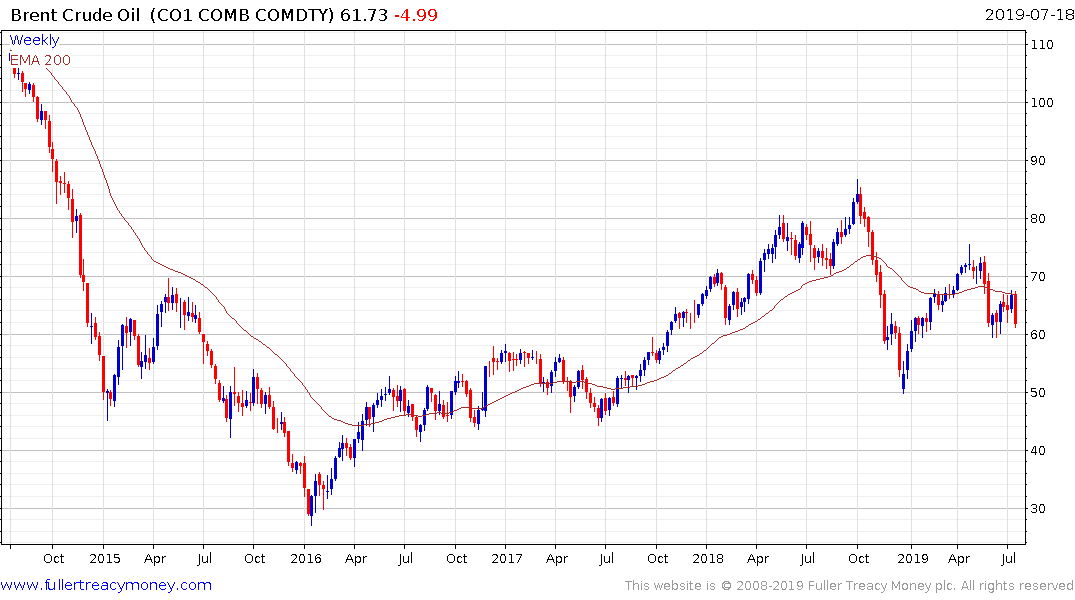 Brent Crude encountered resistance in the region of the trend mean on Tuesday and dropped today to break the very short-term sequence of higher lows. On the weekly chart this represents a large downward dynamic and a clear countermanding move will be required to question potential for additional downside.
Back to top