Mysterious radiation leak, 100x larger than Fukushima disaster, traced to Russian facility
This article from the Bigthink.com may be of interest to subscribers. Here is a section:
"Today most of these European networks are connected to each other via the informal 'Ring of Five' (Ro5) platform for the purpose of rapid exchange of expert information on a laboratory level about airborne radionuclides detected at trace levels," it says. "In October 2017, an unprecedented release of ruthenium-106 into the atmosphere was the subject of numerous detections and exchanges within the Ro5."

State-owned Russian nuclear corporation Rosatom denied the findings of the recent study.

"We maintain that there have been no reportable events at any Rosatom-operated plants or facilities," Rosatom said. "Both the national regulator and experts from an independent international inquiry inspected the Mayak facility back in 2017 and found nothing to suggest that the ruthenium-106 isotope originated from this site, nor found any traces of an alleged accident, nor found any evidence of local staff exposure to elevated levels of radioactivity."
This kind of headline, regardless of whether it originally occurred in 2017 is bad news for uranium miners. We can make the case for the viability of next generation reactors until we are blue in the face, but one headline grabbing accident kills any progress make in rehabilitating perceptions.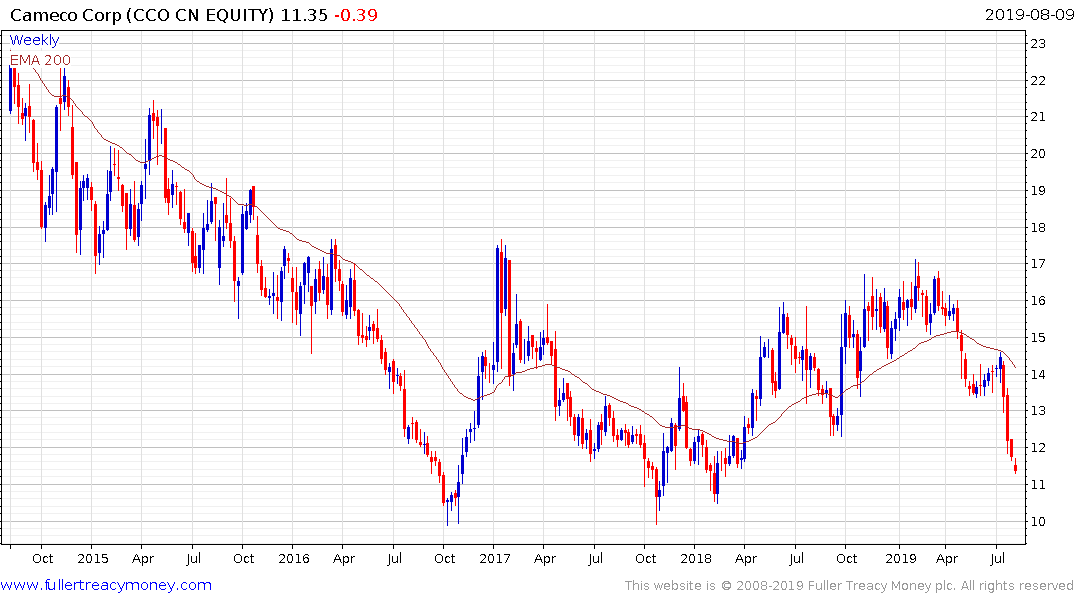 Cameco encountered resistance in the region of the trend mean in July and continues to extend its decline.
Back to top