California's Last Nuclear Plant Is Closing, Edged Out by Renewables
This article by Jim Polson and Jonathan Crawford for Bloomberg may be of interest to subscribers. Here is a section:
Economics have achieved what environmentalists have sought for years: the shutdown of California's nuclear power plants.

PG&E Corp. is proposing to close two reactors at Diablo Canyon in a decade that would end up costing more to keep alive as California expands its use of renewable energy, Chief Executive Officer Tony Earley said Tuesday. They won't be needed after 2025 as wind and solar costs decline and electricity from the reactors becomes increasingly expensive, he said.

Diablo Canyon became California's only operating nuclear power plant after Edison International three years ago shut its San Onofre plant north of San Diego after a leak. Tuesday's announcement follows decisions this month to retire three other U.S. nuclear plants struggling to make money amid historically low power prices and cheap natural gas.

"It's going to cost less overall as a total package than if you just continued to operate Diablo Canyon," Earley said. "It's going to operate less because of the energy policies that are in place."
Nuclear in North America and Europe suffers from a boy who cried wolf problem. By over promising on cost and production and under delivering, particularly on safety, public ambivalence has grown substantially. That's an unfortunate development because new nuclear technologies really do hold the potential to fulfil earlier promises, but they are unlikely to be built in either North America or Europe. China is now the primary bastion of support for developing nuclear technology and is already exporting its designs to other countries.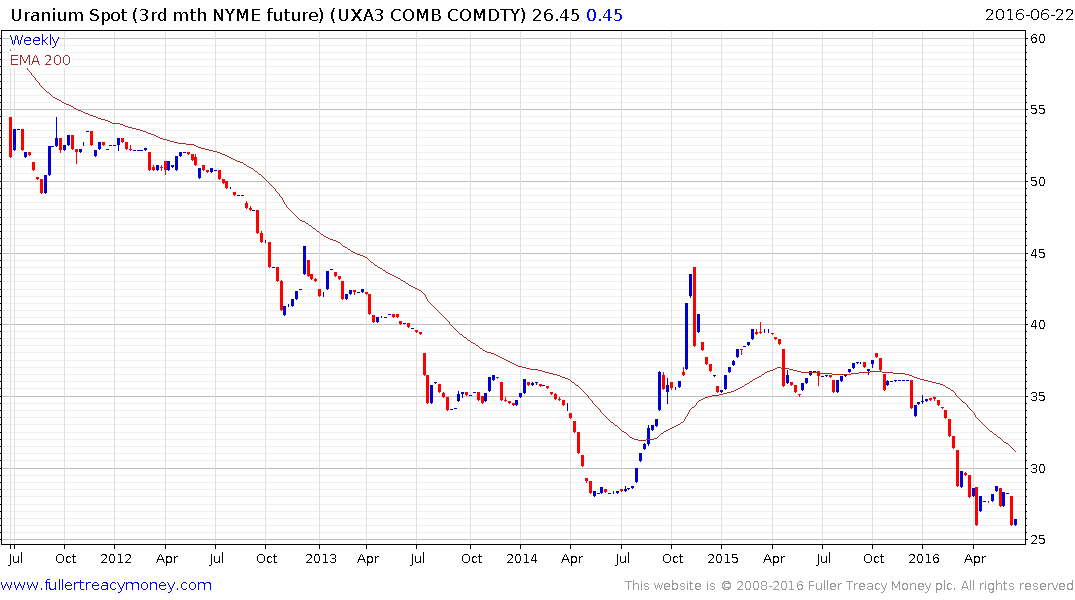 Uranium retested the April low last week and, while it has steadied somewhat, a break in the progression of lower rally highs will be required to question the consistency of the downtrend.
Cameco, the largest uranium miner, has been trending lower since failing to sustain a move above C$25 in 2014. It broke downwards again yesterday to test the 2008 low and a clear upward dynamic will be required to check the slide.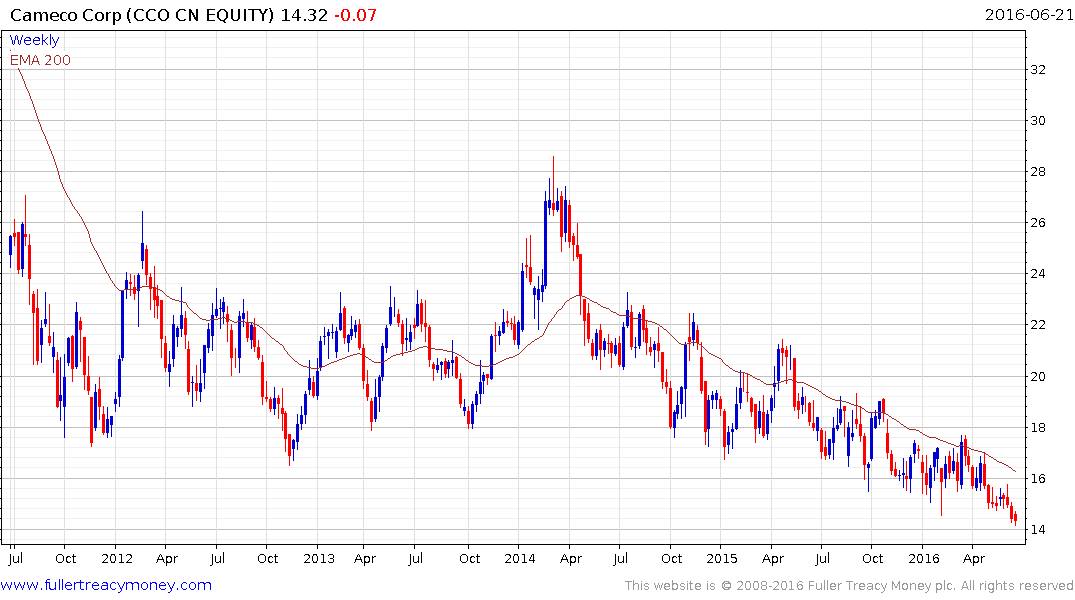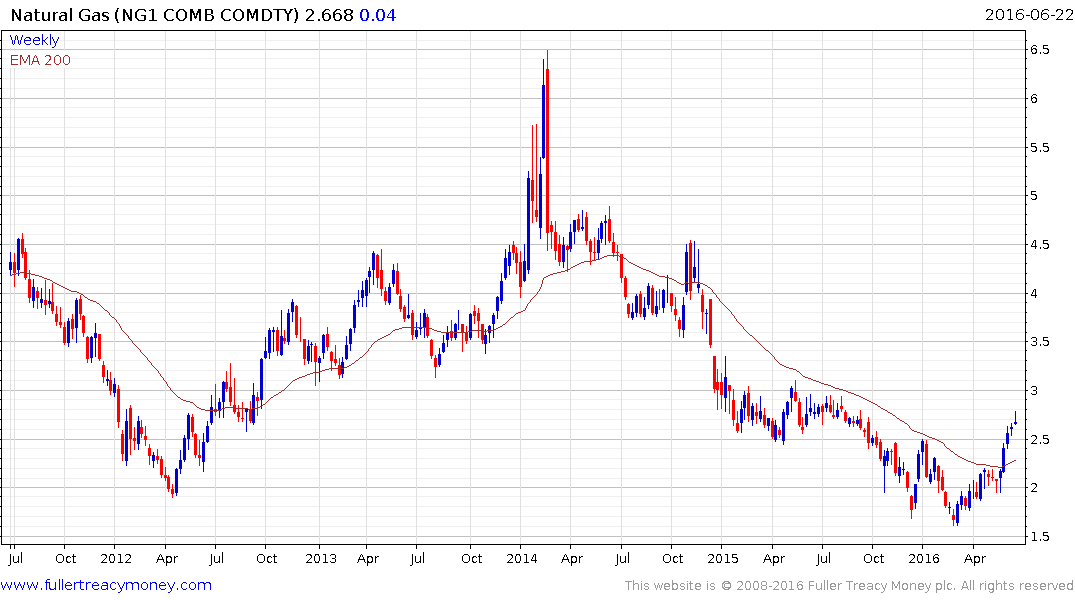 Natural gas' low price and abundance mean it is now the base load fuel of choice for utilities that are mandated to increase the share of renewables in the energy mix. That has meant both coal and uranium have faced additional regulatory burdens aimed at reducing or removing their role in the overall energy mix.

Natural gas continues to extend its rebound and has risen for five consecutive weeks but is still trading at less than $3. Economics 101 dictates that with low prices demand for any commodity increases and this is particularly true for natural gas in the power and transport sectors. For example Toyota's business model in promoting hydrogen fuel cell vehicles is predicated on natural gas input costs remaining low to justify the cost of producing hydrogen.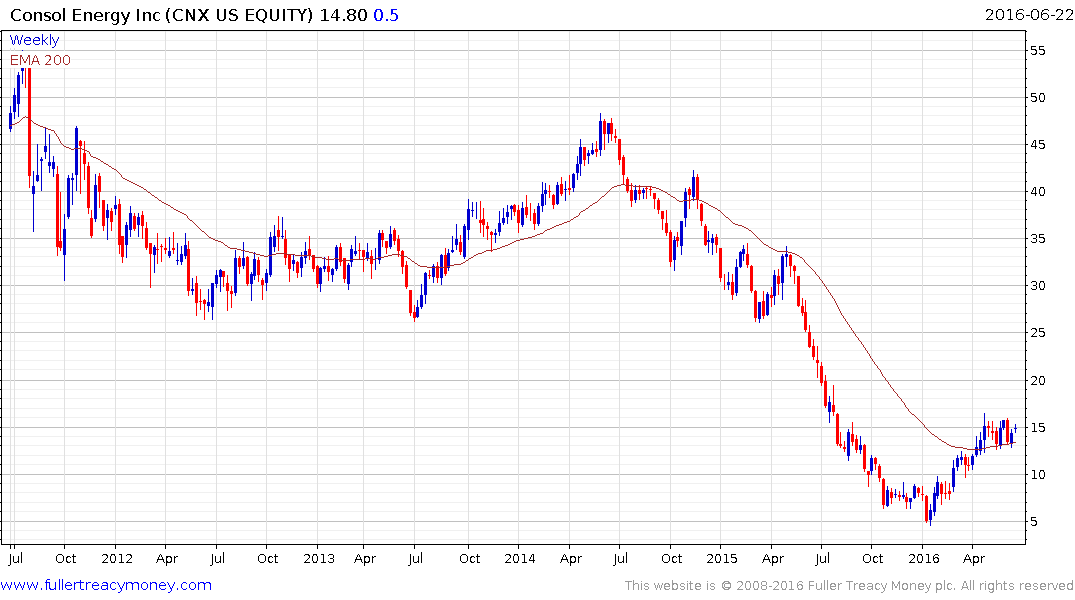 Meanwhile coal is about the most benighted sector in the world right now but a number of bankruptcies have already occurred and it is not about to disappear from the energy mix overnight. Consol Energy rallied impressively from the January low to close the overextension relative to the trend mean and has been consolidating above it since early April. A sustained move below it would be required to question medium-term potential for additional upside.
Back to top