A Million-Mile Battery From China Could Power Your Electric Car
This article from Bloomberg news may be of interest to subscribers. Here is a section:
CATL struck a two-year contract in February to supply batteries to Tesla, a major boon for the Chinese company as the U.S. electric-car leader has thus far mainly worked with Japan's Panasonic Corp. and South Korea's LG Chem Ltd. The deal followed months of negotiations, with Tesla Chief Executive Officer Elon Musk traveling to Shanghai to meet with Zeng.

The CATL batteries are set to go into Model 3 sedans produced at Tesla's massive new factory near Shanghai, which started deliveries around the beginning of this year. Batteries are the costliest part of an EV, meaning suppliers of those components have a chance to reap a lion's share of the industry's profits.
A battery which does not lose its charging capacity for over one million miles is a significant technological advance for the electric car industry. One of the biggest inhibiting factors, apart from cost, which deterred consumers from buying electric cars was their low resale value. The degradation of the battery over only a couple of years basically made cars worthless. The introduction of the million-mile battery completely changes that calculus. The next obstacles are the recharging network and range on a single charge.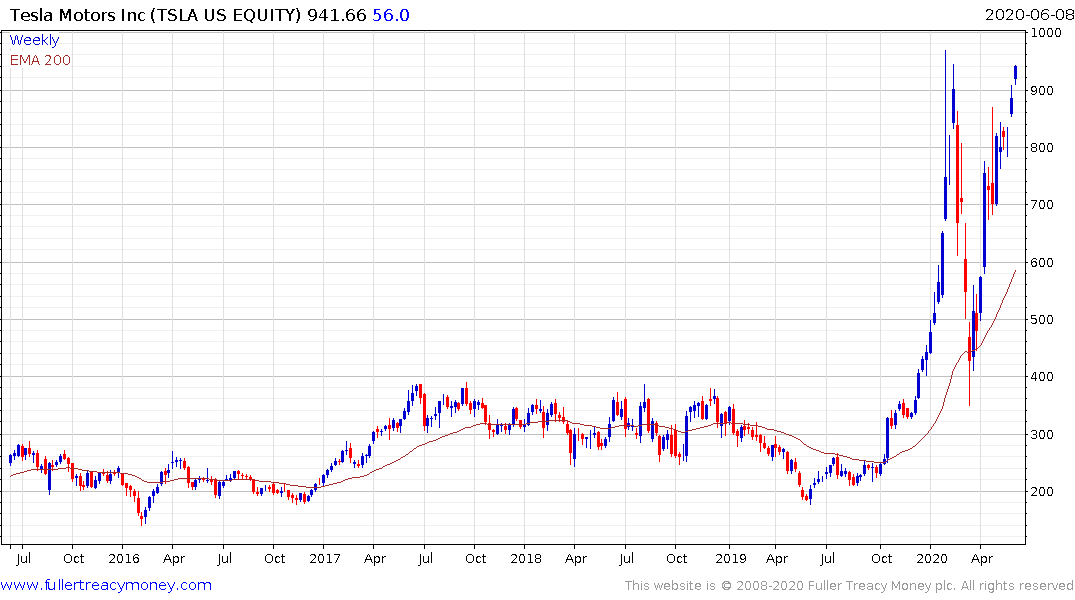 CATL and Tesla share similar patterns over the last couple of years. Tesla is rallying back towards the psychological $1000 level.
Back to top