Zuckerberg Goes Off-Script; Blasts Apple and Google in Testimony
This article by Kurt Wagner and Alex Webb for Bloomberg may be of interest to subscribers. Here is a section:
During today's testimony before a Congressional antitrust panel, Mark Zuckerberg went off-script a little bit -- at least the script we expected -- pointing out how Facebook Inc. lags behind a number of competitors, including Alphabet Inc., Amazon.com Inc. and Apple Inc.

Zuckerberg isn't hesitating to use some sharp elbows, pointing out that Amazon is the fastest-growing advertising platform and Google is the biggest.

"In many areas, we are behind our competitors," Zuckerberg said. "The most popular messaging service in the U.S. is iMessage. The fastest growing app is TikTok. The most popular app for video is YouTube. The fastest growing ads platform is Amazon. The largest ads platform is Google. And for every dollar spent on advertising in the U.S., less than ten cents is spent with us."

This is why the executives likely preferred to appear at once -- it allows them to spread the burden. The antitrust case against Google and Facebook is far stronger than the one against Apple, for instance.
The five largest tech companies in the USA have dominant positions in the social/ecommerce/cloud computing sectors.. They may compete with one another but the barriers to entry are so large that it is largely beyond the scope for smaller companies to compete. In fact the only way for established businesses to reach consumers in any other these sectors is to use the products and services provided by the big five.
However, there is something they all share which is much more relevant to today's conversation. They are extremely cash rich and governments need money. That is the primary reason for antitrust arguments outside of the market control façade.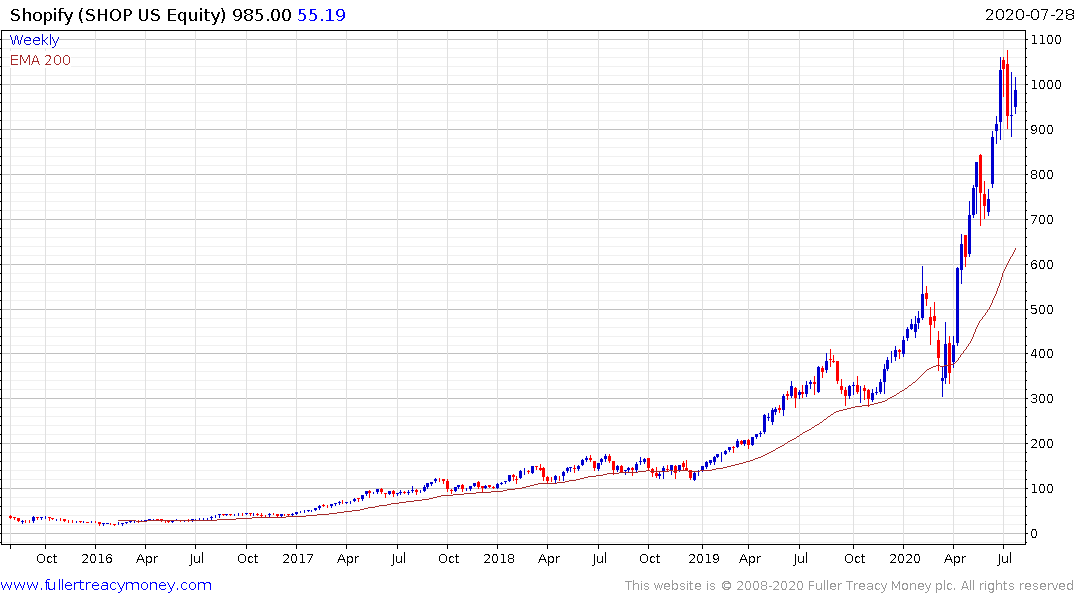 Upstarts like Shopify stand to benefit should antitrust force market control efforts. The share opened at a new high today but was unable to hold the move. It is also almost 50% overextended relative to the trend mean so there is scope for mean reversion at some stage.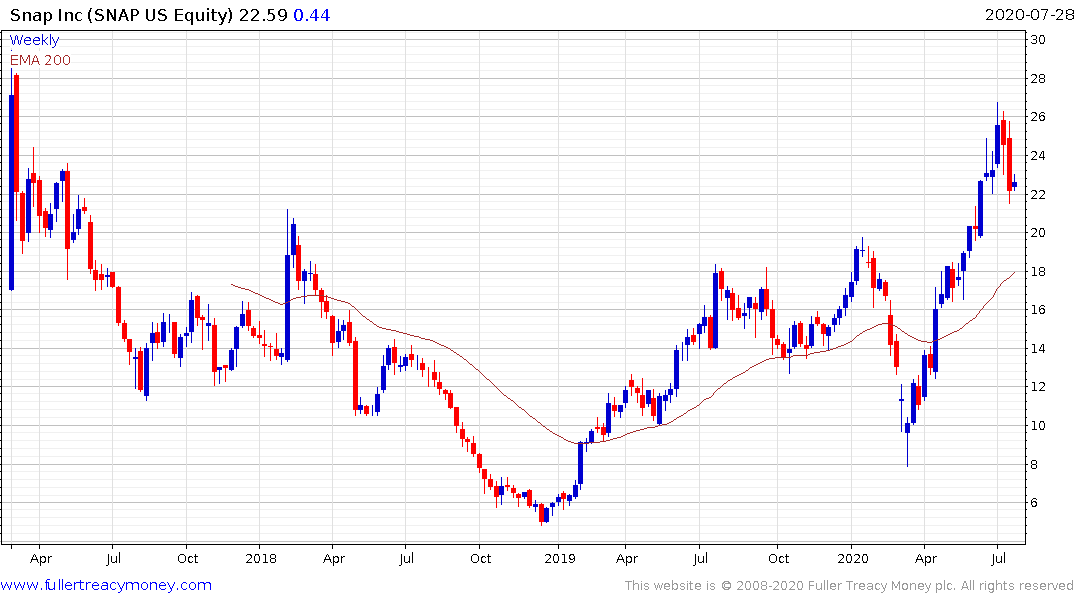 Snap completed a three-year base formation in June and continues to hold the move above $20.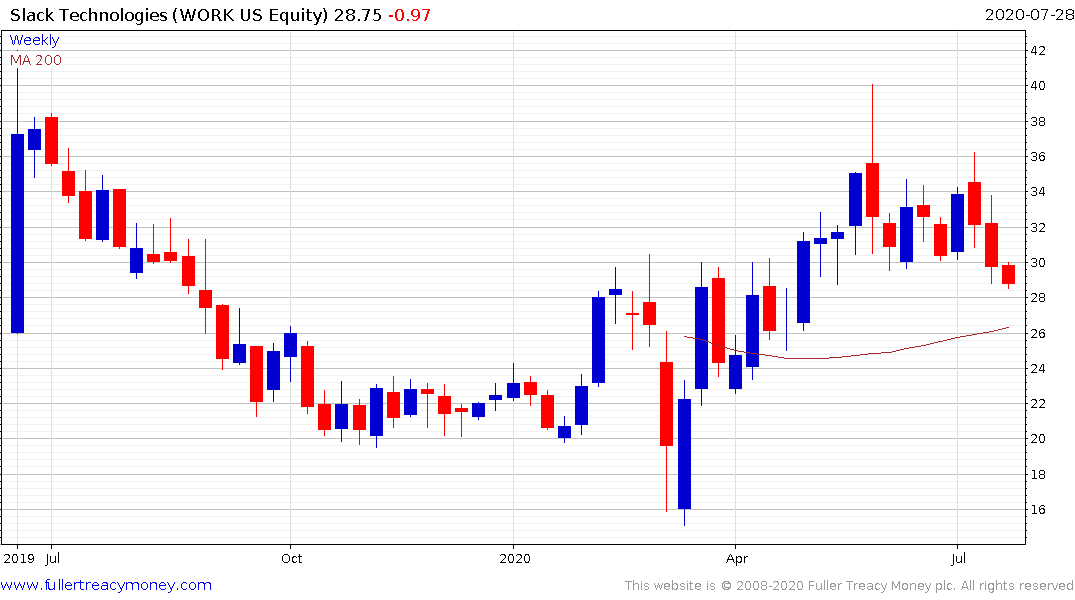 Slack failed to hold the breakout to new highs in June and has almost completed a reversion back towards the mean where it will need to demonstrate support if potential for additional upside is to be credible.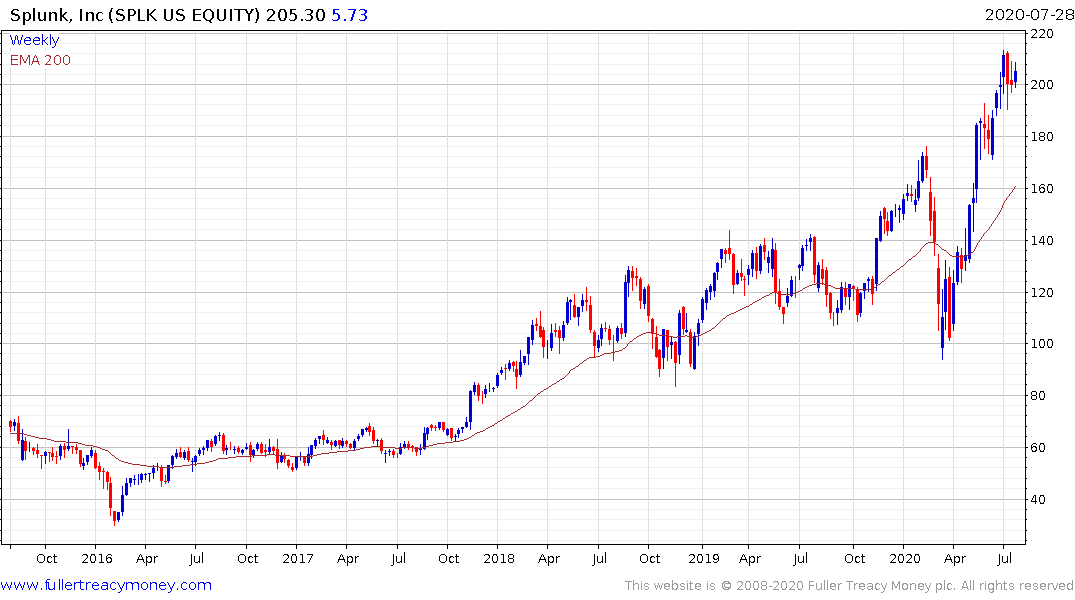 Splunk, as a cloud optimisation company, tends to benefit from the growth of the sector rather than depending on any of the data farm providers. The share remains in a steep but consistent uptrend.
Back to top