Zambia Wins Debt Relief, Setting Precedent for Stressed Nations
This article from Bloomberg may be of interest. Here is a section:
Zambia reached an agreement in principle to restructure $6.3 billion of debt with bilateral lenders and will announce a deal Thursday, according to a French official, setting a precedent for countries struggling to service their liabilities.

The accord marks the first major relief won by a developing country under the Group of 20 nation's Common Framework that brings the traditional creditor nations of the Paris Club around the same negotiating table with China and India. Details are still unclear, beyond that the creditors led by China and France agreed to extend the maturities on their loans over some 20 years, with a three year grace period.

The parties will sign the memorandum of understanding in coming weeks, the official said.

This could lead the way for other nations — including Ghana, Sri Lanka and Ethiopia — locked in negotiations with creditors from China, the Paris Club and bondholders. More than 70 low-income nations face a collective $326 billion burden, with more than half of them already in or near debt distress, according to the International Monetary Fund.
Slowing demand in China, the end of low rates and the jump in the dollar over the last couple of years have represented a triple waterfall negative surprise for many low-income countries. That has resulted in several countries defaulting on their sovereign debt and turning to creditors for debt relief.
Until now, there has been disagreement between creditors about how to deal with credit issues for small countries. That was primarily driven by off book deals borrowers signed with Chinese lenders that raised doubts about the priority of other creditors in a default situation. It is quite likely that making the story public was aimed at pressuring China into making concessions.


The iShares Frontier and Select EM ETF (FM) is heavily weighted by Vietnam and is build support above the October lows. It will need to hold a move above the 200-day MA to confirm a return to demand dominance.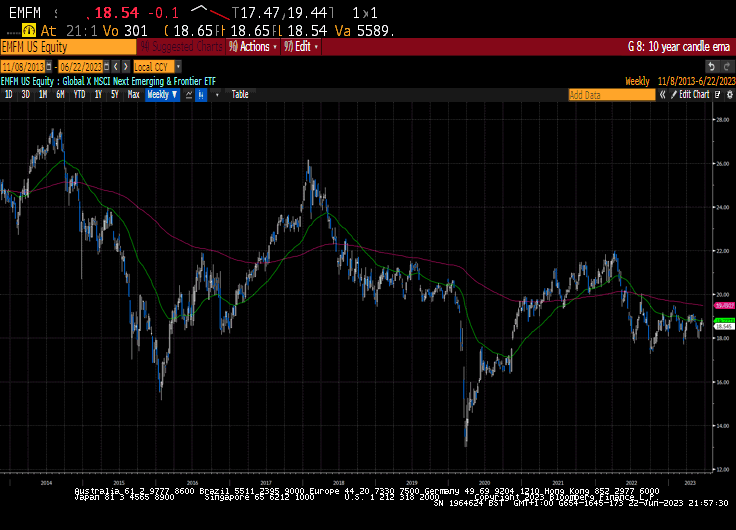 The Global X MSCI Next Emerging & Frontier ETF (EMFM) largest weights are Saudi Arabia, Indonesia, Thailand and Mexico. That suggests more of an emerging than frontier focus. The fund has been ranging for the last year in a very tight manner and is currently firming from the lower side.
Back to top