Your Next iPhone Might Be Made in Vietnam. Thank the Trade War
This article by Raymond Zhong for the New York Times may be of interest to subscribers. Here is a section:
Samsung has since closed all but one of its smartphone plants in China. It now assembles around half of the handsets it sells worldwide in Vietnam. Samsung's subsidiaries in the country, which employ around 100,000 people, accounted for nearly a third of the company's $220 billion in sales last year.

A Samsung spokeswoman said about 90 percent of those sales involved goods shipped from Vietnam to other countries. That implies Samsung alone accounted for a quarter of Vietnam's exports in 2018, although even that might not fully capture the company's effect on the wider economy. Samsung's success in Vietnam helped convince many of its South Korean suppliers that they needed to be here, too.

"When you are a big company and you move to a place, everything follows you," said Filippo Bortoletti, the deputy manager in Hanoi at the business advisory firm Dezan Shira.

Some Vietnamese business owners say the blessings are mixed, though. Foreign giants, they say, come to Vietnam and work largely with vendors they already use elsewhere, leaving little room in their supply chains for local upstarts.

Samsung has 35 Vietnamese suppliers, the spokeswoman said. Apple declined to comment.

When Samsung first set up in the country, it bought some of the metal fixtures used on its assembly lines from a local firm, Vietnam Precision Mechanical Service & Trading, or VPMS. But then more of Samsung's South Korean partners started coming into the country, and after a year, Samsung and VPMS stopped working together, said Nguyen Xuan Hoang, one of the Vietnamese company's founders.

Price and quality were not the issue, Mr. Hoang said, over the hissing and clanging of machinery at his factory near Bac Ninh. The problem was scale: Samsung needed many more fixtures than VPMS could deliver.
The sheer scale of China's manufacturing operations is not going to be easily repeated elsewhere. However, no one ever thought China would achieve the manufacturing might it now possesses either. The history of major manufacturing hubs is they evolve where labour, land, transportation and electricity are cheapest and where the tax and regulations are most lax.
China's wages are no longer competitive for many manufacturing projects and with the result factories have had to move inland which raises transportation costs. The uncertainty of the trade war represents a catalyst for companies to explore moving operations overseas. While places like Vietnam and India do not have the scale of China, they do have cheaper workers and less political risk. The scale of manufacturing know-how and ability to fulfil large orders comes with time and a willingness of the banking sector to extend credit. That's a lot easier where large orders have been booked.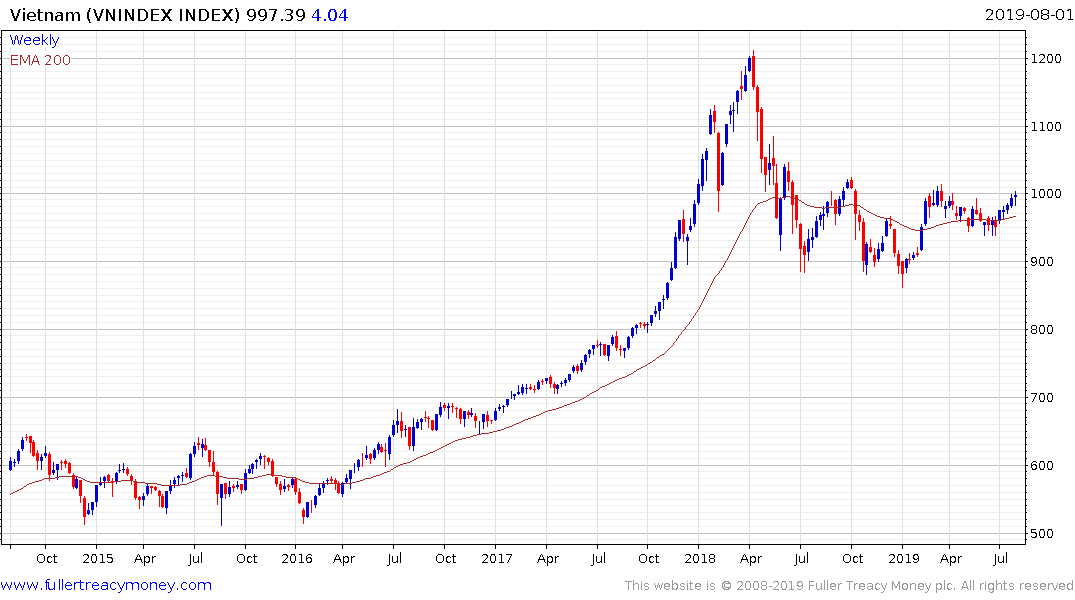 The Vietnam Index is firming from the region of the trend mean and a sustained move above back above the psychological 1000 level would signal a return to demand dominance beyond the short term.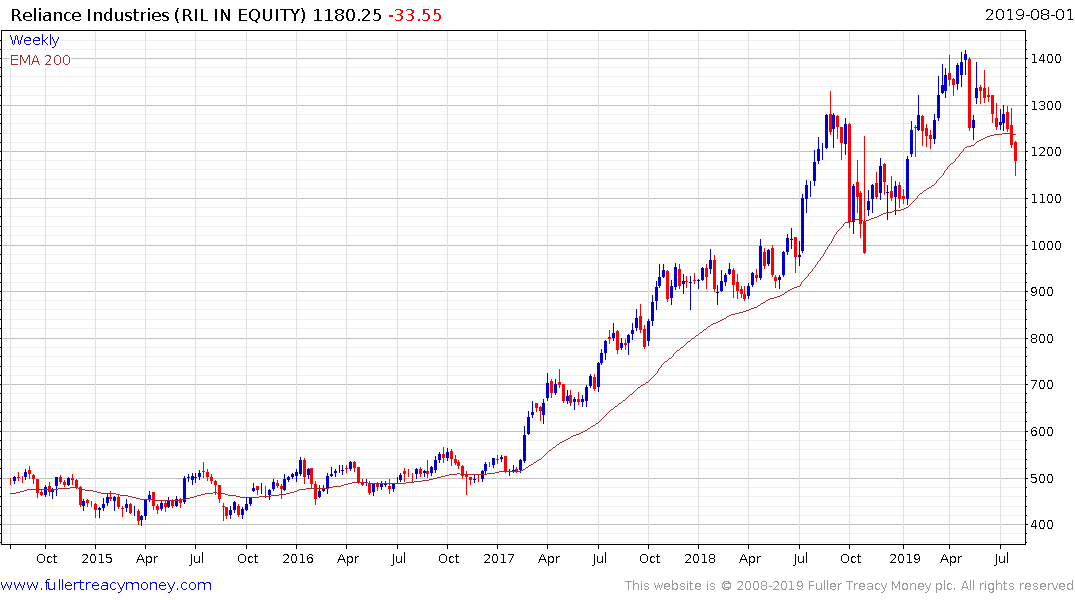 Reliance Industries dropped to break below the trend mean for the time since early 2017 this week. That is taking on a toll on the Nifty Index and is likely to throw some focus onto the liquidity crunch in the housing finance sector as well as the continued underperformance of Tata Motors.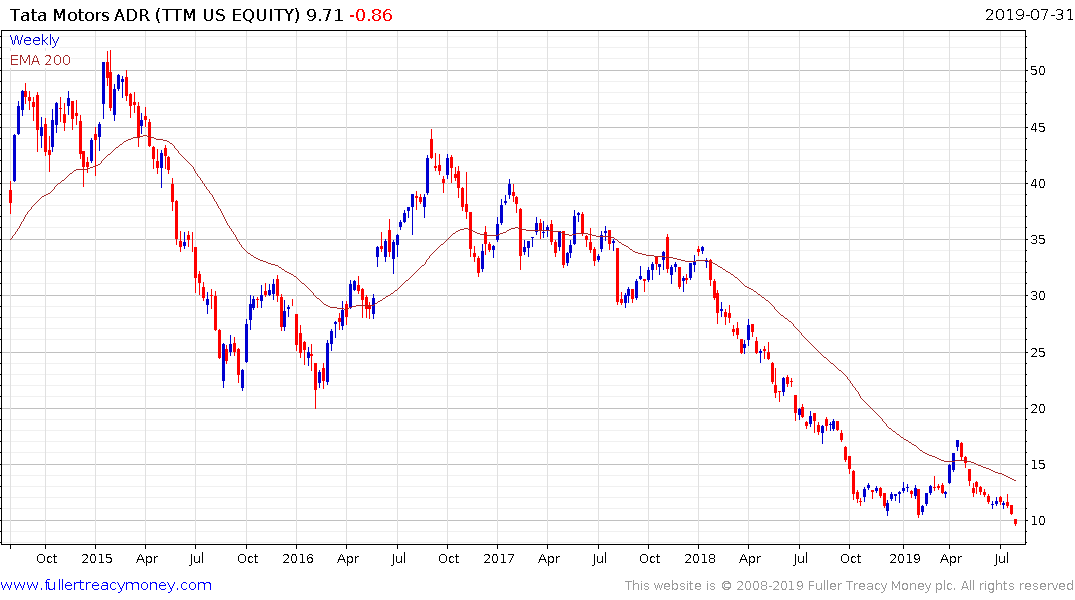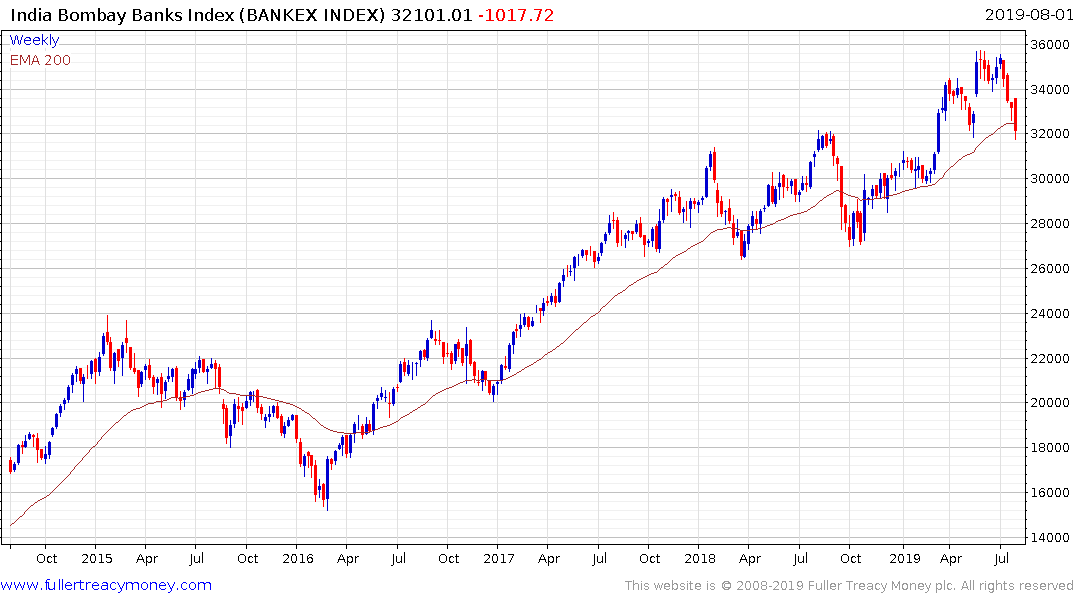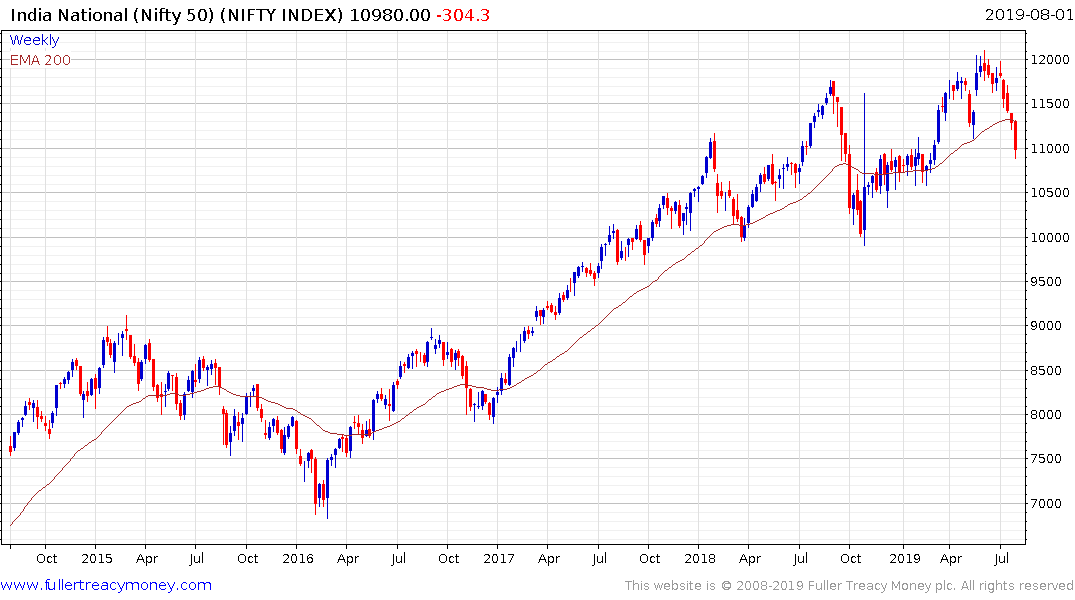 India has one of the few high growth banking sectors globally but the housing finance sector is badly in need of liquidity and its bad loans represent a challenge for the wider banking sector. A bad bank to warehouse nonperforming loans and/or additional capital infusions are likely required to put this issue behind the sector. In the meantime, it looks like the wider Indian market is susceptible to some additional volatility.
Medium-term, it seems like a no brainer to invest in in manufacturing to capture as much business as possible from the deteriorating US relationship with China. Repairing the shadow banking sector is a precondition to achieving that goal however.
Back to top