Yes Bank May Complete $1.2 Billion Capital Raise In Two Tranches
This article by Vishwanath Nair for Bloomberg may be of interest to subscribers. Here is a section:
The bank, which is currently in capital conservation mode, will be able to return to a focus on growth once the fundraising exercise is complete.

This growth, however, may be more modest than what was seen under the previous chief executive Rana Kapoor.

Yes Bank will be looking to grow its loan book at 20-25 percent for some time to come, bringing down its growth rate from the over 40 percent year-on-year growth seen until a few quarters ago.

Yes Bank is also in the process of adjusting its exposure to a few corporate groups, where the lender was in breach of the Reserve Bank of India's large exposure framework, the person quoted above said.

The private sector bank will move from an asset-led growth strategy to a liabilities-led growth strategy as it aims at bringing in more retail and small business customers. It intends to do this by leveraging its 1,100 branches and mining customer data from its digital offerings such as the Unified Payments Interface (UPI). A liabilities-led growth could help the bank bring down its cost of funding by 100-150 basis points, the person quoted above said.
Yes Bank's new CEO has stated they have already accounted for most of the bad loans on the balance sheet. With a central bank employee sitting on the board, if that information is factually inaccurate it represents a major problem for the credibility of the RBI. The earnings announcement tomorrow is going to help to at least answer that question.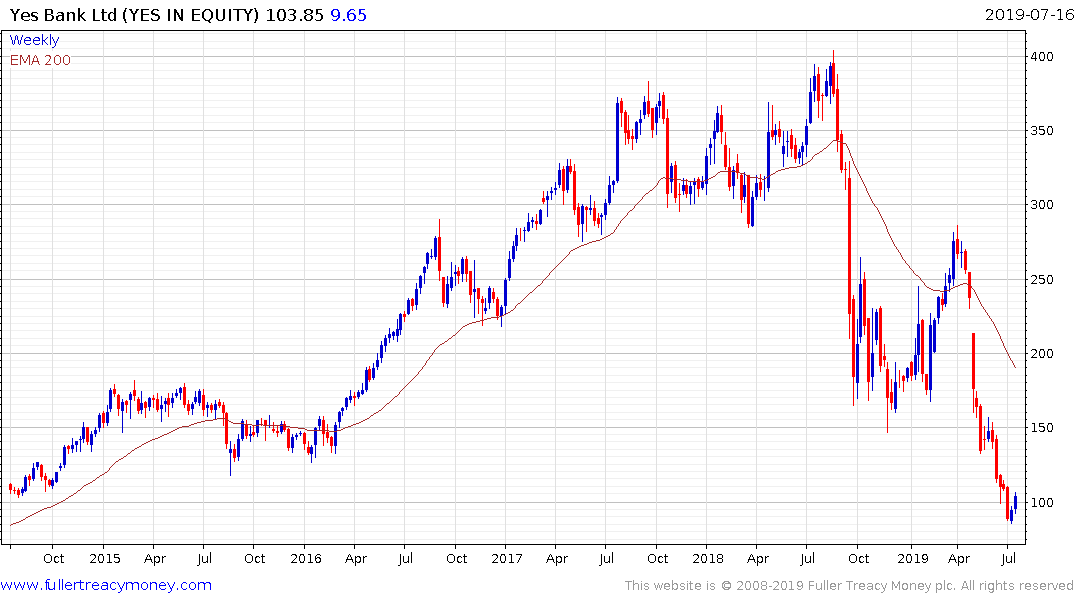 The share bounced by 11% today and is now trading back above the psychological INR100 level. Recapitalisation of troubled financials in a high growth market like India is not quite the same thing as trying to help banks recover in developed markets. At a growth rate of 25% per annum even large debts can be worked out quickly. That's the primary reason India is a buy-the-dips market, particularly for domestic high growth plays.
Back to top