Yahoo Alibaba Billions Enable More Tumblr-Sized Deals
This article by Tara Lachapelle for Bloomberg may be of interest to subscribers. Here is a section:
Last month, the average valuation forecast for Alibaba was $153 billion, based on 10 analysts' estimates compiled by Bloomberg News. That implies almost $37 billion for Yahoo's stake in the Hangzhou, China-based company. Yahoo's own market value is about $40 billion.

Even if Alibaba commanded just $100 billion, Yahoo could sell a 10 percent position and still receive more than $6 billion in cash after taxes, according to Ronald Josey, a New York-based analyst at JMP Securities, a unit of JMP Group. That would leave Yahoo with at least $11 billion of cash.

"Alibaba is the spark," Josey said in a phone interview.

"The big debate right now is, post-Alibaba, what do they do with this cash and can the core business actually start growing again?"

While much of the Alibaba proceeds will probably be used to repurchase shares, there will still be plenty left over to continue making acquisitions, Peck of Suntrust said.
Alibaba IPOed in Hong Kong in 2007 and delisted in 2012 for the same price of HK$13.44. In the intervening time it collapsed from its peak of more than HK$40 to a low of HK$5 before recovering somewhat. Here is an article from The Standard dated June 2012 with some of the details. http://www.thestandard.com.hk/news_detail.asp?art_id=123513&con_type=1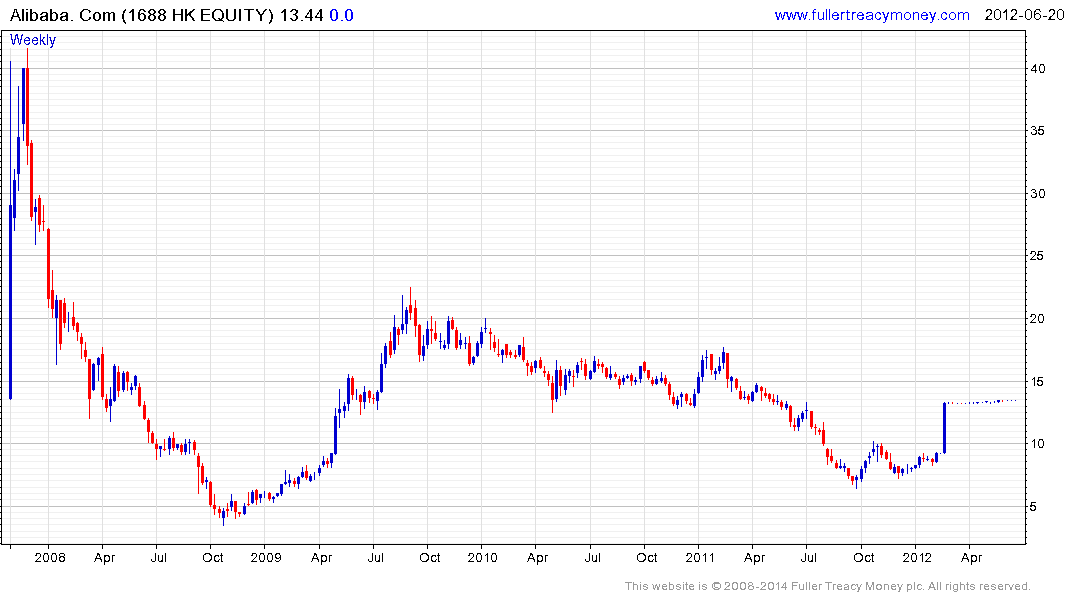 When the company delisted it had 5.0059 billion shares outstanding to give it a market cap of HK$65billion or US$8.4 billion. An appreciation of such magnitude in terms of how the market values the company suggests it really has grown to outweigh Amazon or it is wildly overvalued.
Jack Ma resigned as CEO last year and is now chairman. I have to ask myself whether Apple would have risen to the heights it has if Steve Jobs had resigned as CEO a year before the IPO. (Also see Comment of the Day on January 23rd) http://www.fullertreacymoney.com/general/why-alibaba-ipo-will-make-it-the-next-global-tech-powerhouse/?hl=Alibaba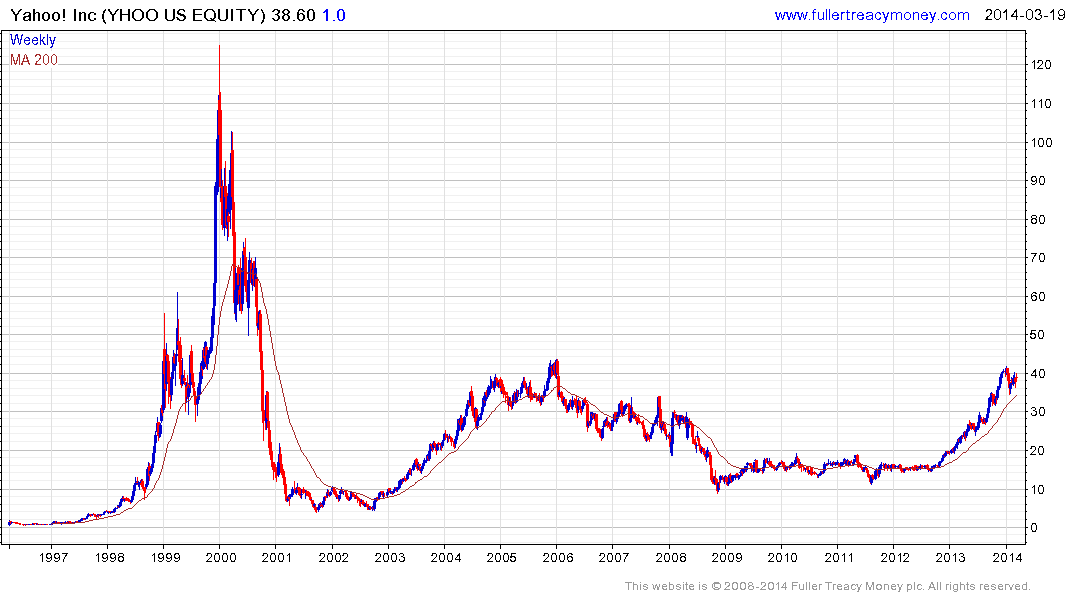 Yahoo has doubled in the last year and has returned to test the $40 area where it has paused over the last few months. The January pullback was the largest in more than a year and presaged the current lengthier consolidation. A sustained move below $34 would be required to signal top formation completion and question medium-term potential for additional upside. (Also see Comment of the Day on February 22nd 2013). http://www.fullertreacymoney.com/general/hp-turnaround-progressing-as-profit-forecast-tops-estimates-5903/?hl=Yahoo
Back to top