Xi Taps Top Deputy to Lead China's Chip Battle Against U.S
This article for Bloomberg may be of interest to subscribers. Here is a section:
The task of coordinating that sprawling program now falls to Liu, who has to keep track of the relevant resources and drive the national strategy to help China achieve chip independence.

"For our country, technology and innovation is not just a matter of growth," Liu told a three-story auditorium packed with China's top scientists in a separate meeting in May. "It's also a matter of survival."

Xi is counting on his lieutenant to help China fend off growing threats from the U.S., which is seeking to take back chip industry supremacy. Under the Trump administration, sanctions were slapped on Chinese giants from Huawei to SMIC, cutting off their access to American technology and equipment crucial to designing and making advanced logic chips. President Joe Biden has also laid out a $52 billion plan to bolster domestic chip manufacturing, while calling on allies to join export controls aimed at curbing Beijing's drive toward technology self-sufficiency.

Rival powerhouse nations like South Korea and leading corporations such as Taiwan Semiconductor Manufacturing Co. have also responded with their own spending plans, fueling the race to take the lead in the sector.

With traditional chipmaking facing a series of challenges from technology development to heavy capital investment, third-generation chips -- which use compounds such as gallium nitride and silicon carbide to significantly improve the performance of semiconductors that power a wide range of industries and products -- may offer China its best chance to overcome rivals, senior academic Mao Junfa told an industry event in Nanjing earlier this month.

"China couldn't buy chips, even with cash in hand," he said, referring to Washington's sanctions on Chinese tech companies including Huawei. "The compound chip technologies could help China surpass rivals in the post-Moore's Law era."
A decade ago, China needed a domestic demand led recovery so social media, ecommerce and mass consumerism were promoted. That allowed Alibaba, Tencent etc to become some of the largest companies in the world. Their economic function has been realised and now efforts are underway to curtail their growth, lest they become a challenge to the political status quo. The opening of an antitrust investigation of Didi ahead of its IPO is one more example of how the growth of the most successful companies is being curtailed.
At the other end of the spectrum, semiconductor independence is now a priority and has been funded in the latest five-year plan. Resources are being ploughed in the R&D sector as China, and others, seek to leapfrog into the next new computing sectors.
China's regional government have been spraying money at the sector for the last two years. As with any such practice there have been successes, failures and fraudulent practices. The one thing we do know is that HSMC did succeed in acquiring an ASML NXT:1980 Di machine which is capable of producing chips at sub 10nm sizes. The company may have been set up on an entirely fraudulent basis but it is very likely that the single machine imported into China is now being backward engineered.
The important points are the sector is state sponsored, and growth is a national priority. China is going to spend whatever it takes to achieve independence from the threat of semiconductor sanctions.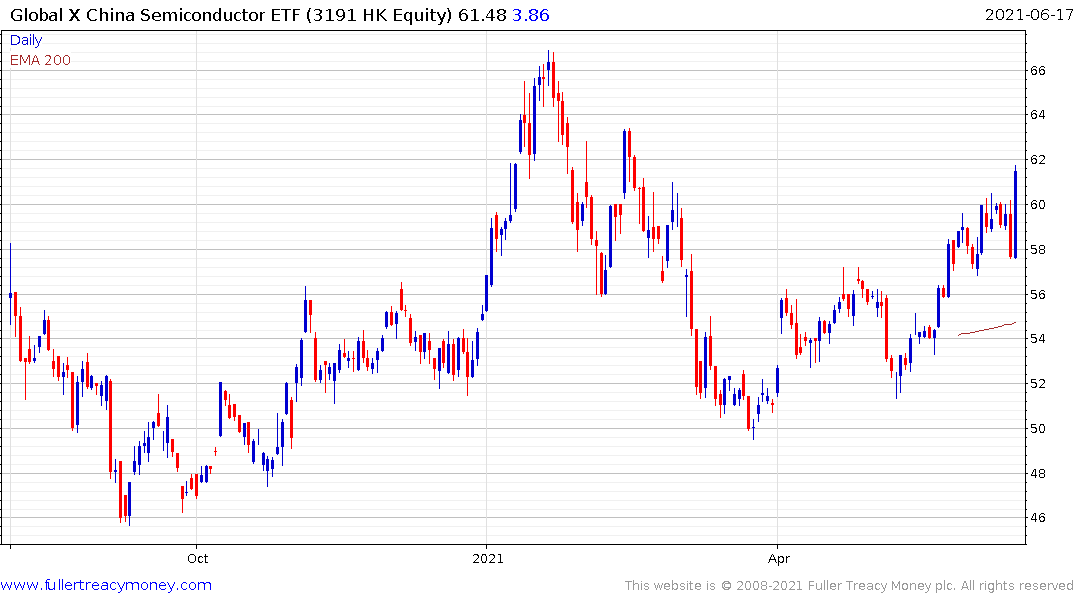 The Hong Kong listed Global X China Semiconductor ETF remains on a recovery trajectory.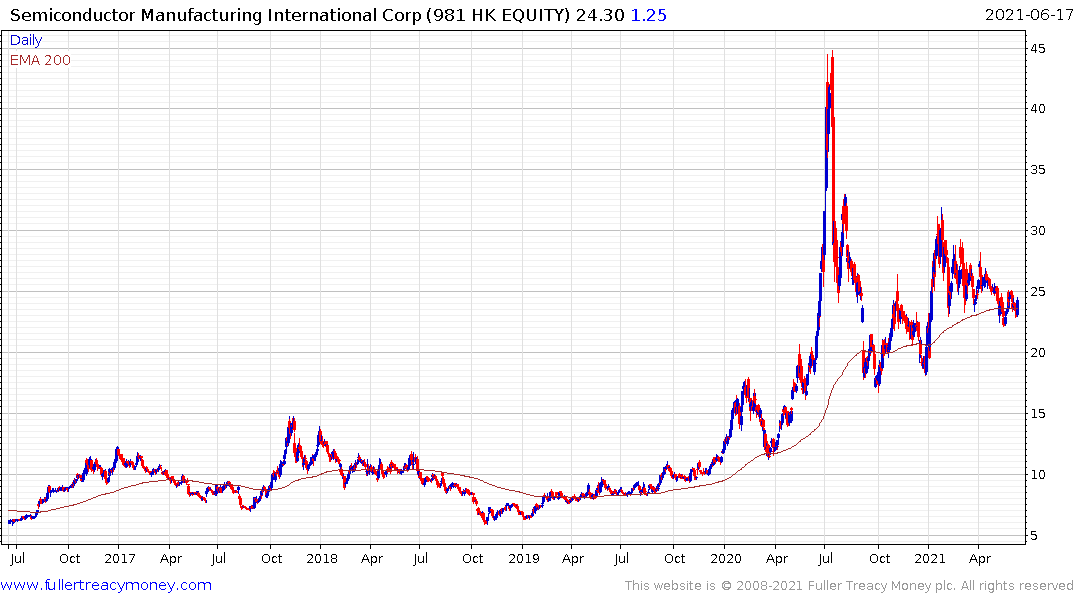 Semiconductor Manufacturing International Corporation (SMIC) is currently firming from the region of the trend mean and continues to hold a sequence of higher reaction lows.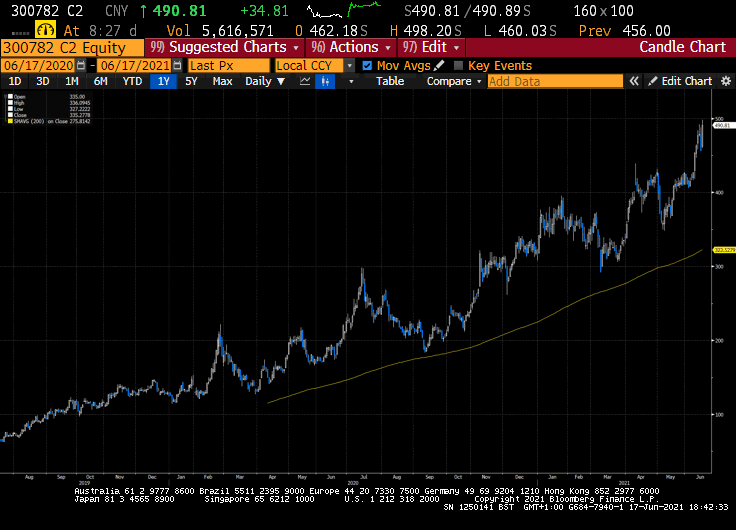 Maxscend Microelectronics Company Limited's A-Share has been in a consistent uptrend since its IPO a year ago.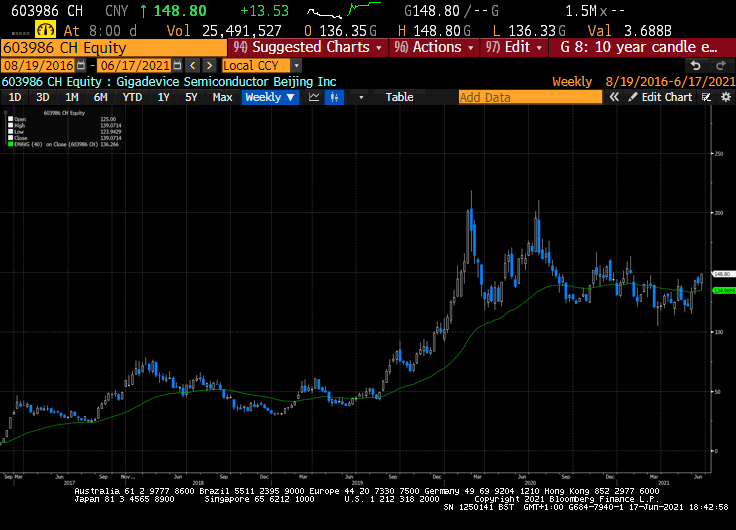 Gigadevice Semiconductor Beijing Inc's A-Share is firming from the lower side of its range and the region of the trend mean.
Back to top