Xi Skips Old Growth Pledge as China Seeks Quality Not Quantity
This article from Bloomberg may be of interest to subscribers. Here is a section:
"China's policy makers are likely to tolerate growth to have another leg down to 5 to 6 percent in the next five years, so that they could have bigger room to fix the structural problems and make growth more sustainable," Hu wrote.

That's in line with earlier messages of tolerance of slower growth in exchange for stable development. Xi told a meeting of the Communist Party's financial and economic leading group last year that China doesn't need to meet the objective if doing so creates too much risk, Bloomberg News reported in December.

Xi's speech, which ran for more than three hours and mapped out a grand strategy for China's development by 2050 implies "a change in growth and development objectives," said Chen Xingdong, chief China economist at BNP Paribas SA in Beijing.

The party is seeking to share "growth and prosperity for the majority of people through reformation of income distribution," Chen said
The larger an economy becomes the more difficult it is to sustain double digit growth rates. China is a perfect example of this and its size is a clear example for why smaller economies like India or the Philippines are currently outpacing its expansion.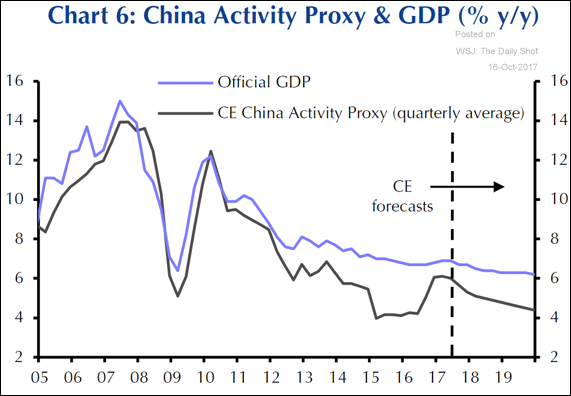 This chart from Capital Economics illustrates the drift lower in GDP figures from 2013.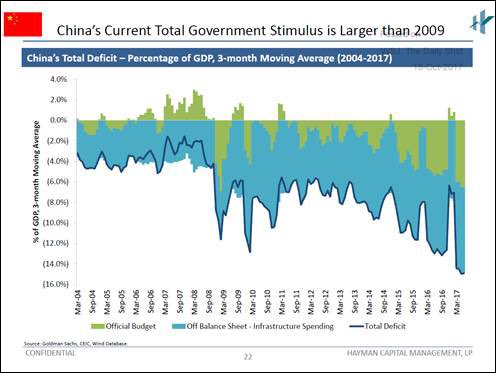 This chart from Kyle Bass, a noted China bear, highlights how that controlled deceleration has been paid for in terms of fiscal stimulus. This chart also helps to illustrate how China is finessing its approach by tightening in some areas such as shadow banking while loosening elsewhere such as reserve requirements.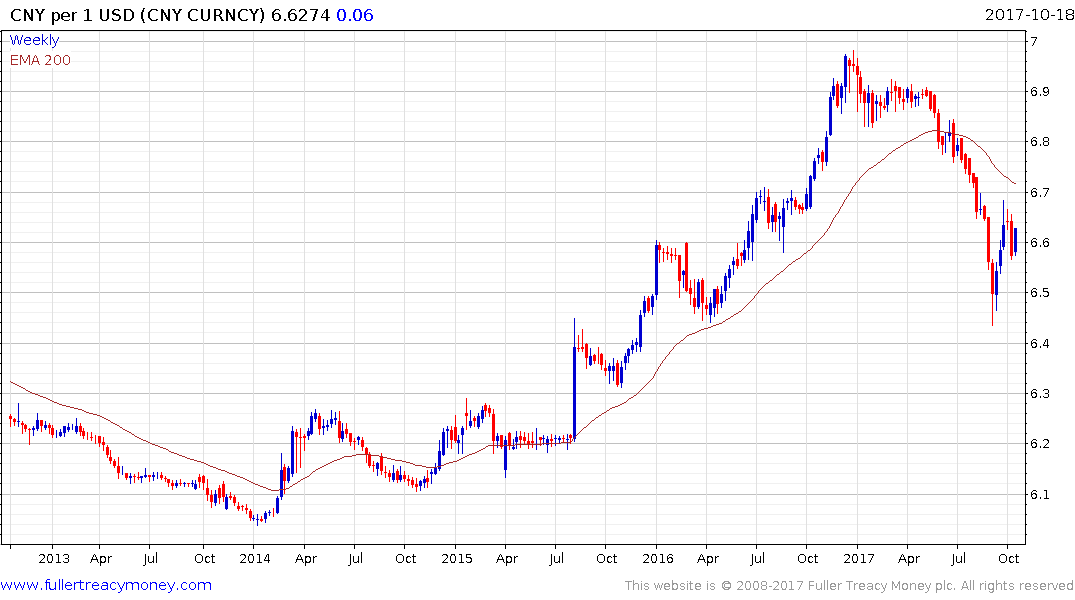 A question I suspect many people will be asking is whether the Renminbi can sustain the strength it showed ahead of the Party Congress. The Dollar steadied from the CNY6.65 area over the last few sessions and a sustained move below it would be required to question potential for some additional upside.

The big takeaway from my trip to China in July was the growth of the online sector from a standing start only a few years ago. The digital economy is in full flight, making cash unnecessary and offering a degree of control to the administration that was previously unimaginable. That alone suggests it is likely to continue to grow. It is also worth considering that online businesses do not require the same focus on infrastructure and are generally higher value which is in line with the administration's aims.

Perhaps the biggest question for companies in the aftermath of this Party Congress will be the degree to which the Party will insert itself into their businesses. All signs point toward demanding greater acceptance of Party norms and absolute loyalty. It remains to be seen if that influences profitability.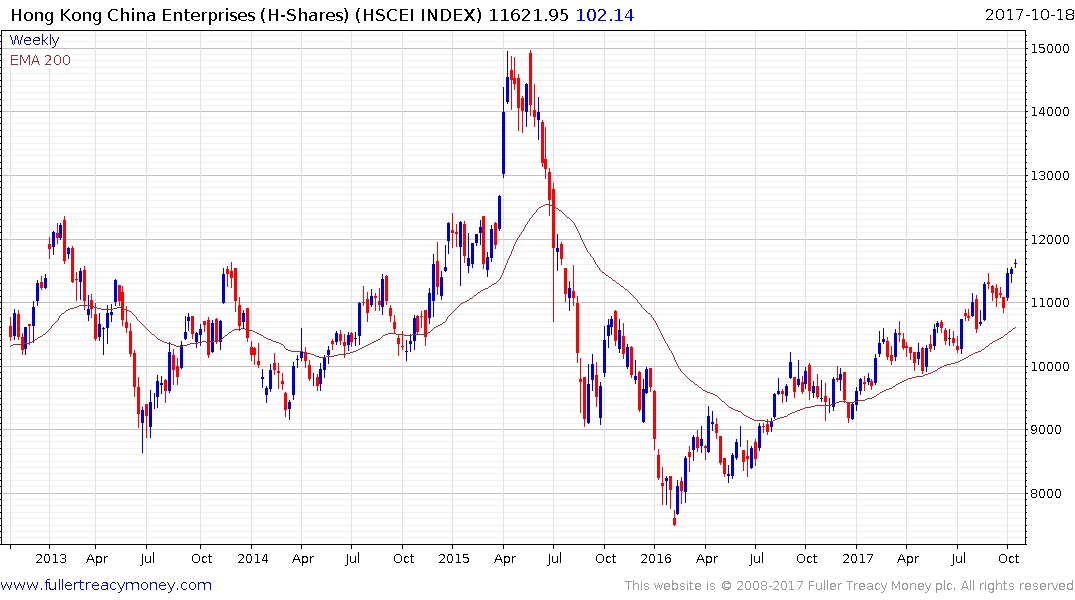 The H-Share Index remains in a steady, consistent advance; holding a progression of higher reaction lows since early 2016.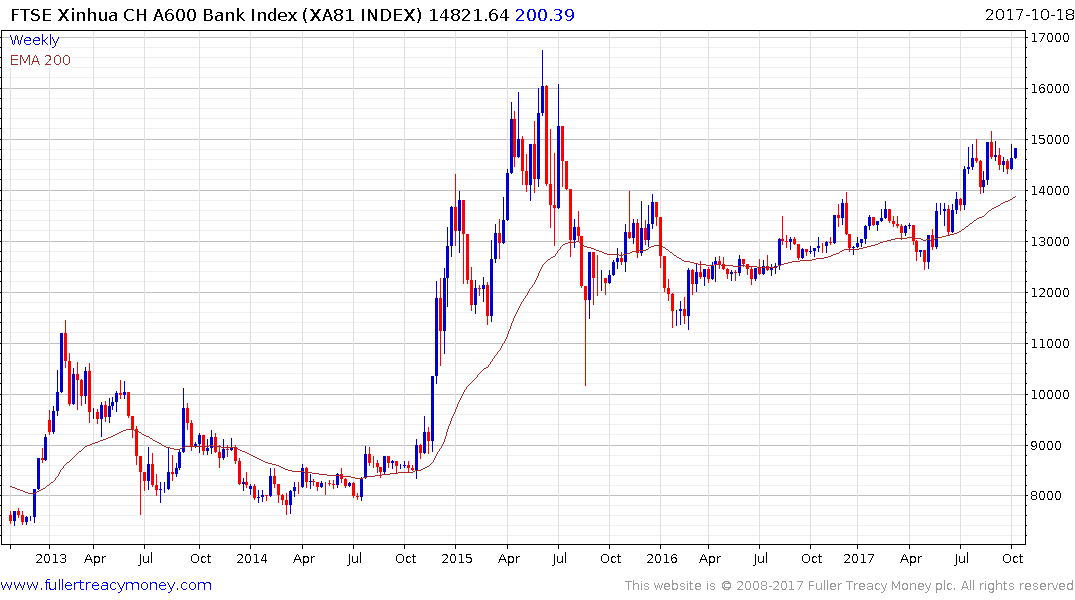 The FTSE China A600 Banks Index continues to form a first step above its almost two-year range and a sustained move below 14,000 would be required to question medium-term scope for additional upside.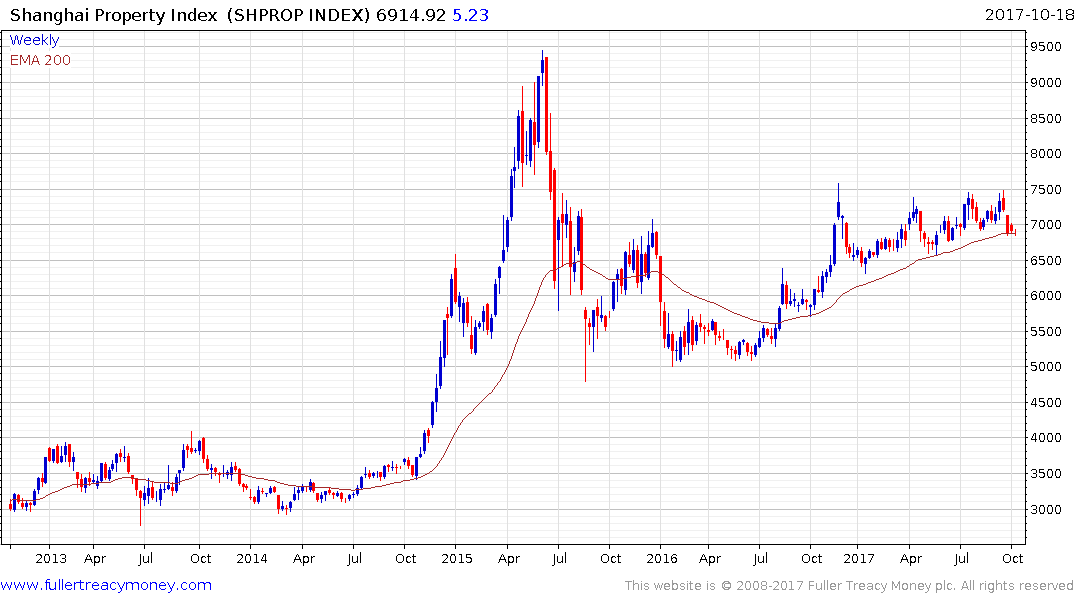 The Shanghai Property Index is testing the region of the trend mean and will need to bounce soon if the benefit of the doubt is to continue to be given to higher to lateral ranging.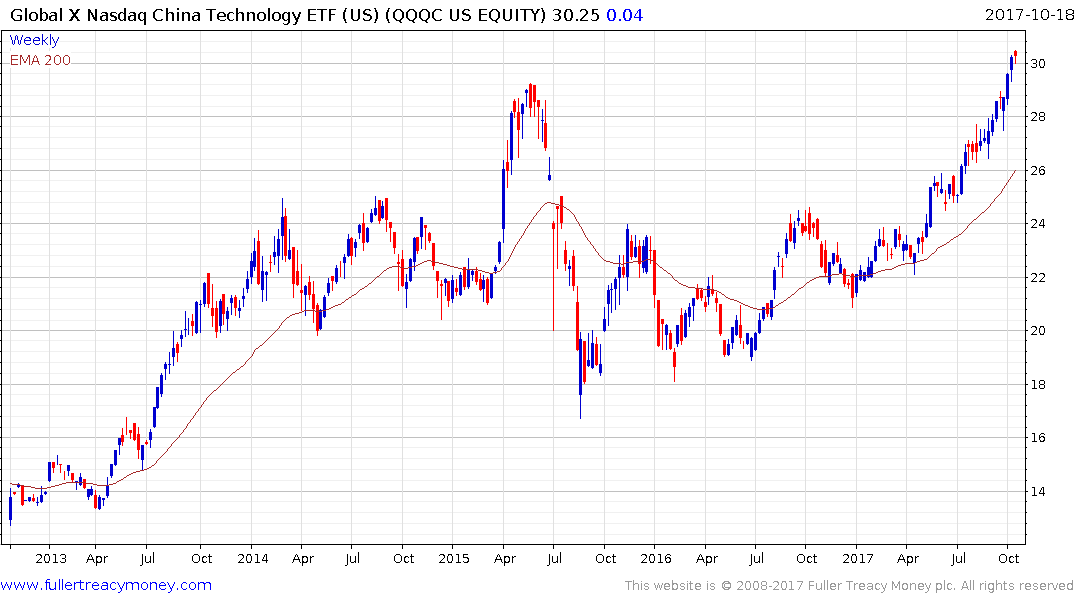 By contrast the Global X Nasdaq China Technology ETF continues to surge higher and clear downward dynamic will be required to check momentum beyond a pause.
Back to top