Xi Says China's Rise Unstoppable in Face of Protests, Trade War
This article by Annie Lee, Peter Martin and James Mayger for Bloomberg may be of interest to subscribers. Here is a section:
President Xi Jinping declared that no force could stop China's rise, exuding confidence during a key
anniversary as he faced unprecedented challenges from protesters in Hong Kong and Donald Trump's trade war.

Speaking at the start of grand parade marking 70 years since the founding of the People's Republic, Xi called for stability in Hong Kong, unity among Chinese ethnic groups, and the "complete unification" of the country. Xi delivered the remarks at the site where late Communist Party patriarch Mao Zedong proclaimed the nation's founding on Oct. 1, 1949.

"Today, a socialist China is standing in the east of the world and there is no force that can shake the foundation of this great nation," Xi told a crowd of carefully vetted guests under smoggy skies in the center of the capital. "No force can stop the Chinese people and the Chinese nation forging ahead."
Xi's rallying cry came before an hours-long pageant showcasing China's industrial and scientific achievements, including sophisticated weaponry such as DF-17 ballistic missiles believed capable of circumventing U.S. defense systems.

The closely scripted proceedings sought to reinforce the strength of a party facing multiple threats, from the slowest economic growth in decades to violent unrest in one of Asia's top financial hubs.
Sometimes I feel like a broken record always repeating the same point about China, but governance is everything. The ranks of apologists for tyranny continue to advocate strongly for China despite its record on human rights, the environment, intellectual property, corruption, censorship and a host of additional factors.
The one thing China has going for it, is its economic expansion. Investors will be willing to give it the benefit of the doubt provided the expansion persists. It will be an entirely different narrative if China has a recession.
The high profile, but secretive, start-up Magic Leap is currently attempting to fight an intellectual property suit against a former Chinese employee who has set up a company in China producing remarkably similar goggles and software. For what is arguably a leader in the development of augmented reality software and hardware this represents an existential challenge before the company has any chance of recouping the $2 billion invested in R&D. This is just one more example of the kind of competitive forces companies are dealing with on a daily basis.
This article from South China Morning Post quoting Mike Bloomberg is also worthy of mention. Here is a section:
"You're not going to have a revolution. No government survives without the will of the majority of its people," Bloomberg said. "He has to deliver services."
Hoover then said: "I'm looking at people in Hong Kong who are protesting and wondering whether the Chinese government cares what they have to say."
Bloomberg said that in government – "even governments that aren't what we could call a democracy" – there were many stakeholders with vested interests and "they have an impact".
How many terminals does Bloomberg have in China? How many Chinese investors does Ray Dalio have? How many Chinese government clients does "China insider" Kiril Sokoloff have? What of Jerry Brown, starting a joint task force with China on climate change less than a year after leaving his job as Governor of California? The biggest question we need to be asking is why aren't the vested interests of advocates of Chinese appeasement questioned more fully? The irony of the world's biggest polluter pandering to climate change advocates while continuing to build coal fired power stations would be funny if it were not so tragic.
China has now survived one year longer than the USSR but the economy is slowing, the currency is devaluing, property prices are in a bubble, the consumer is not spending, and domestic inflation is picking up. China is the epicentre of global risk. That might very well increase potential for a trade deal because if the economy is slowing as much as I believe then China has a clear incentive to agree terms. That is a contrarian view at present.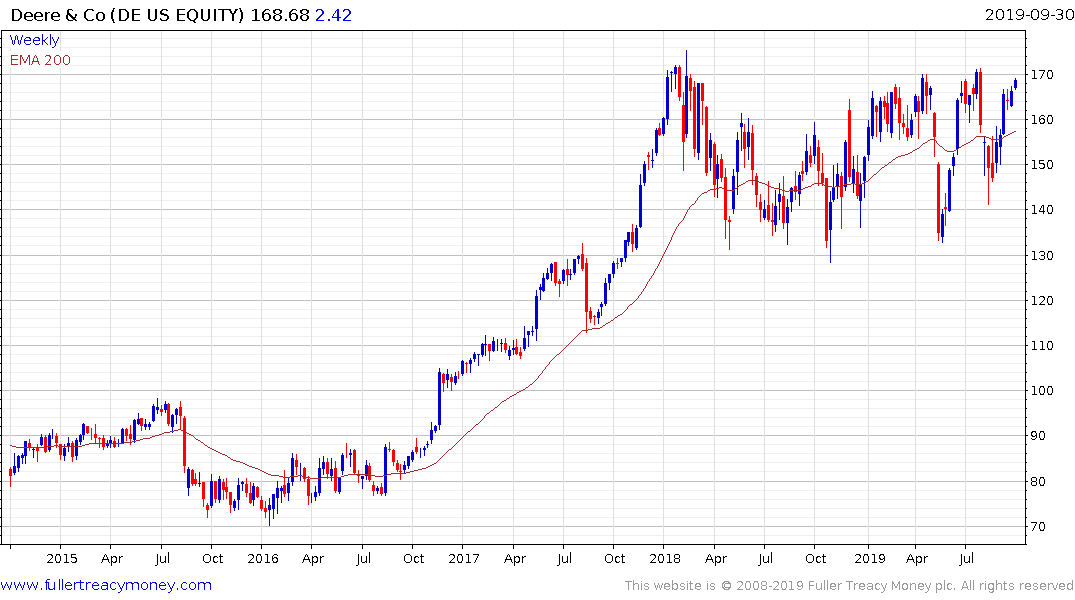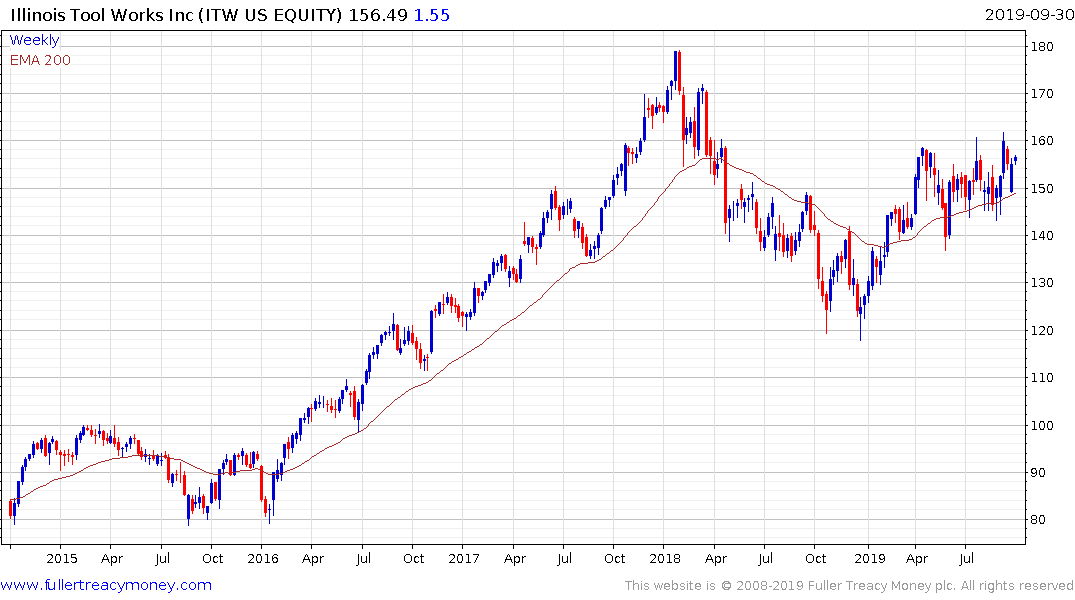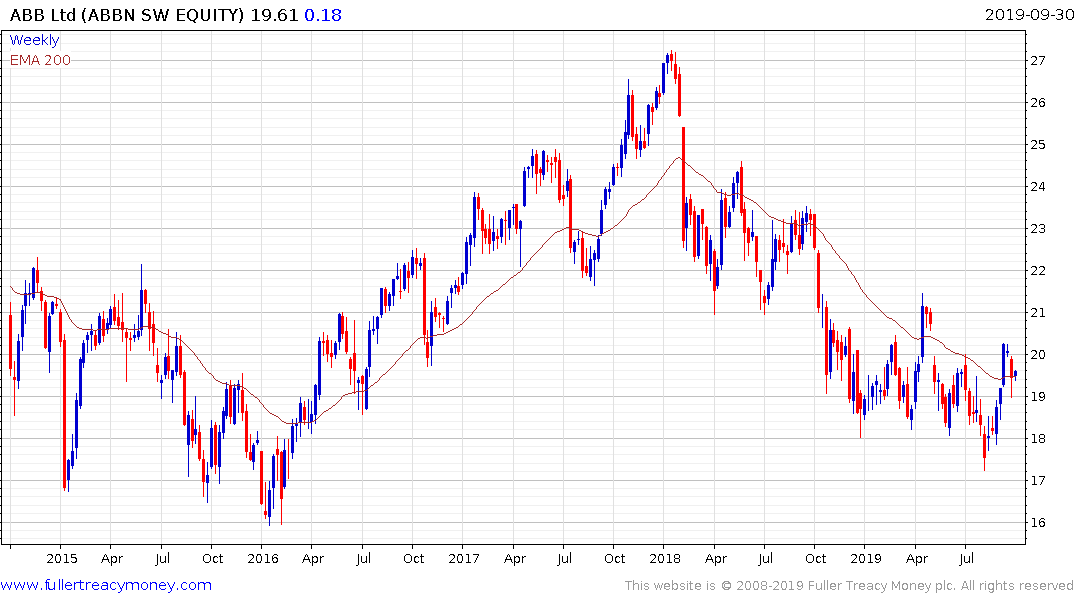 Deere Inc is testing the upper side of a three-year range despite the strength of the Dollar. ABB is challenging its downtrend and Illinois Tool Works is firming from the region of the trend mean. The recent strength in companies with leverage to global growth suggests there is some pricing increased likelihood for a deal.
Back to top