Xi Eyes Sub-5% Growth Rate in New Vision for Chinese Economy
This article from Bloomberg news may be of interest to subscribers. Here is a section:
"It is extremely difficult to project growth 15 years out and, although we view growth of 5%-6% over 2021-2025 as likely, growth above 5% over 2026-2035 appears quite challenging," Nomura Holdings Inc. economists, led by Ting Lu, wrote in a note.

To overcome some of those challenges, the Communist Party is promising to build the nation into a technological powerhouse and focus on quality growth over speed. Key to that objective is developing a robust domestic market and becoming self-reliant in technology -- especially in chips, the building blocks for innovations from artificial intelligence to fifth-generation networking and autonomous vehicles.
The greater the size of the economy, more difficult it is to grow quickly. That is why standards of governance are so important. If graft and political ideology gets in the way of innovation and the pass-through effect to a greater wealth effect the headwinds to growth only growth stronger. China has demonstrated repeatedly that subservience to the party comes ahead of every other factor. That was particularly clear this week with the smack down of ANT Financial's IPO.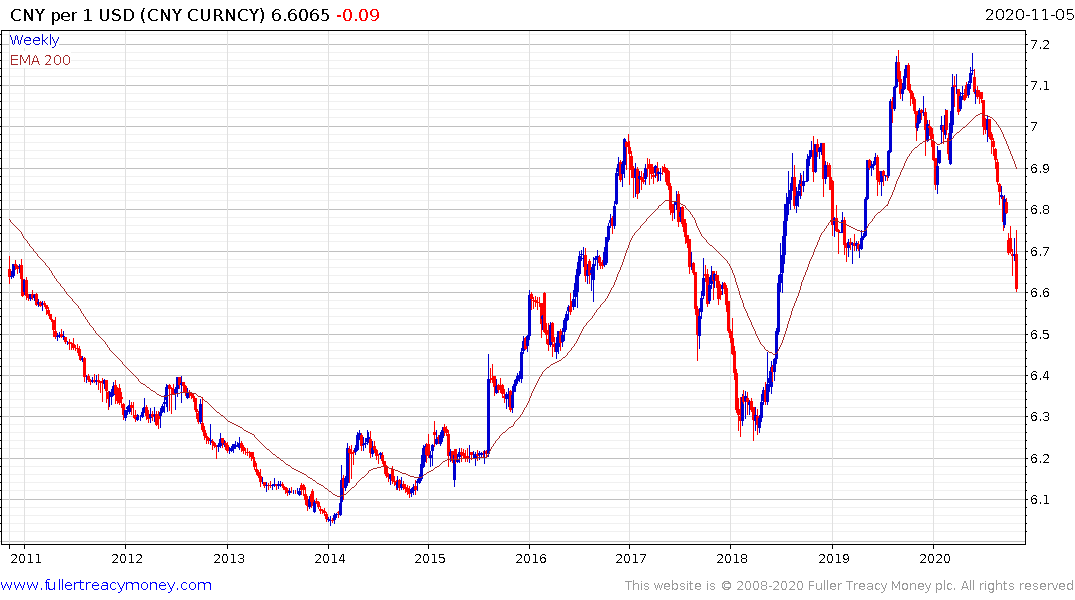 However, the current willingness of the Chinese to allow the Renminbi to appreciate has been a green light for speculation in emerging markets. Many countries need to hold down the value of their currencies versus the Renminbi to support their export models. They are now free to allow their currencies appreciate at least in line with the Renminbi.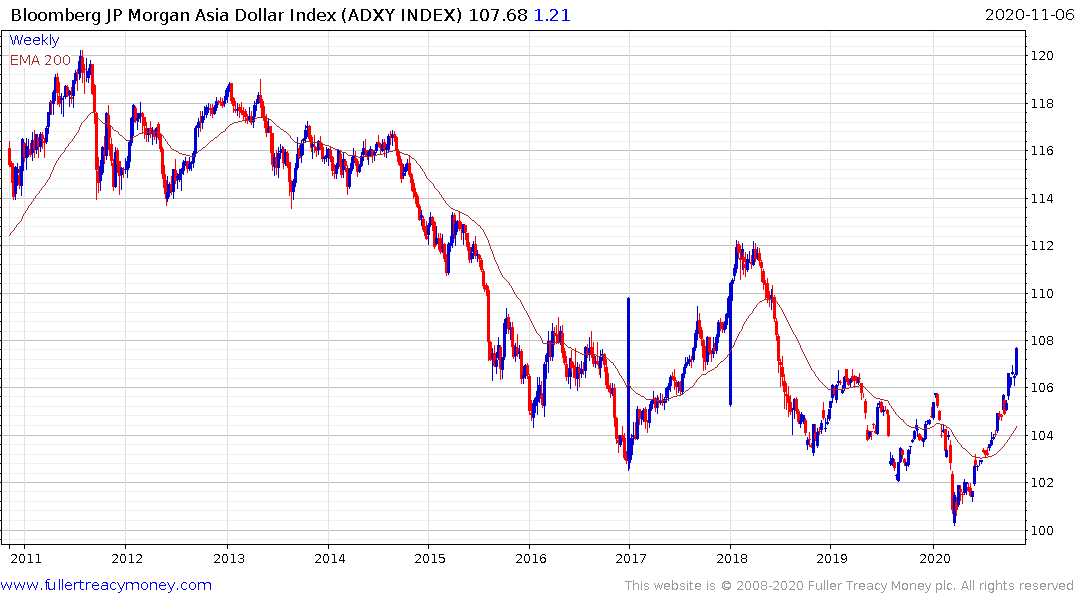 The Asia Dollar Index has now clearly broken its downtrend.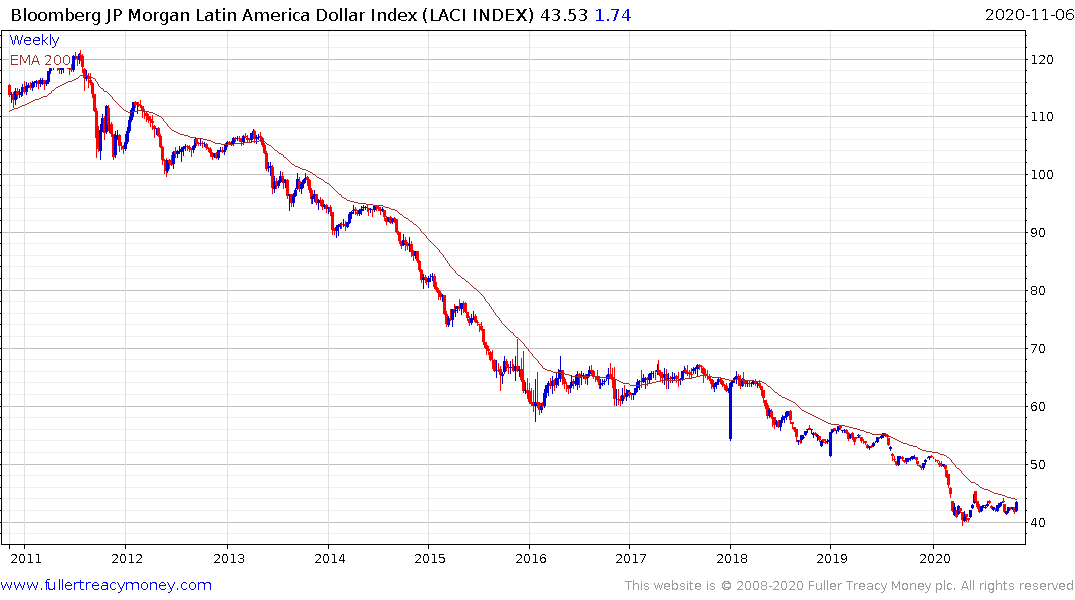 The Latin America Dollar Index is firming from very depressed levels to test the region of the trend mean.
This paragraph from Christopher Woods' Greed & Fear report may also be of interest:
Meanwhile, India's young demographic is the main reason why death rates per 1m of population remain well below those seen in America and Europe. Covid deaths in India total 124,315 or 91 per 1m of population, compared with 710 per 1m of population in the US, 708 in the UK and 463 in Europe ex-UK. In this respect, the biggest determinant of death seems to be the percentage of the population aged over 80 (see Exhibit 14).
The reality is that emerging markets have long had favourable demographics but that is particularly beneficial now because they will come out of the pandemic in a much stronger position.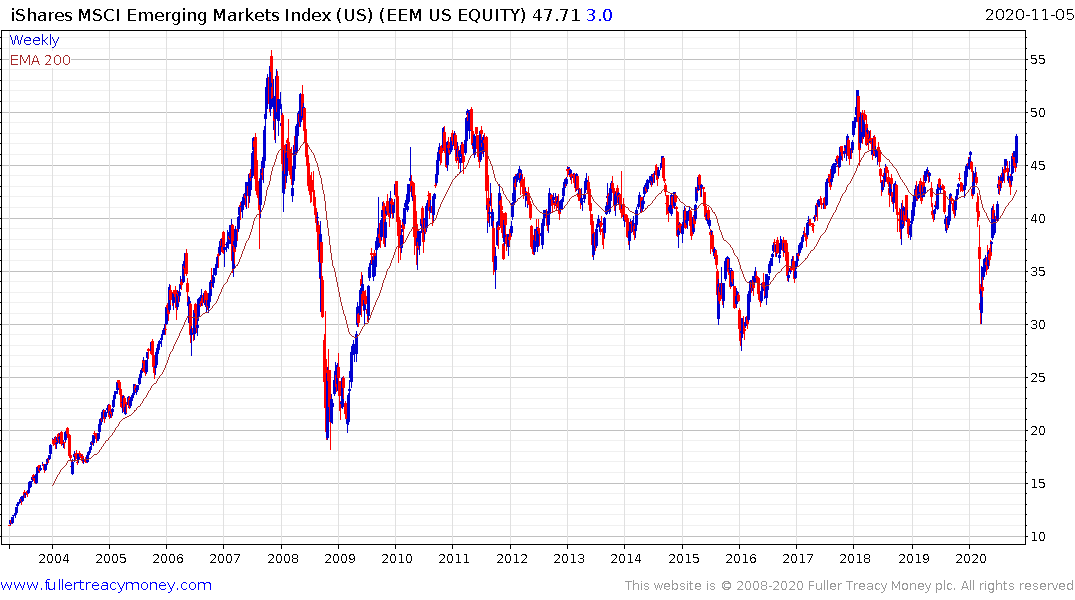 The iShares MSCI Emerging Markets Index which is heavily weighted by China broke out to new recovery highs this week.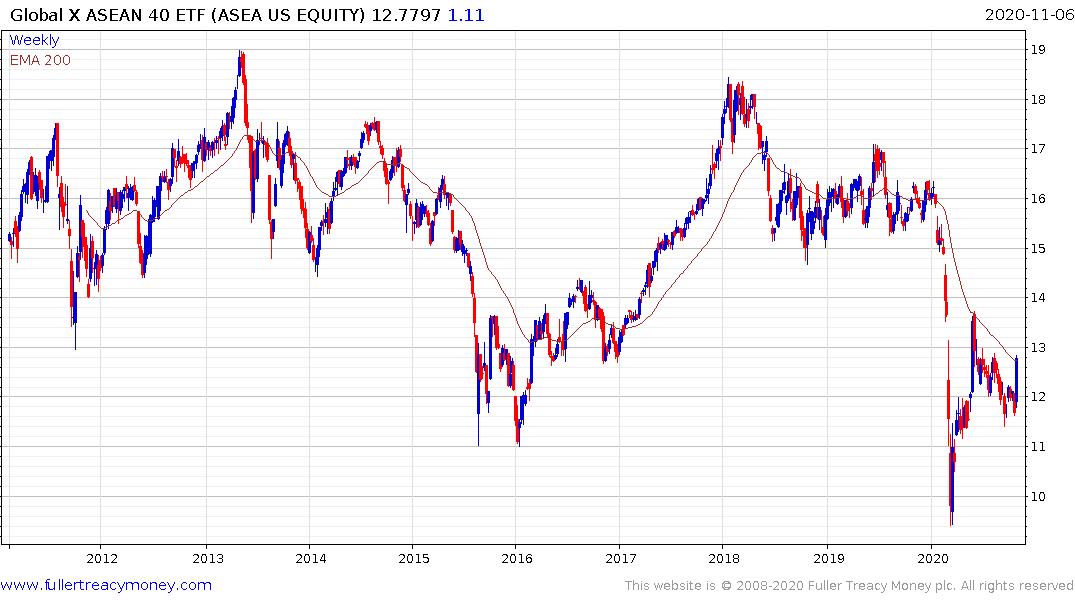 The Global X FTSE Southeast Asia ETF rebounded impressively from the region of the trend mean this week.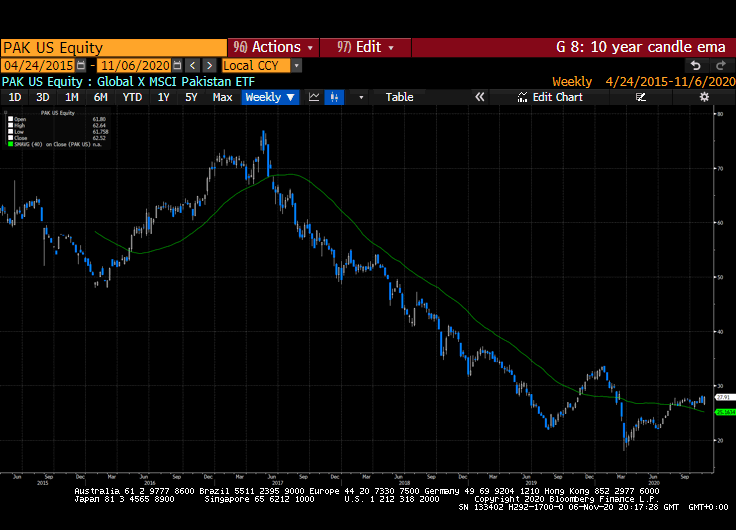 The Global X MSCI Pakistan ETF is currently firming from the region of the trend mean and may be in the process of completing its base.
Back to top