Xi Can Make Life Difficult for U.S. Companies After Trump Threat
This article from Bloomberg news may be of interest to subscribers. Here is a section:
Pressuring companies through bureaucratic means "is a practice that the Chinese have used for a long time and our companies are on guard," William Zarit, chairman of the American Chamber of Commerce in the People's Republic of China, said on Bloomberg Television. "This is definitely a concern."

South Korean and Japanese companies have all felt this effect, with their businesses in China hurt as part of a dispute between states.

In 2017, following the Seoul government's decision to deploy an anti-missile system that China opposed, China forced South Korean retailer Lotte Shopping Co. to suspend operations at many of its hypermarkets in the country for alleged violations of fire-safety rules. The company eventually decided to pull out of China, but still can't sell all its units and continues to rack up losses. In total due to the dispute, Lotte Group lost an estimated 2 trillion won ($1.8 billion) in the year from March 2017, according to Yonhap News Agency.

The backlash also led to boycotts, with consumers shunning cars from Hyundai Motor Co. and cosmetics from Amorepacific Group. Chinese tourists cancelled Korean vacations, forcing airlines to scrap flights and hotels to slash rates. The Bank of Korea estimated that 0.4 percentage point was cut from 2017's gross domestic product.
China has such a wide trade surplus with the USA that it is going to be hard to meet the increased level of tariffs the USA is proposing, without greatly increasing the levels on the goods it does import. However, there are additional measures the country can take to express its dissatisfaction.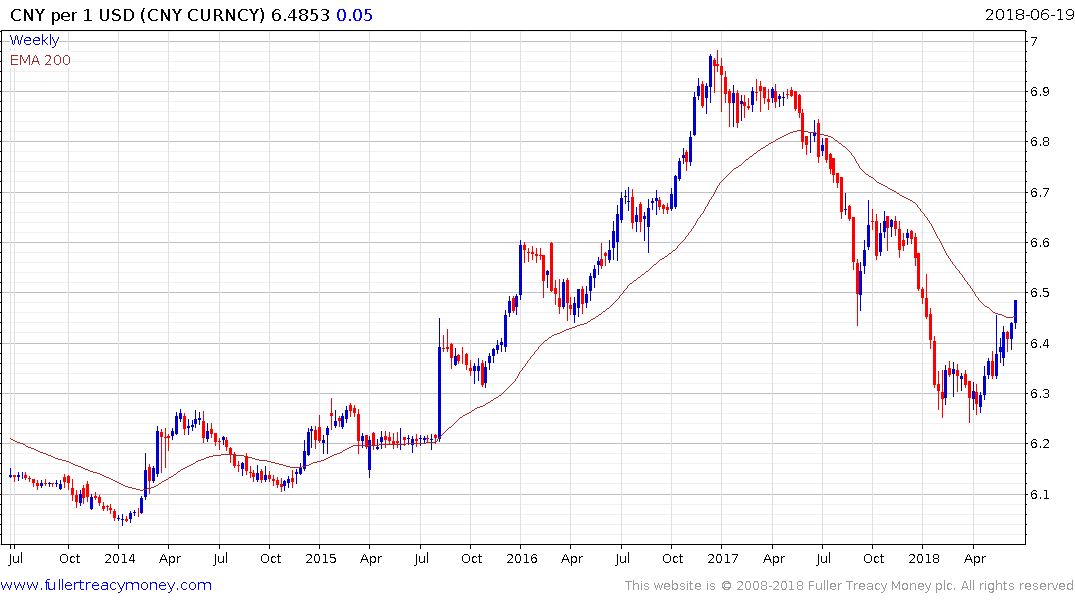 The first and easiest is to devalue the currency. The Dollar surged through the trend mean against the Renminbi today suggesting not only is the market voting that China will be more affected by US sanctions than vice versa but that China is happy to allow the currency fall to insulate its market from outside interference.
China will be very cautious about endangering its status as workshop of the world. Therefore, slapping export duties on manufactured goods, audits and regulations on US companies doing business in China is unlikely. I agree with the point made in the above that article that China has a long history of making matters difficult for companies and that represents a substantial risk not least for companies like Apple and Wal-Mart.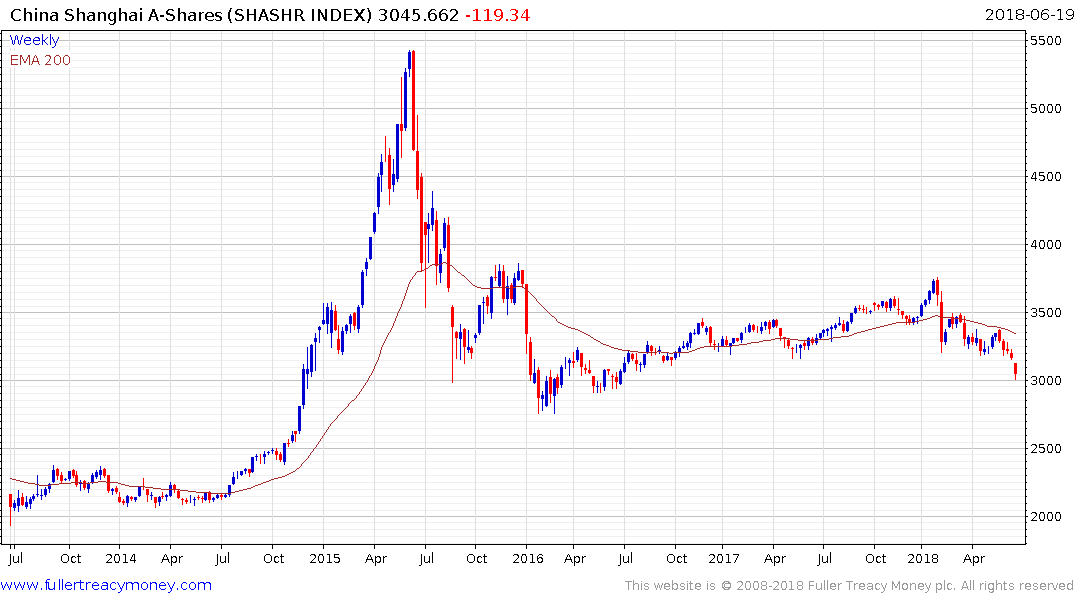 The domestic Chinese Shanghai A-Share Index is taking the brunt of selling pressure. It dropped back to test the 3000 level today and while oversold in the short-term a sustained move above the trend mean would be required to question the medium-term downward bias.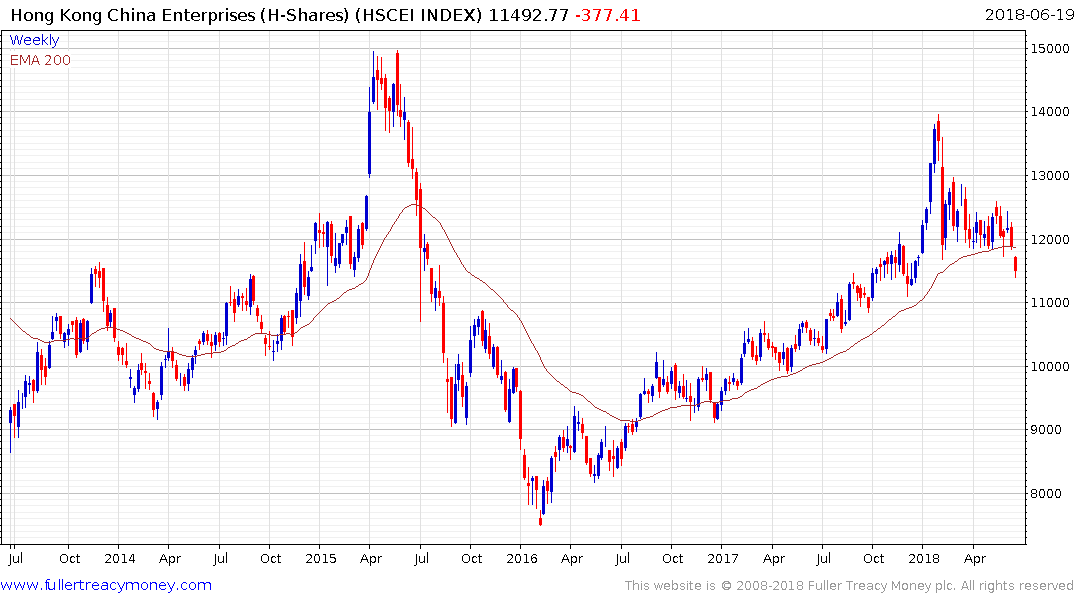 The Hong Kong listed China Enterprises Index (H-Shares) broke its progression of higher reaction lows today to extend its corrective phase. A sustained move back above 12000 is the minimum required to question the downward bias.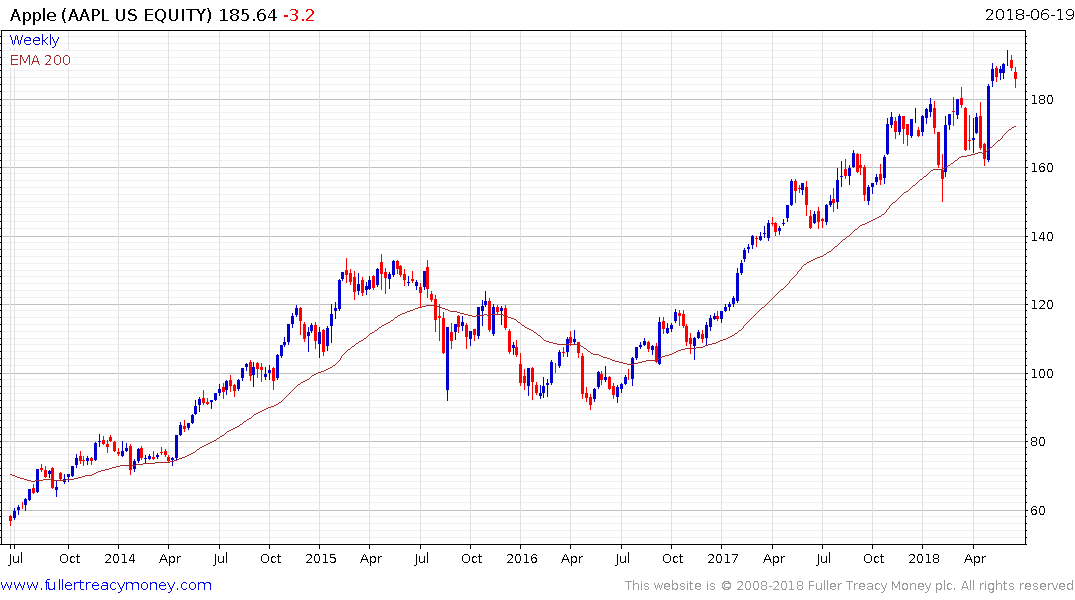 Apple appears likely to unwind its overbought condition relative to the trend mean as risks to its China growth strategy are priced in.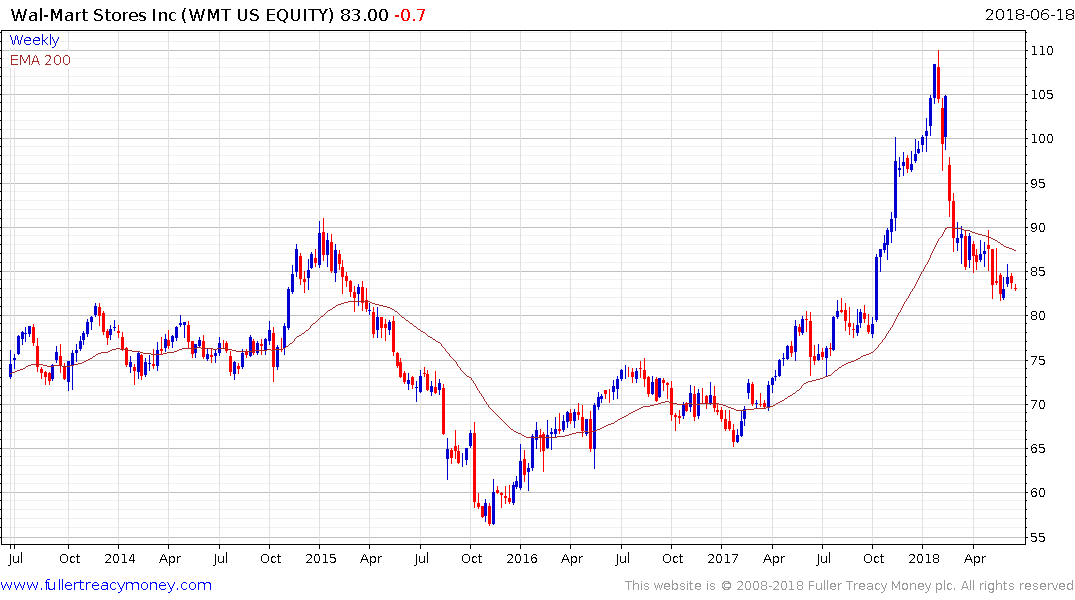 Wal-Mart has fallen precipitously from its January peak and has lost momentum over late. However, a sustained move above the trend mean will be required to break the downtrend.
Back to top