World's No.1 Miner Is Building an EV Hub It Doesn't Want to Keep
This article by David Stringer Bloomberg may be of interest to subscribers. Here is a section:
"The investment in Nickel West makes sense regardless," said James Eginton, an analyst at Sydney-based Tribeca Investments Partners Pty, a BHP shareholder that's urged the producer to extend its suite of commodities to tap rising battery demand. Efforts to refocus the business will either boost the value of a sale, or lift the unit's cashflow if the assets are retained, he said.

BHP began building a nickel sulphate plant at Nickel West in recent weeks and is considering a slate of further expansions to make it the largest source of the material and a hub for other battery ingredients. It's aiming to sell 90 percent of output into the battery supply chain by about 2021, from less than a third at the end of last year. Global nickel demand could more than double by 2050, fueled in part by rising electric vehicle sales, Bloomberg Intelligence said in a June report.

The world's biggest mining companies are ratcheting up their response to the booming demand for battery raw materials.

Rio Tinto Group is developing a lithium project in Serbia, while Glencore Plc plans to double production of cobalt and is effectively "a one-stop-shop" for investors seeking exposure to EV gains, Sanford C. Bernstein Ltd. said in a note this month.
A measure of just how technology focused the automotive sector has become is how many CEOs have turned up at the Consumer Electronics Symposium (CES) this year. When I attended two years ago Faraday Futures stole the show but this year Ford and other manufacturers were keen to lay out their electric car ambitions.
Tesla might have been the first company to successfully build batteries suitable for transportation at scale but will surely not be the last. Construction is underway that will multiply battery production in the coming decade which will lead to increased demand for lithium, copper, nickel sulphide and cobalt.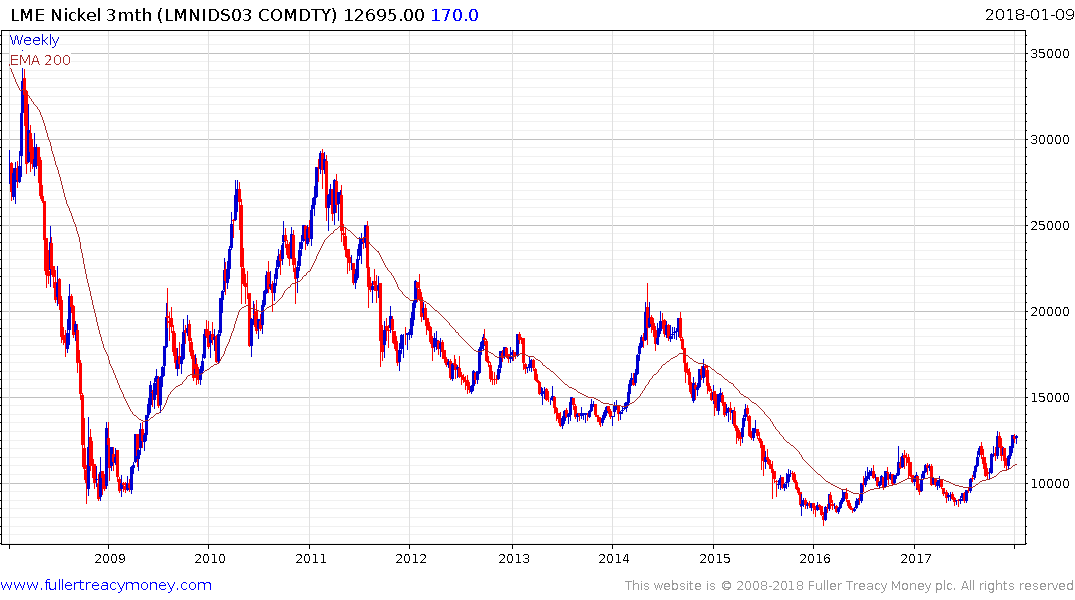 The LME is considering splitting its current nickel contract to cater to the evolving market for nickel sulfate. In the meantime, the price has failed to rally meaningfully due to surfeit of nickel pig iron which is primarily used for stainless steel production.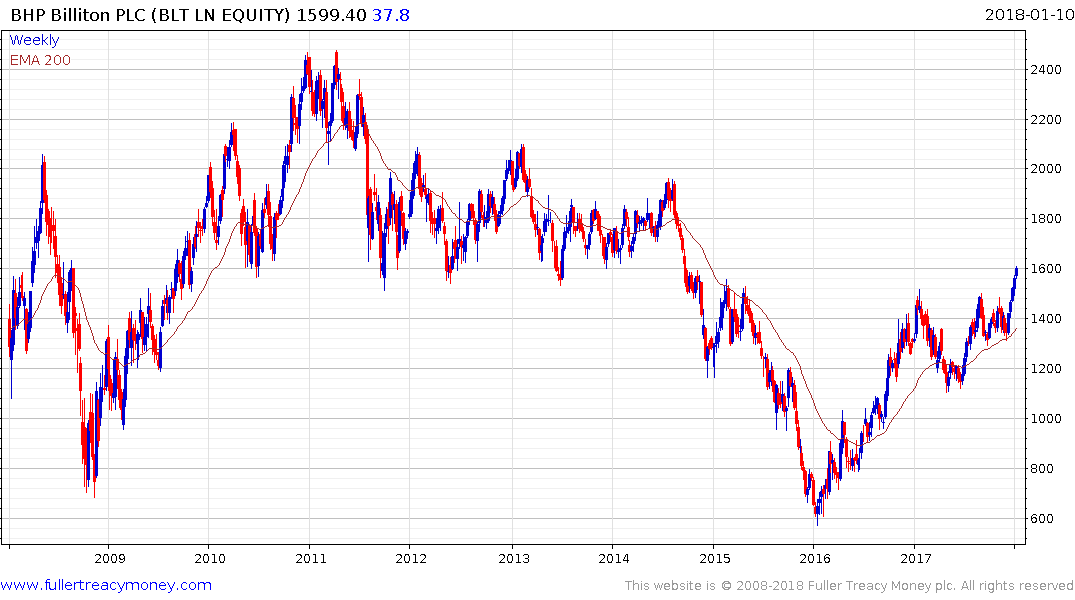 BHP Billiton's construction of a nickel sulfate plant will help secure supply of the commodity and could contribute to the creation of a dedicated future. The share completed a yearlong range at the turn of the year to reassert medium-term demand dominance.
Back to top