World's Most Vaccinated Nation Struggles With Virus Variants
This article by Gwen Ackerman for Bloomberg may be of interest to subscribers. Here is a section:
The variant first identified in the U.K., 50% more infectious and possibly more virulent than the original virus, is to blame for the inability so far of the vaccination campaign and the lockdown to curb the spread, Israeli health ministry officials said.

Although the vaccine is believed to work against the variant, the mutation's more contagious nature means higher infections and hence more hospitalizations. The health ministry's main goal now is to bring down the numbers of the seriously ill who are overwhelming hospital wards and exhausting medical teams.

The rate of infections in Israel has declined to just over 9% from 10.2% earlier this month, and people seriously or critically ill has stabilized at about 1,100. But the number of patients on respirators has hit a record, Corona Commissioner Nachman Ash has said. More than 4,600 people in Israel have died from the virus, and more than 7,600 people are being diagnosed with it daily.

Balicer said it would likely take another 10 days before the country sees critical cases decline, allowing the economy to begin to return to normal.
Israel offers a valuable preview of what the rollout of vaccines in other countries will look like. The country's advantages in having a small population, socialised medicine and rapid vaccination program suggest it represents a best-case scenario for what other countries might hope for. As vaccinations roll out and enthusiasm that the light at the end of the tunnel is in view, the spectre of virus variants represents a brake on the pace of reopening.
The UK is probably the closest large country to the Israeli experience. Many European countries did not act with sufficient urgency to secure doses. They will be at the other end of the spectrum in terms of speed of vaccinations and reduced numbers of critical patients. The USA is somewhere in between with a large dispersed population but active program of vaccinations.
Johnson & Johnson's one-shot vaccine appears to be effective in preventing severe infections and Novavax also came through with impressive results today. The supply of vaccines is going to ramp up in an exponential manner over the rest of the year so that by the end of 2021 we will probably be oversupplied. The challenge in the short-term is opening up might not occur in as timely a manner as many are hoping.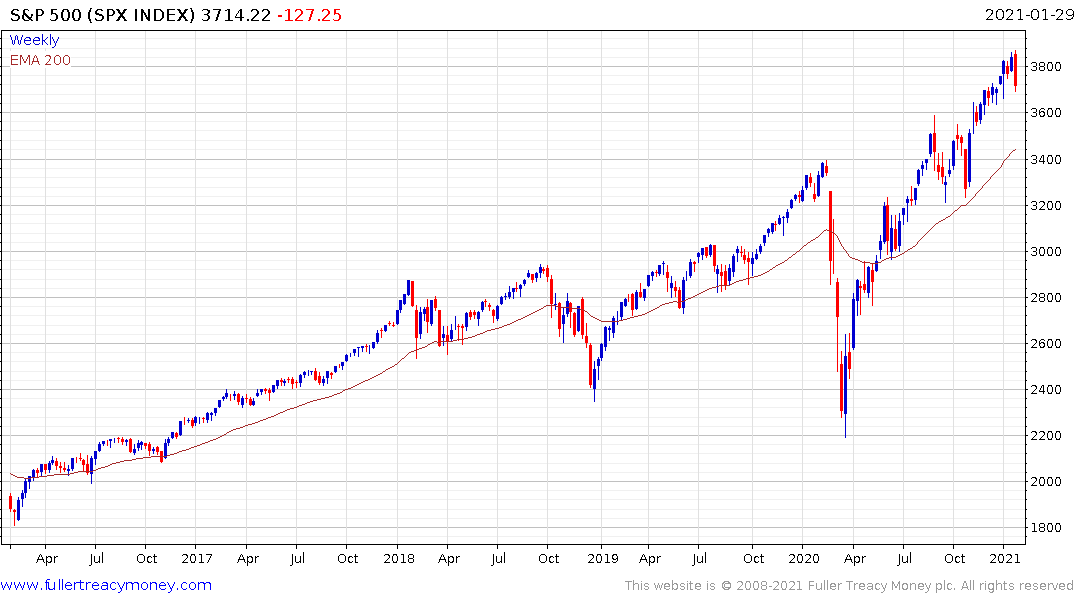 The stock market remains at risk of a further reversion towards the mean as long as central banks do not increase the monetary assistance they are providing. The S&P500 broke its short-term sequence of higher reaction lows today but closed off the lows so the retracement remains modest to date.
Back to top