World's Empty Office Buildings Become Debt Time Bomb
This article from Bloomberg may be of interest to subscribers. Here is a section:
Major institutional owners including Blackstone, Brookfield and Pimco have already chosen to stop payments on some buildings because they have better uses for their cash and resources. "There's significant stress," says Harold Bordwin, a principal in New York at Keen-Summit Capital Partners LLC, which specializes in renegotiating distressed real estate. "People don't give up assets so easily unless they just don't see any hope and they recognize that they're pretty well underwater."

The number of transactions is plunging—and when deals do happen, the price declines are stark. In the US, where return-to-office rates have been lower than in Asia and Europe, values for institutional-quality offices are down 27% since March 2022, when interest rates started going up, according to data analytics company Green Street. Apartment building prices have declined 21%, and malls are off 18%. Office prices are expected to fall more than 25% in Europe and almost 13% in the Asia-Pacific region before hitting a trough, PGIM Real Estate, a unit of Prudential Financial Inc., forecasts.
The work from home trend coupled with sharply higher interest rates is a bad recipe for the commercial real estate sector. It is true that all property markets are local and trophy properties are more likely to thrive than others. However, the bigger question is who owns commercial properties?
Regional banks tend to focus on local loans, so they account for a large slice of commercial real estate debt issuance. The borrowers are often institutional investors who spent the last decade looking at alternatives to low of negative yielding debt. The alternatives asset class has exploded in size during the era of low rates and is ill prepared for higher rates.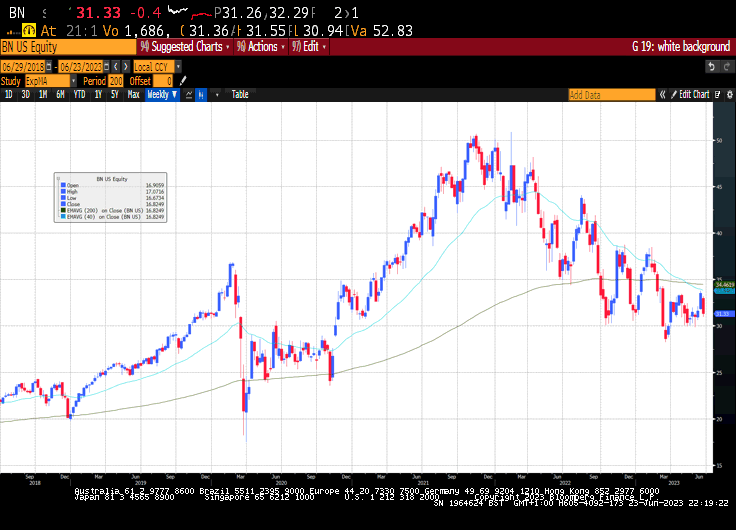 Brookfield encountered resistance again in the region of the trend mean this week to sustain the medium-term sequence of lower rally highs.
This section from the above article focusing on UK commercial property rules may also be of interest.
Another issue looming over London's real estate market is the prospect that hundreds of buildings will be rendered obsolete because they don't meet UK environmental regulations. Properties are graded on energy performance, from A to G. By 2030 it will be illegal to rent commercial buildings that are ranked below B. That leaves landlords forced to make costly upgrades or risk offices sitting empty. Brexit has also contributed to London losing some of its financial allure, says PGIM's Hayes. Office buildings are "very, very vulnerable for the near term," he says.
The new rules on energy efficiency for UK commercial real estate have potential to be a real headache. I would not be surprised to see future governments roll them back. It does suggest there is a clear business opportunity for companies offering remedial upgrades. I'll keep my eye open for opportunities in that sector, but I don't see a clear play at present.
Back to top