With Tariff Deadline at Hand, Businesses Brace for the Fallout
This article from the Wall Street Journal may be of interest to subscribers. Here is a section:
And China has been shifting soybean purchases to Brazil, from which it bought nearly 30% more beans in May than it had a year earlier, according to research firm CEIC. Chinese importers have mostly stopped buying U.S. soybeans, said Paul Burke of the U.S. Soybean Export Council, and agricultural giant Cargill Inc. worries about a longer-term shift to other suppliers.

By value, soybeans are the top item targeted by Beijing's proposed tariffs; China imported around $14 billion in U.S. soybeans last year, according to Wind Information

In all, China's tariffs would cover 545 categories of U.S. products, while the U.S. tariffs would cover 818 categories of products from China.
The USA and Brazil are by far the largest exporters of soybeans in the world and if China is no longer buying soybeans from the USA it will soon run out of places to buy. What happens when Brazil's stores run out? China is not about to stop consuming tofu, soybean oil, soy sauce or other soy products. With prices at such low levels, farmers are going to be planting fewer soybeans and that will create a supply shortage at some point.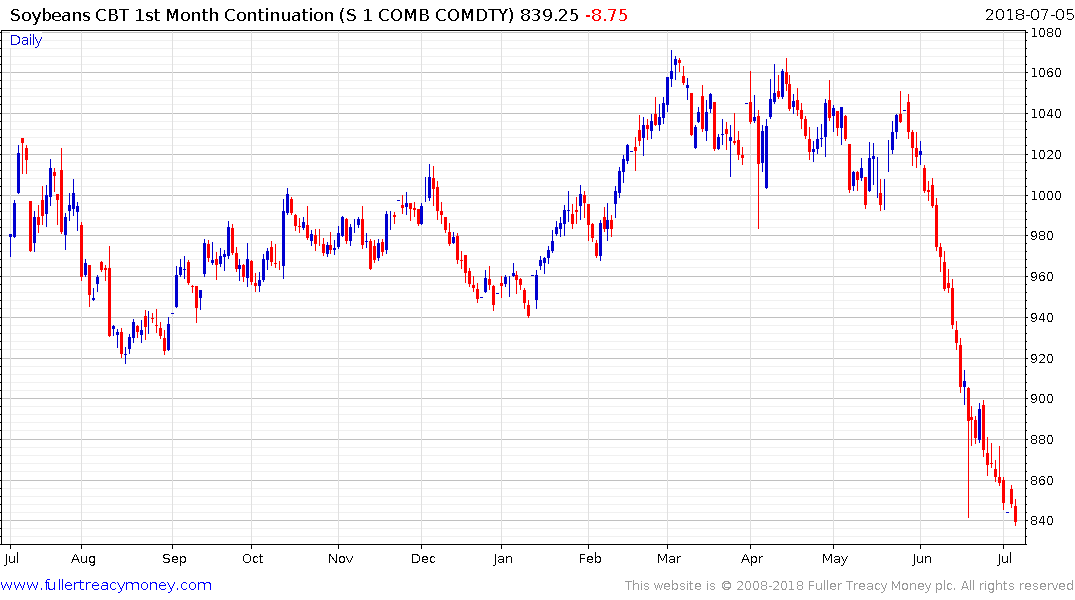 The price has completely unwound the rebound posted on June 16th and hit a new low today. It has fallen for 23 of the last 26 trading sessions and is rapidly approaching the lows posted in 2015/16 and 2008.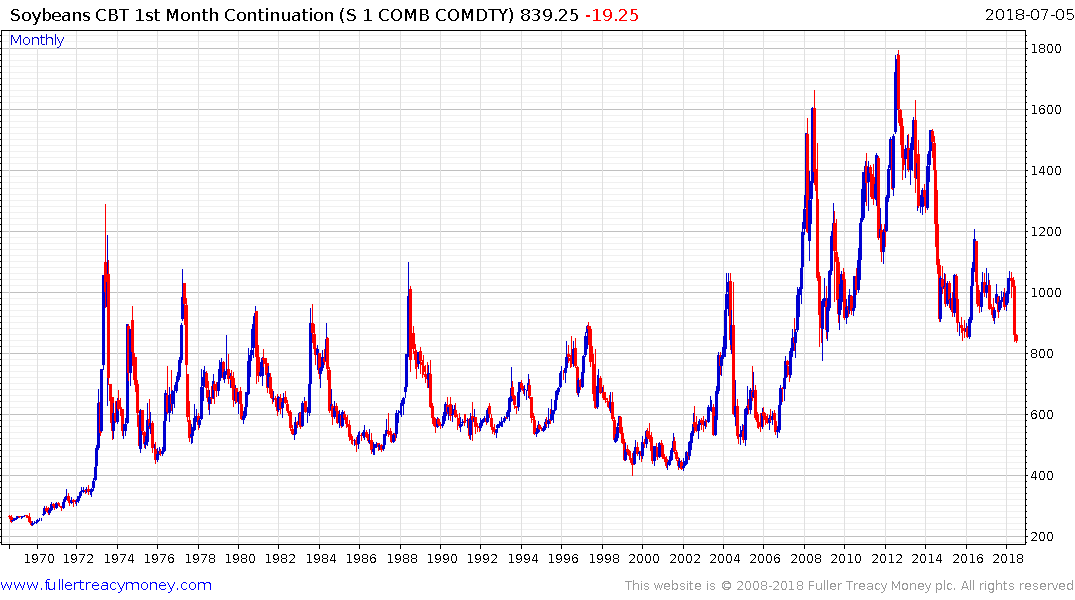 800¢ is the lower side of the 10-year range but represents the upper side of the prior long-term base. This is a pivotal level for the price if the higher price environment, that has prevailed since the early 2000s, is to be sustained.
There is certainly potential that this represents a sell the rumour, buy the news situation considering how deep an oversold condition is evident.
Back to top