Why Is Bitcoin Tumbling and What Is the Outlook for Prices?
This article by Emily Cadman for Bloomberg may be of interest to subscribers. Here is a section:
As digital assets make further inroads with both retail and institutional investors, regulators across the world are taking a closer interest.

On Friday, the Turkish central bank said it would ban their use as a form of payment from April 30 and would prohibit companies that handle payments and electronic fund transfers from processing transactions involving crypto platforms.

There was also online speculation over the weekend that the U.S. Treasury is poised to crack down on money laundering carried out through digital assets. The Treasury declined to
comment.

Other sources of regulatory pressure include central banks' plans to create digital currencies such as China's for the yuan, and the ban of cryptocurrency mining in Inner Mongolia, long an industry favorite because of its cheap power.

"We will see more regulation coming," Eva Ados, chief investment strategist at asset manager ERShares, said on Bloomberg TV, warning investors to be "very careful." "We think there is going to be even more volatility going forward."

* Overexcitement
Any big rally offers potential for the market to get ahead of itself. That's the view of Galaxy Digital founder and long-time crypto bull Michael Novogratz, who wrote on Twitter he sees the retreat as a healthy correction.

Mike Novogratz @novogratz
With hindsight it was inevitable????????. Markets got too excited around $Coin direct listing. Basis blowing out, coins like $BSV, $XRP and $DOGE pumping. All were signs that the market got too one way. We will be fine in the medium term as institutions coming to the space.
Sent via Twitter for iPhone.

* Idiosyncratic factors
Other things could be adding to the mix. Industry news site CoinDesk reported Saturday that power outages in parts of China had knocked out a significant amount of Bitcoin mining capacity, which reduced the overall processing power of the cryptocurrency's network.

There's also the timing.
"Bitcoin goes crazy on weekends because it's one of the few markets open to trade in," Kyle Rodda, a Melbourne-based market analyst at IG said. "And it's lost some buying support."

Direct listings put no limit on the quantity of stock that can be sold directly to the public on the first day of trading. In a normal IPO there is a defined quantity of stock than can be sold and there are lockups for insiders that prevent them from selling immediately. Direct listings don't have those controls. One way to look at it is direct listings prevent dilution of existing shareholders ownership. Another is they afford insiders the ability to liquidate their positions in one fell swoop. It looks increasingly clear that Coinbase insiders sold $5 billion of shares on the first day of trading. https://cointelegraph.com/news/coinbase-insiders-dump-nearly-5-billion-in-coin-stock-shortly-after-listing
All those retail investors who profited handsomely from the advance in cryptocurrencies over the last year will have rushed to buy into the Coinbase IPO and may now be experiencing buyers' remorse. Those sitting on losses will have sold some of their bitcoin to cover the hole in their P&L. That's how contagion starts.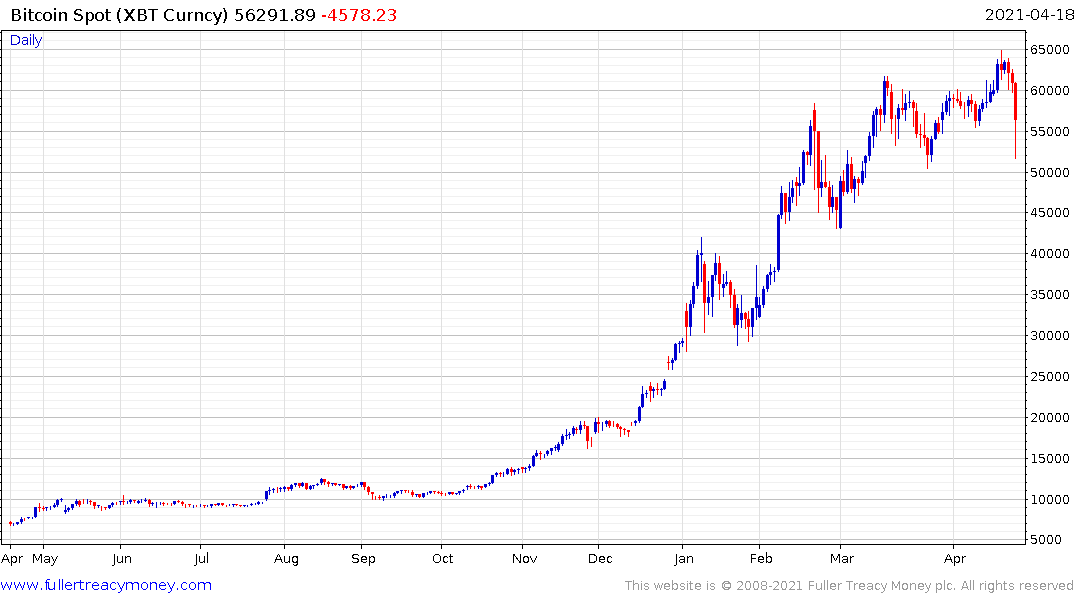 The bigger point is that bitcoin has been losing momentum for two months already. When a previously consistent trend starts to post failed upside breaks it is a warning sign that the imbalance between supply and demand is moderating. Most particularly, it is a sign that the vacuum of supply above the range has not formed. That surfeit of supply above the range throws focus back onto where stops may reside. Generally, in a trend that is losing consistency, the stops are just below the most recent higher reaction low.
Bitcoin dropped straight through the low near $55000 in thin trading on Sunday. It is holding that level today but any semblance of a consistent trend is quickly evaporating. The risk of mean reversion is rising.
The challenge for investors is bitcoin has been a lead indicator for speculation. If it continues to correct, it will increase the scope for contagion selling in highly valued stocks as well.
Back to top