Why Even Minor Legal Reforms Are Important in China
This article by Stanley Lubman for the Wall Street Journal may be of interest to subscribers. Here is a section:
A key issue as the Party confronts flaws in the legal system — one that has risked getting lost in the swirl of opinions around the specifics of judicial reform — is the disconnect between local governments and the central government: Local mishandling of problems arising from illegal land expropriations, tolerance of environmental pollution and disregard of product safety problems have led to widespread discontent that undermines the party's legitimacy. The question underlying the current reform effort is whether the mentality of local officials can be shaped to guide their adherence more closely to centrally promulgated laws and policies.

An article in the progressive journal Caixin recently commented on "bureaucratic lethargy [that] is especially evident in local government departments." In addition to modifying central-local financial relations, changing the criteria for evaluating local government performance, and simplifying administration, the article identified "setting up a system that is based on the rule of law" as an important remedy.

That's easier said than done, and many of the legal reforms proposed so far appear to skirt around the issue. What is needed is a more explicit commitment to strengthen the discipline required for the courts to enforce laws consistently and reasonably. More attention needs to be focused on how judges should interpret and follow legal rules, and on how they should exercise their discretion.
Much of the debate about the impact of the Communist Party discussing how the law should be interpreted have focused on the difference between "rule by law" versus "rule of law". However this misses the wider point. The Communist Party is grappling with the challenge of imposing accountability on several hundred thousand officials while also maintaining an iron grip on power and keeping a lid on political dissent. This debate suggests a desire to improve standards of governance.

Democracy is not necessary for growth to flourish. However the institutions normally associated with democracy that help improve standards of governance such as property rights, respect for minority shareholder interests and an independent judiciary are very important. It is for this reason that the current debate is important. Progress on any one of these attributes, even with "Chinese characteristics" would represent a step forward in terms of governance. This would in turn contribute to improving confidence.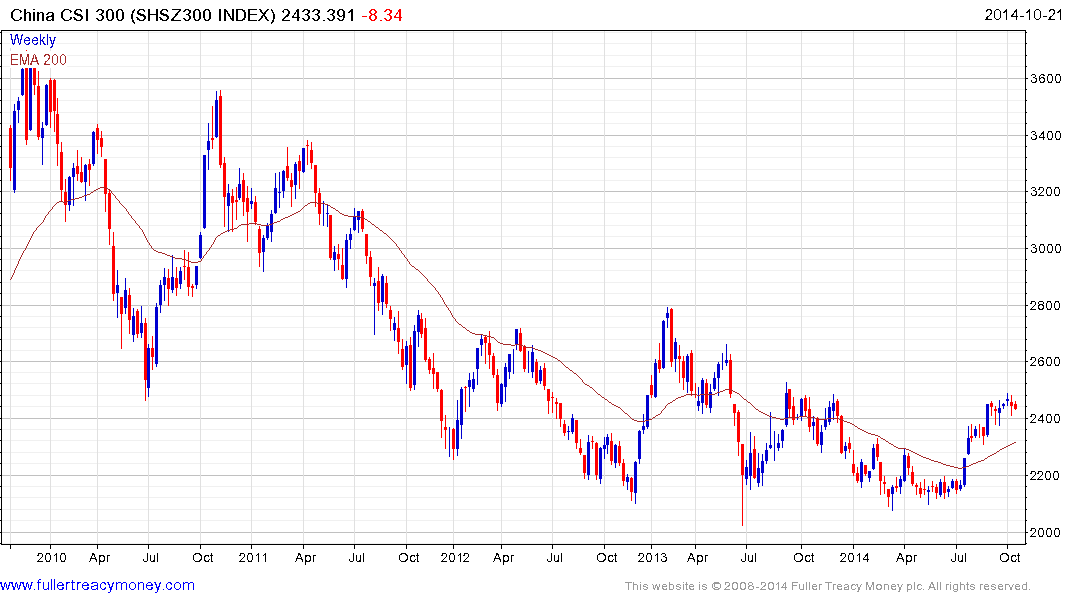 The CSI 300 Index continues to consolidate its earlier breakout and a sustained move below the 200-day MA, currently near 2300, would be required to question medium-term scope for additional upside.
Back to top