Why AT&T Stock May Be Near a Bottom With Its Proposed Dividend Cut
This article from investorplace.com may be of interest to subscribers. Here is a section:
The question remains then whether $20.23 is still too high. For example, with a 6% dividend yield, the stock has to trade at $19.17 per share. If we add $4.76 to that price, this implies that T stock should be at $23.93 per share.

That implies that T stock could fall another $1.12 or 4.5% to $23.87 if the post-split dividend yield will be at 6%.

But don't forget this is just an estimate. We don't know exactly what the new dividend payment will be. For example, if the dividend is reset at $1.18, then today's price implies a new post-split yield of 5.62% (i.e., $1.18 / $20.99). That is fairly close to 6% and may imply that T stock is actually near a trough.

Until the company begins to clarify some of these issues, the market will not know exactly where to price T stock. However, all indications are that it is getting close to a trough, assuming that the new yield will be close to 6%.
An 8.38% yield is conspicuously large even for the high yielding global telecommunications sector. With a lengthy history of both paying and increasing the pay out, it is reasonable to assume a good many investors are in the share for the income and are selling because they fear their income will be reduced.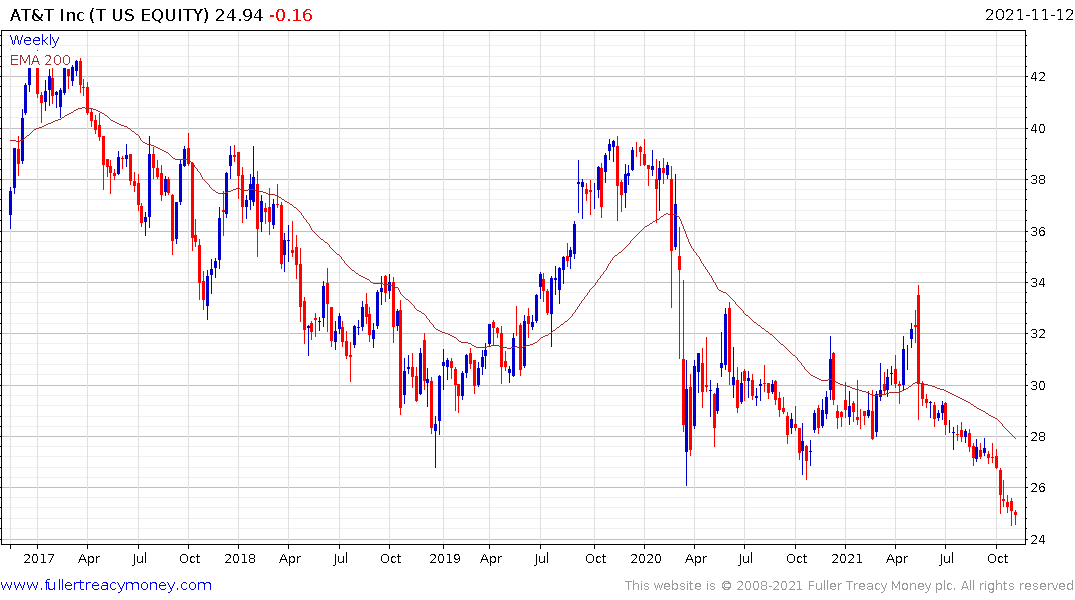 With the impending demerger of Warner Media scheduled for the 2nd quarter the market has been busy attempting to figure out what the pay-out is going to look like. That helps to explain the sharp decline post the demerger announcement. The price is now back testing the 2010 lows but it is going to need an upward dynamic to check the downtrend and pressure shorts.
Meanwhile commonality in the wider sector supports the argument the stock is in the region of a low.
Back to top