Why Alibaba IPO will make it the next global tech powerhouse
Thanks to a subscriber for this interesting article by Arshy Mann and Joe Castaldo for Canadian Business.com. Here is a section:
Alibaba's best bet for international expansion is probably not North America but everywhere else. Last year it made all of its products available in Hong Kong, Macau and Taiwan. Countries like Singapore and Malaysia, with large numbers of Chinese speakers, now look ripe for the picking. Emerging economies in Africa and Latin America are also promising, where underdeveloped financial systems could allow Alipay to become the dominant online payment system.

Alibaba's experience in overcoming Chinese consumers' distrust of online commerce should also help as it expands into other emerging economies. Among its innovations have been a third-party verification process to vet sellers' claims and a chat function so buyers can talk to sellers in real time. Alipay is also an escrow service, so payment isn't released to vendors until buyers indicate they're satisfied with the quality of the goods. The company doesn't have to grow organically, either. "It is an extremely cash-rich company that could easily gain a large position in other markets through investments or acquisitions," says James Roy, an associate principal at China Market Research Group in Shanghai.

As Alibaba considers tentative steps abroad, it's also becoming a crucial link for western retailers coming to China. Because of Tmall's popularity, it's far easier and cheaper for foreign brands to buy exposure on the site rather than start from scratch. Chinese consumers don't even look for products through a search engine; they go straight to Tmall. Adidas, Pampers and Canada's own Roots now have dedicated pages on Tmall. A spokesperson for Roots declined to comment, other than to say its Tmall presence is a "preliminary test to help determine whether we decide to develop this further." Tmall alone is set to surpass Amazon in 2015 to become the world's biggest online retailer, according to Euromonitor, so any company would be foolish not to consider partnering up.
Alibaba is one of a small number of Chinese companies that has emerged to compete on the global stage and as its founder Jack Ma is certainly deserving of acclaim. However, the fact that he has stepped down as CEO in advance of the IPO raises the possibility that he wishes to cash out of the business rather than lead it to the fresh heights many who will buy the stock aspire to.
In the current environment where internet related IPOs are surging, the potential for Alibaba to do the same is nontrivial. However, I have to ask myself if Apple would have been the company it is today if Steve Jobs has resigned as CEO six months ahead of its IPO? Probably not.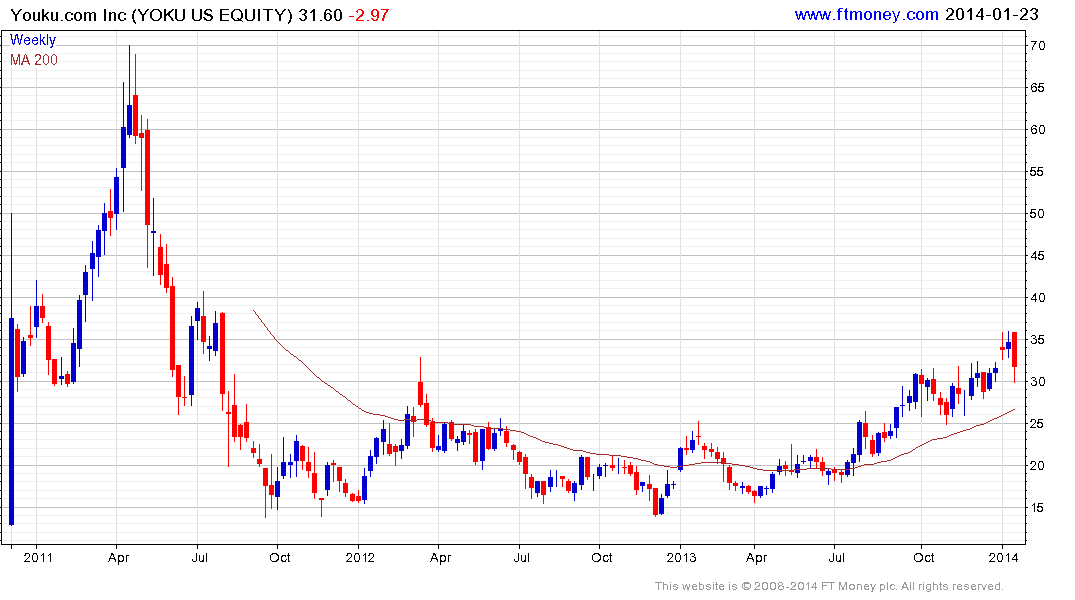 Among other high profile Chinese internet companies, the banning of the Chinese branches of major auditors such as Ernst & Young etc from examining US listed Chinese companies by the SEC today hit the value of shares such as Youku. It pulled back to test the $30 area and will need to hold the medium-term progression of higher reaction lows if recovery potential is to continue to be given the benefit of the doubt.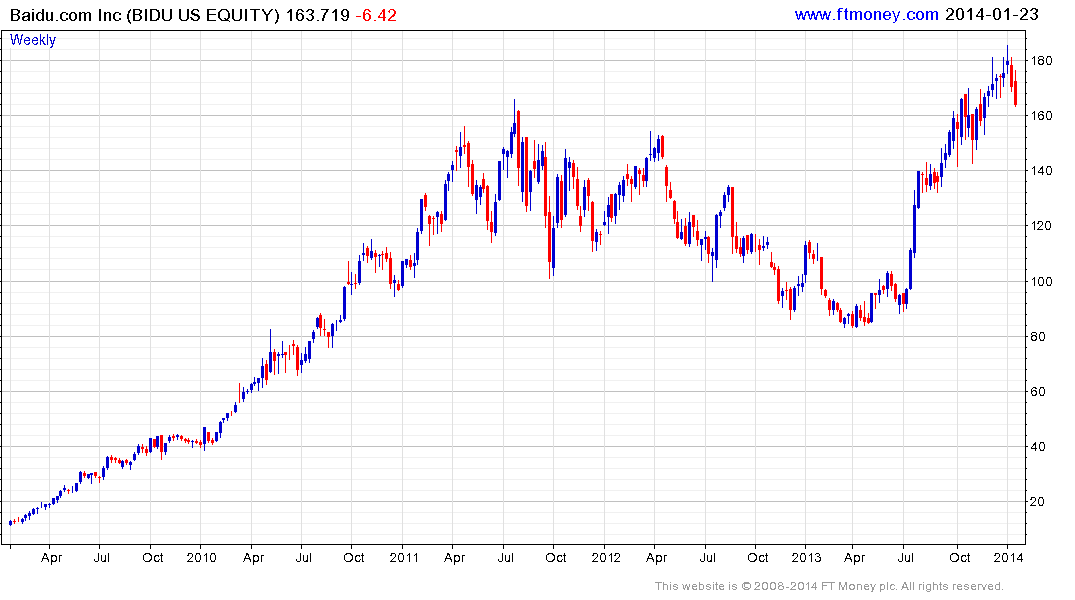 Internet search provider, Baidu, lost momentum in the region of $180 from early December and pulled back sharply today to break the short-term progression of higher reaction lows. A process of mean reversion appears to be unfolding and the share will need to find support in the region of the 200-day MA, currently near $150, if medium-term potential for additional upside is to be given the benefit of the doubt.
Back to top