Who owns the sun
This article by Noah Buhayar for Bloomberg may be of interest to subscribers. Here is a section:
Buffett's company has also bought renewable energy through long-term contracts. Last year, NV Energy signed up to purchase power from a giant First Solar installation outside Las Vegas for $38.70 per megawatt-hour. Analysts said at the time that it was one of the cheapest rates on record. Commissioners cited projects like that for why it made no sense to continue encouraging net metering in Nevada. If the goal is to put more solar on the grid, it'd be far cheaper for NV Energy to procure it.

This, of course, is of little consolation for the Nevadans who've already blanketed their roofs with solar panels. The public outcry seems to have registered with NV Energy. On Jan. 25 it said it would ask the commission to allow existing net-metering customers to stick with the old system for two decades in some instances. "A fair, stable, and predictable cost environment is important to all our customers," Paul Caudill, the utility's president, said in a statement. The commission will soon rehear that portion of the case.

Even if the utility's proposal is accepted, it may not go far enough for the solar industry. The December decision could be challenged in court—or taken straight to voters. SolarCity and other groups are trying to get the issue on the November ballot.

Caught in limbo are people such as Dale Collier. The day after the commission hearing, he showed off a 56-panel system on his home in the Las Vegas suburb of Henderson. It cost him about $48,000 to install in 2011. SolarCity hadn't yet set up shop in Nevada, so he paid for it by refinancing his house. The system took his NV Energy bill down to about $80 a month from the $330 it used to average, he says. One year, he got a $1,355 check from NV
Energy because his solar power was helping the utility meet its renewable energy requirements. "It was the smartest thing I'd ever done," he says. "Now, it's the stupidest thing I've ever done."

Collier had planned to retire from his job flying small cargo planes. But he doesn't want to stop working until he has a better handle on his monthly bills from Buffett's utility. "If it goes totally haywire, I'm going to look at batteries," he says. "I'd love to just go off the grid totally, and tell them to f--- off."
The acrimonious battle between legacy utilities and distributed supply represented by solar has come to a head in Nevada. There is a great deal at stake and emotions are running high, not least because people have invested a lot of money and risk a profit turning into a loss.

If we look at the situation with a clear perspective the upkeep of the electrical grid is not free. Both utilities and consumers use it to buy and sell electricity. Therefore it makes sense that both should contribute to its upkeep. That was the central argument proposed by NV Energy and it's hard to argue with.

Solar has come a long way in terms of both efficiency and reduction in costs. However to make the argument for solar, in the sunbelt, incontestable two things need to happen. Efficiency needs to get even better because prices need to be competitive regardless of what price fossil fuels are trading at. And perhaps more importantly batteries need to be cheaper and more efficient. This would allow producers to only need to sell energy to the grid at the most advantageous time and can keep it for themselves the rest of the time.

It's still a developing sector but battery companies are now following the kind of business model employed by Solarcity with solar cells i.e. free installation with leaseback. This link to privately held Green Charge Networks highlights its recent tie-up with Duke Energy to serve commercial customers like Walgreens and 7-Eleven.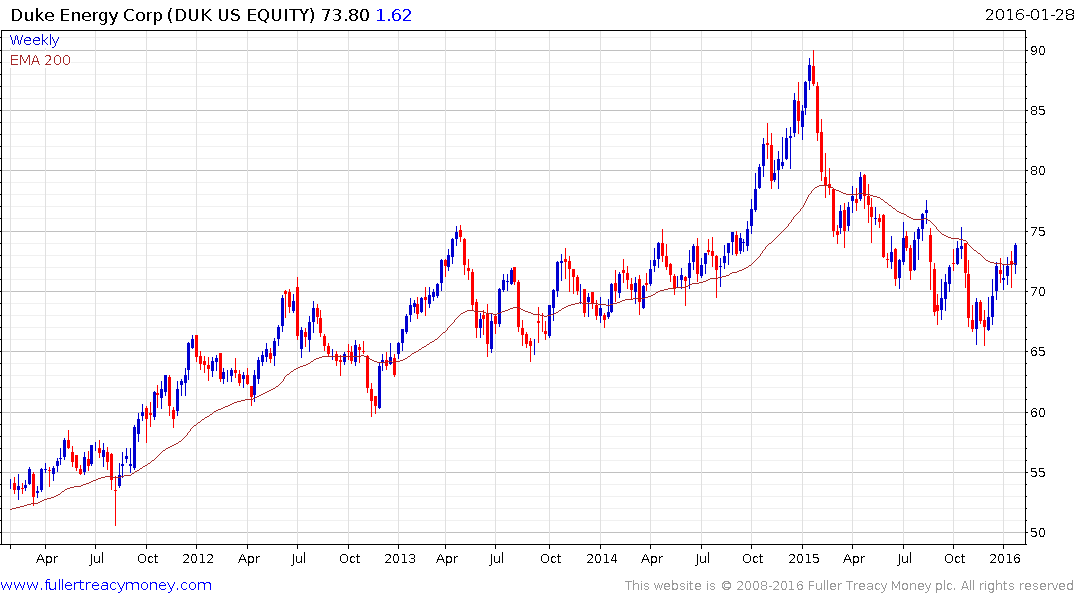 Duke Energy's share rallied this week to break a six-month progression of lower rally highs and a clear downward dynamic would be required to question potential for additional upside.
Back to top