Who is the most competitive of EM all?
Thanks to a subscriber for this note from Lombard Street Research. Here is a section:
India's 'actual' competitive edge lies somewhere in between the REERs estimated by adjusting for ULC and PPI. The OECD's estimate of ULC likely overstates the country's competitiveness as the data may be skewed towards the more productive 'organised' sector. On the other hand, the PPI-based REER may understate competitiveness as it does not adequately capture productivity gains.

India has sharpened its relative advantage thanks to nominal currency depreciation and faster labour productivity growth and slower wage gains than in its trading partners. Meanwhile, producers have cut back on price increase to gain market share.

It is one of the very few EMs where the decline in relative unit labour costs has been greater than nominal FX depreciation over the last decade, implying a chunky contribution to competitiveness. However, most of this improvement occurred before the Global Financial Crisis (GFC). After the crisis, the rupee's nominal decline outstripped that of ULCs on the back of a widening current account deficit.

Domestic policy errors, poor progress on structural reforms and populist fiscal policies that drove wage growth above productivity growth are largely to blame. Indeed, India appears less competitive after adjusting for CPI (vs. for ULC and PPI), reflecting entrenched inflation expectations and supply-side bottlenecks.
entrenched inflation expectations and supply-side bottlenecks.
My view – India was not the only country to experience currency devaluation last year but the Rupee's was among the most aggressive; giving up 30% of its value between May and August. It has since steadied following the intervention of the RBI which suggests that the competitive advantage gained can be held onto. A similar condition is evident in a number of Asian countries.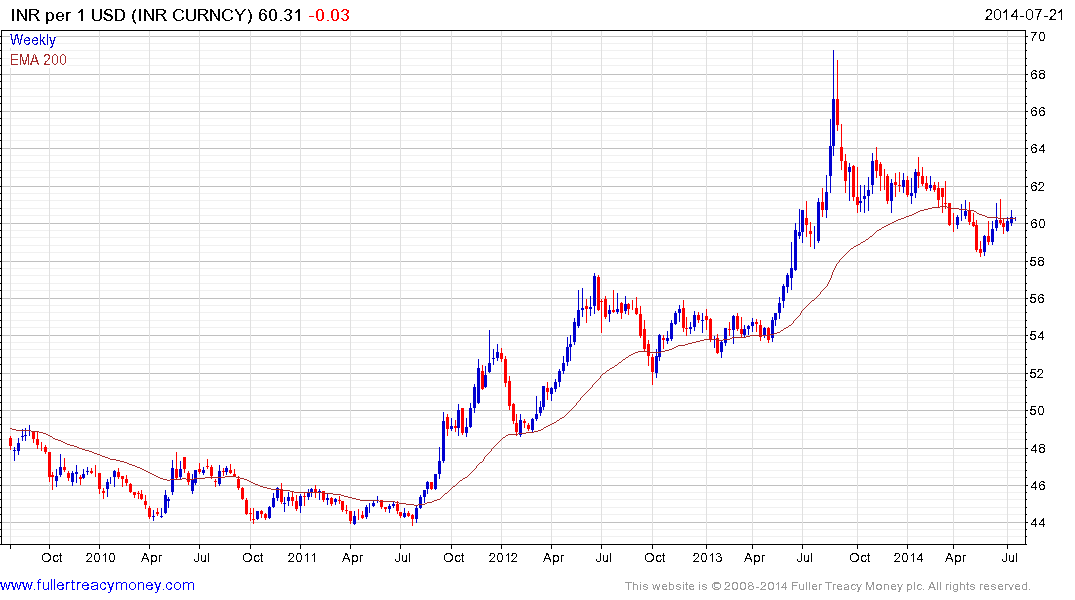 In addition to the competitiveness gained from the Rupee's decline, the Public Works sector should benefit from the election of Mr Modi. The Index accelerated lower to test the 2008 low in August last year but surged higher to break the progression of higher reaction lows since May. Some consolidation of that gain is now underway, but a sustained move below 7500 would be required to question medium-term scope for additional upside.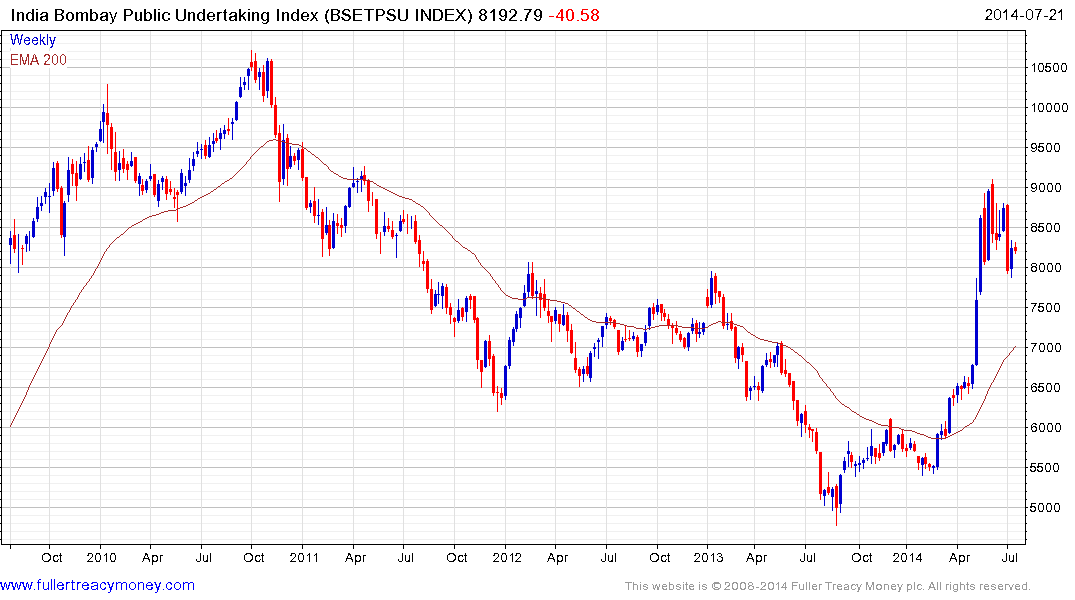 Back to top