Who does Greece owe all its money to?
This article by Evan Bartlett for The Independent may be of interest to subscribers. Here is a most relevant graphic from StatistaCharts.

The above graphic illustrates the fact that the European Stability Fund and the Greek Loan Facility are on the hook for €141.8 and €52.9 billion respectively, or 60%, of Greece's debt. The IMF is owed an additional €32 billion and there is another €48 billion outstanding in other bonds.

According to its website, the EFSF has already disbursed the vast majority of the money it had planned to lend to Greece. Little surprise then, the talks on how Greece plans on giving this money back are now breaking down. Greece has less incentive to negotiate when they have already drawn down most of the funds that were available.

In the event of a default there is an important delineation between the EFSF and the Greek Loan facility. The European Financial Stability Facility (EFSF) was set up as a way for the ECB to lend money to sovereign states and has since been replaced by the permanent European Stability Mechanism (ESM). The EFSF can issue bonds and the ECB can buy them; in effect printing money. If Greece defaults, EFSF bonds have the same back stop as European Investment Bank (EIB) bonds and are rated AA by S&P.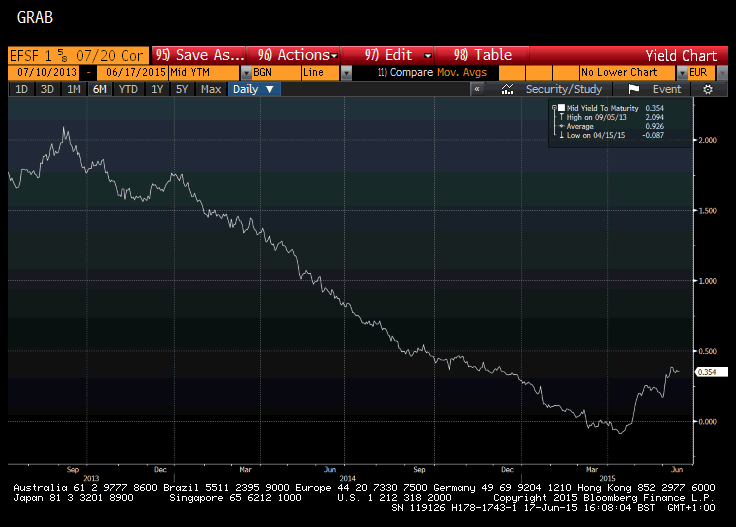 While yields have been rising they behave more like Bunds than any other sovereign. More importantly, the fact that they have the backing of EU governments means they sit in the pension funds and other investment funds.

The Greek Loan Facility was organised by Greece's Eurozone neighbours in a "whip around", with the most money owed to Germany (€15 bn) and France (€11.38 bn). In the event of a default this debt would get folded into the respective countries' total debt load.

It is not clear if the outstanding €48 bn in Greek bonds has been pledged as collateral with the ECB or is held by speculative investors/traders.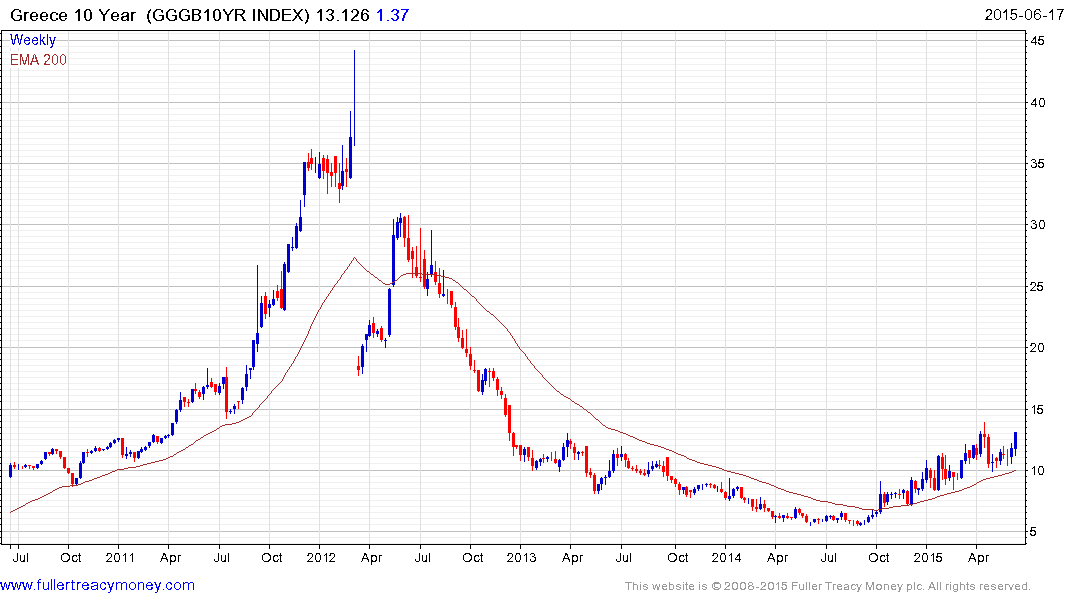 With the head of the Greek central bank making public statements about how dire the situation would be in the event of default, there is little chance that Mr Tsipras is delusional enough to think Greece has nothing to lose. The theatrics of the last couple of weeks suggest some very tough bargaining tactics with creditors in a difficult position too. Greek bond yields suggest investors are getting more cautious but are not yet panicking. Nevertheless, the trend remains towards higher yields.
Back to top