What you should know about China's new energy vehicle (NEV) market
Thanks to a subscriber for this report from Deutsche Bank which may be of interest. Here is a section:
About two-thirds of Chinese cities exceed the air pollution limits specified by the Environmental Air Quality Standards, according to China's State Information Center. Rapid increase in internal combustion engine (ICE) vehicle ownership and the consequent traffic congestion, especially in large Chinese cities, are perceived to contribute significantly to carbon dioxide and other harmful gas emissions, and the level of inhalable particulate matter (PM). This makes China one of the most polluted countries in the world.

To curb environmental pollution and improve air quality, various countries have implemented or tightened policies to gradually reduce fuel consumption and/or harmful gas emission. China also has tightened requirements for emission and fuel consumption. Since the country had a slower start in emission controls (Figure 6), it should be one of the fastest to tighten emission controls to catch up with developed countries (e.g. the EU and Japan) (Figure 7).
While countries have multiple means to lower auto emission, e.g. diesel adoption and using conventional hybrid engine technologies, China has placed a greater emphasis on using electric vehicle (EV) or plug-in electric vehicle (PHEV) technologies. To this effect, the State Council in 2012 issued a roadmap for China's NEV industry development, The 2012-2020

Development Plan for Fuel-efficient and New Energy Vehicle Industry.
According to the plan, the government targets an accumulated NEV (including EVs and PHEVs) sales volume of 500k units by 2015 and 5m units by 2020E, with an annual NEV production capacity of 2m units by 2020E. Despite rapid growth in NEV sales volume in 2012-14, the absolute sales volume was meager in China, making up less than 0.2% of its vehicle sales during the period and falling way short of its 2015 target ownership level. However, NEV sales catapulted in 2015 at a 3.4x YoY growth rate and made up 1.3% of China vehicle sales (Figure 8). Aggregate NEV sales also approached closer the 2015 target NEV fleet size. In our view, soaring demand for NEVs in China is fueled by massive government subsidies and policy support (to be discussed in the next section).
Here is a link to the full report.

China has a massive pollution problem and perhaps more importantly it is now a political liability as an increasingly vocal middle class demand a healthier standard of living. Additionally China's geopolitical considerations are never far from the minds of its leadership. The fact China does not have the domestic energy resources necessary to fuel its economic growth represents a challenge for policy markets.

The solution has been to invest heavily in building more nuclear reactors than just about every other country combined, as well as investing in wind, solar, natural gas and coal fired power stations. China is engaged in a lengthy process of energy demand growth and supply diversification and the electric vehicle market is a part of that strategy.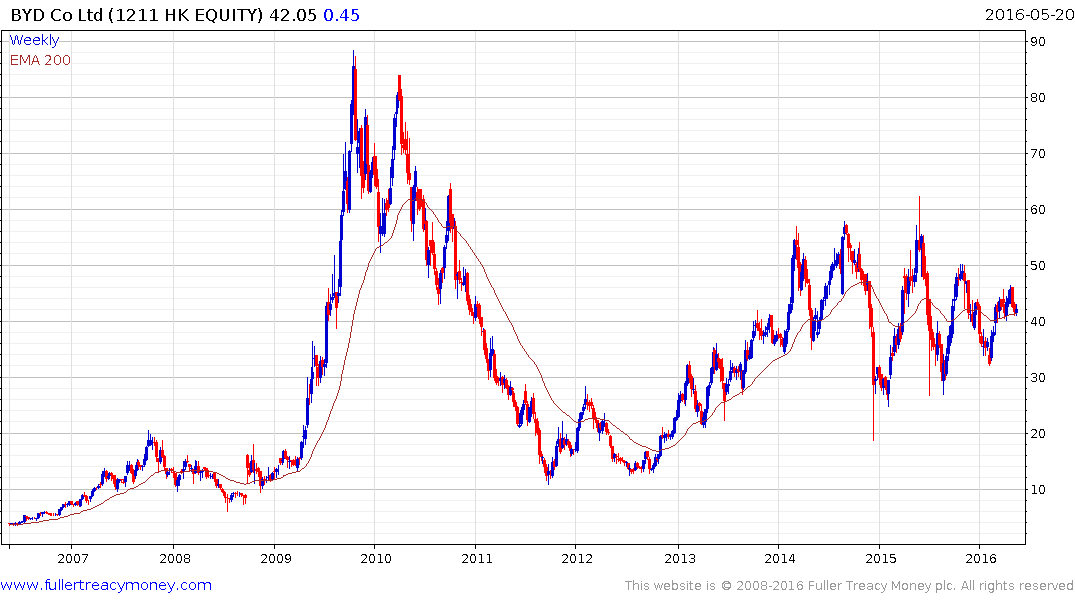 BYD has been subject to some quite intense volatility over the last year; ranging in a triangular manner between HK$20 and HK$60. A break in the sequence of lower rally highs would signal a return to demand dominance beyond the short term.
Back to top