What interns and new grads really get paid at top tech companies
This article from Techcrunch may be of interest to subscribers. Here is a section:
For example, Collins found that, according to 19 survey respondents so far, Facebook is offering an average annual salary of $109,526 with a massive signing bonus of $79,737 for employees in technical roles like iOS or full stack developer, or software or network engineer.

By comparison, according to 31 survey respondents, Google is paying recent graduates in tech roles an average of $107,000 annualized salary with an average signing bonus of $27,327.

And Microsoft was offering new grads a $107,455 annualized salary with a $26,591 signing bonus, according to 22 respondents.

Looking at the self-reported salary and bonus data by job title, Collins found that software engineers and developers are out-earning their peers in user experience design and sales engineering by tens of thousands, annually.

And even though government salaries are presumed to be much lower than those in the private sector, working in tech in a government office will score entry-level engineers and developers a slightly better salary, on average, than working for a seed- or Series A-stage startup, the survey suggests.
There has been a great deal of commentary in the media about the starting salaries of graduates in the financial sector.
In some respects, it is a matter of supply and demand. The financial sector is now competing for the same graduates as tech companies and are being forced to pay up.
Another way to look at it is the inflation in salaries is a function of the asset price inflation occurring almost everywhere and the cost of living has risen appreciably over the last couple of decades.
I can't help but remember the same phenomenon playing out in the late 1990s and in 2006/7. Market booms create demand for young people to help the business transition to the new way of doing things. While the figures above are for big name companies, they pale into insignificance compared to the sums being offered at crypto companies. https://www.indeed.com/cmp/Crypto-Recruit/salaries
This is another clear indication that we are in an evolving mania.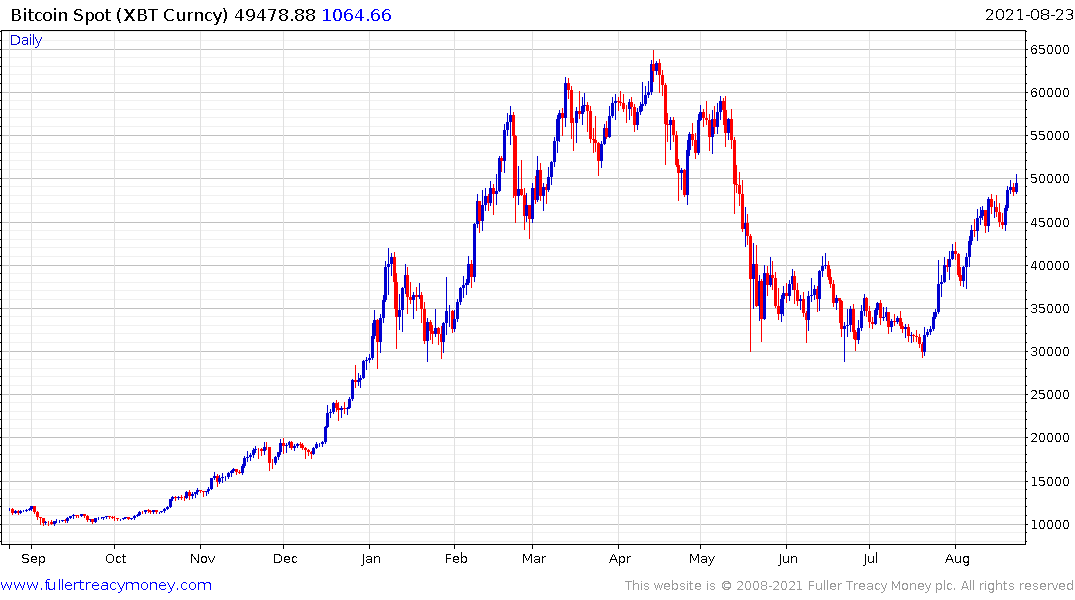 Bitcoin tested the psychological $50,000 level today and remains on a recovery trajectory.
Back to top