What growing avocados in Sicily tells us about climate change and the future of food
This article from the Financial times may be of interest to subscribers. Here is a section:
Two countries — Canada and Russia — account for more than half of new global agricultural frontiers, according to a study published by the Public Library of Science, a non-profit publisher.

"Agriculture has been limited by climate but we'll see a huge expansion over the next century," says Lee Hannah, lead author of the paper and a senior researcher at the environmental NGO Conservation International. "Agriculture is going to be shifting across the face of the world . . . The big change is expansion in Russia and Canada."

Growing crops in these areas will increase global food production, important given that some experts calculate that the world will need 70 per cent more by 2050 to feed a population expected to increase by 2bn over the next 30 years. But, Hannah warns, it could also unleash a "climate bomb" with the release of additional greenhouse gases from the previously untouched peaty soil. The impact on water and biodiversity will also be devastating, he adds.

Hannah, who has been researching the climate change impact on crops such as coffee and wine as well as bees, which are crucial to agriculture, says the emissions impact will come down to Russia and Canada. "You only have to get policies right in two places. Stop seeing these northern areas as wastelands that need to be subsidised to be developed," he says.
50-year predictions are guesses at best. However, the trend of farmers migrating in Russia to newly improved growing climates and the fact that champagne grapes grow well in the south of England point to significant changes that will necessitate significant investment in new agricultural transportation infrastructure.
It also suggests that raw land in the tundra of Canada and Russia is likely to be one of the best hedges against climate change internationally oriented long-term funds can make. It also helps to explain why people like Bill Gates have been making significant acquisitions of farm land in places like North Dakota.
Encouraging countries like Canada and Russia to refrain from developing newly available agricultural land is unlikely to be successful. The law of supply and demand mean these new agriculture zones will in all likelihood be developed.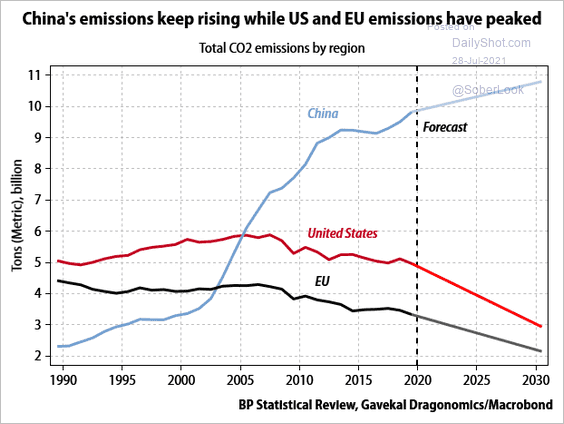 Meanwhile this chart of emissions highlights the fact that China's status as an emerging market has allowed it to produce almost as many emissions as the USA and EU combined. The big question for the international community is when will that designation change. Considering Taiwan and South Korea are still technically in the MSCI emerging market basket, it would take a significant change of tack from the global community to change designations.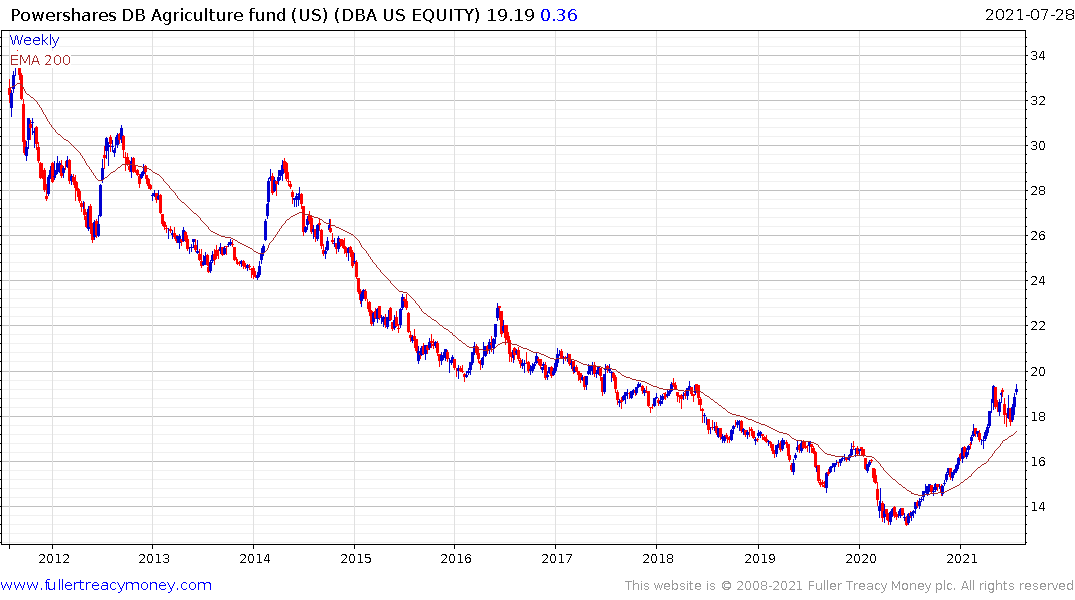 The Invesco DB Agriculture futures fund continues to consolidate above the trend mean but remains on a medium-term recovery trajectory
Back to top