What Do Chinese Dumplings Have to Do With Global Warming?
This article by Nicola Twilley for the New York Times may be of interest to subscribers. Here is a section:
An artificial winter has begun to stretch across the country, through its fields and its ports, its logistics hubs and freeways. China had 250 million cubic feet of refrigerated storage capacity in 2007; by 2017, the country is on track to have 20 times that. At five billion cubic feet, China will surpass even the United States, which has led the world in cold storage ever since artificial refrigeration was invented. And even that translates to only 3.7 cubic feet of cold storage per capita, or roughly a third of what Americans currently have — meaning that the Chinese refrigeration boom is only just beginning.

And

Despite the expansion in frozen foods and refrigerators, the critical growth area is what's known in the logistics business as the "cold chain" — the seamless network of temperature-controlled space through which perishable food is supposed to travel on its way from farm to refrigerator. In the United States, at least 70 percent of all the food we eat each year passes through a cold chain. By contrast, in China, less than a quarter of the country's meat supply is slaughtered, transported, stored or sold under refrigeration. The equivalent number for fruit and vegetables is just 5 percent.
The evolution of cold storage capacity tends to move hand in hand with the instant gratification often associated with a developing consumer economy. Having a large refrigerator in one's home means a large selection of food is available whenever we wish. As the article points out the roll out of a refrigerated food chain doesn't necessarily reduce food waste over the long term. However it changes food waste from being an inevitable fact to being dependent on people's purchasing and consumption choices. While China is on its way to surpassing the USA in terms of refrigeration capacity, India is only now beginning to introduce refrigerated warehouses suggesting there is substantial growth in this sector.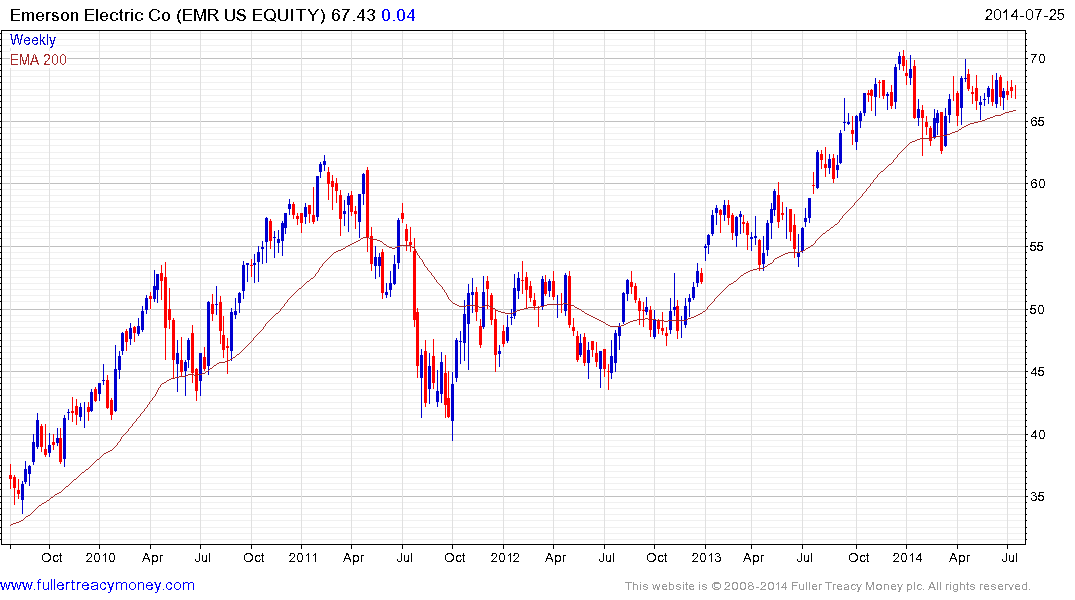 Emerson Electric is a globally diversified Autonomy and has been instrumental in developing the cold storage food chain. The share (Est P/E 17.76, DY 2.58%) rallied impressively from 2012 but encountered resistance near $70 from December and continues to range below that level. It will need to hold above $63 on the current pullback if the three-year progression of higher reaction lows is to remain intact.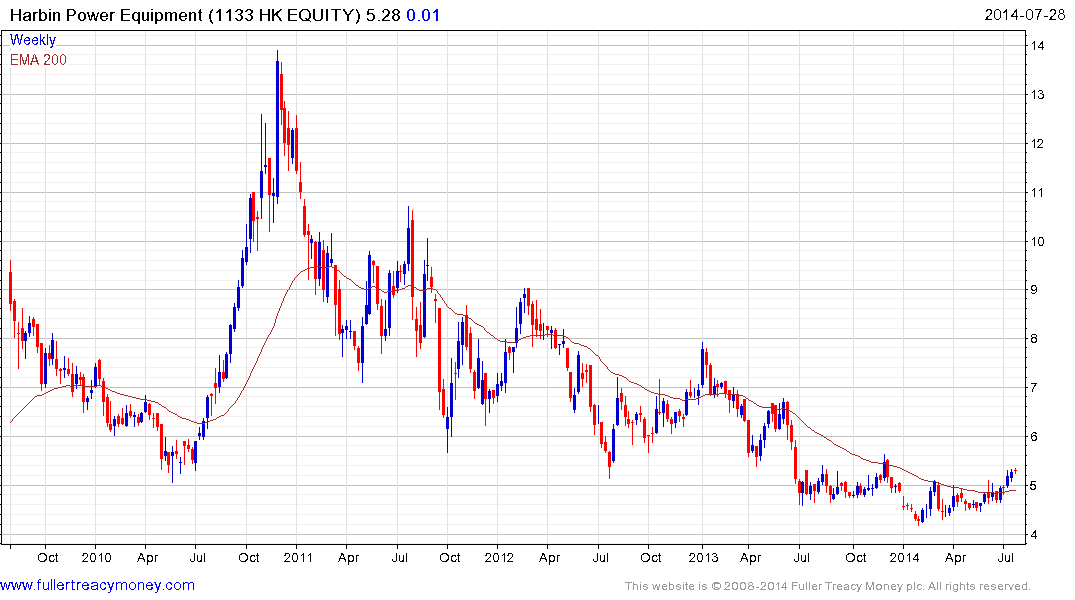 Harbin Electric Power Equipment is listed in Hong Kong and provides power station engineering services. I include it here because the build out of cold storage capacity represents a considerable demand driver for electricity. Harbin (Est P/E 8.35, DY1.88%, P/B 0.46) has held a progression of higher reaction lows since February and is now testing the medium-term progression of lower rally highs. It is now trading above the 200-day MA for the first time since early 2013 and a sustained move below it would be required to question medium-term recovery potential.
Back to top