Welcome back America!
Thanks to a subscriber for this article by James Breiding. Here is a section:
Resolution requires concerted and consistent effort over a long period of time. It took 25 years to reform Finland's primary education system before it topped the league in PISA scores. Singapore achieves superior health care outcomes at 25% of the cost of the US and 40% of Europe thanks to a system which gives consumers "skin in the game". It's now thirty years in the making. Denmark's commitment to wind power dates back to the 1970's when the benefits were egregiously uneconomic. More than half of its energy is now from renewable sources. Ontario Teachers' Pension Plan has evolved over thirty years since Lamoureux convinced Canada's labor unions that the fund needs to attract and pay the best people from Goldman Sachs and Blackrock to work for them, rather than paying them fees. Ontario Teachers' has had an annualized total-return of 10% since reforms were made in 1990, and retirees' pensions are fully funded with 100% inflation protection provided on all pensions.

It may be far-fetched to think that small, successful, experimental nations can fill this vacuum of leadership, but the world is begging for consistent leadership and a positive example, so an opportunity presents itself to step up.


There is a good reason small countries tend to succeed in niche areas, and are often more successful than larger countries on specific metrics. They have to. Israel, South Korea or Switzerland have spent lifetimes grappling with the uncertainty of geopolitics. They understand the reality that if they don't succeed on their own no one is going to help them.
Ireland is small rainy island on the tip of Europe, without a commitment to education and active courting of FDI, coupled with low corporate taxes and light regulation it would be a very dreary place indeed.
The additional point is small countries have economies of scale on their side. In a global free market, the world is open to them and they have to focus on exports from the outset of any business venture. That's creates a focus on global scale rather than what may appeal to the limited size of the domestic market.
Here is a link to a recent presentation from the S8 team at Yale and Harvard.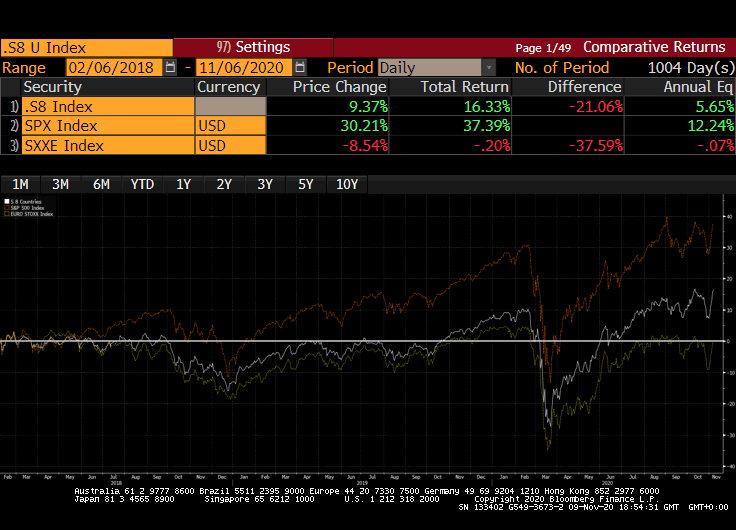 The stock market performance of an equal weighted basket of Danish, Finnish, Dutch, Irish, Israeli, Singaporean, Swedish and Swiss shares outperformed the Euro STOXX on a constant currency basis but significantly underperformed the S&P500 because the outsized weighting of technology companies.
The question therefore is not about the success of these countries as investment destinations on aggregate. Rather it is the lessons they offer in successful achievement of long-term goals.
No one country has mastered every aspect of innovation or long-term planning but China is attempting to. In the West we may be reluctant to look at the success of small countries but China has been borrowing freely from small country success stories for decades; most notably Singapore.
China's big challenges will be in modernising its healthcare system. It's a big question whether it has the wherewithal to mimic Singapore's success in the area. It has mimicked Singapore's evolution of a market economy with single party rule and strict observance of social discipline. Perhaps it can also do the same with healthcare.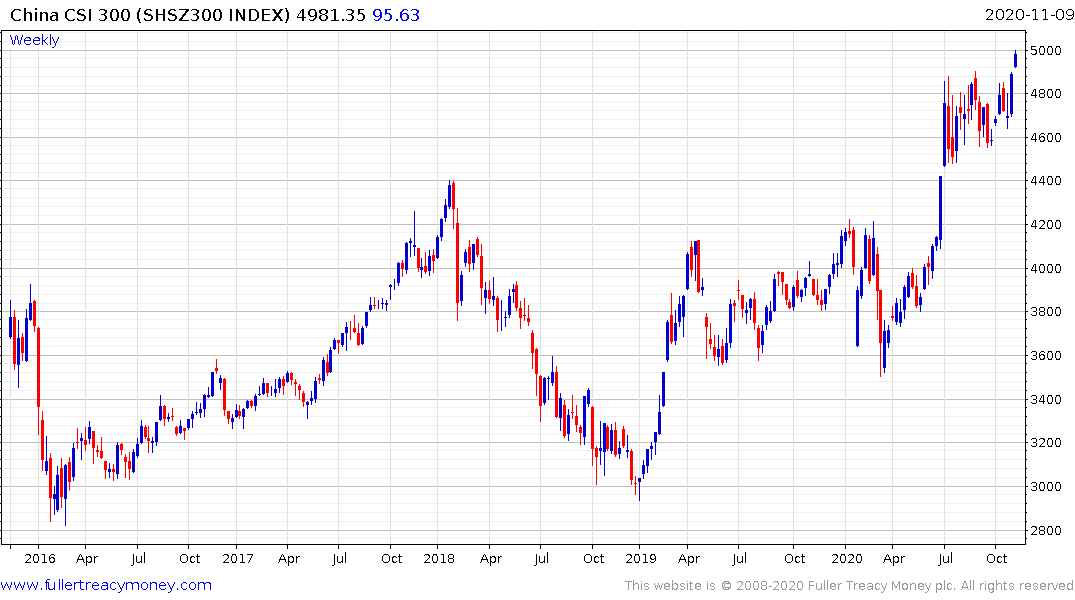 The CSI 300 broke out of a 3-month range today to reassert the medium-term uptrend. A clear and sustained downward dynamic would be required to check momentum.
Back to top