Waymo is opening its fully driverless service to the general public in Phoenix
This article from Waymo.com may be of interest to subscribers. Here is a section:
Beginning today, October 8, we're excited to open up our fully driverless offering to Waymo One riders. Members of the public service can now take friends and family along on their rides and share their experience with the world. We'll start with those who are already a part of Waymo One and, over the next several weeks, welcome more people directly into the service through our app (available on Google Play and the App Store). In the near term, 100% of our rides will be fully driverless. We expect our new fully driverless service to be very popular, and we're thankful to our riders for their patience as we ramp up availability to serve demand. Later this year, after we've finished adding in-vehicle barriers between the front row and the rear passenger cabin for in-vehicle hygiene and safety, we'll also be re-introducing rides with a trained vehicle operator, which will add capacity and allow us to serve a larger geographical area.

We've achieved this milestone with the thought and care that our riders expect from us. We've enhanced our health and safety policies and procedures throughout our fully-owned fleet, sought the feedback of our team, partners, riders, as well as federal, local, and state authorities, all while continuing to advance the Waymo Driver's capabilities.

To our entire community: thank you for being a part of this important journey. And to all the Waymonauts who've worked so hard getting us here: thanks for your dedication to our mission. Together, we're building a safe and more accessible future with every autonomous mile we drive.
Waymo's approach to autonomous driving is piecemeal. They appear confident to drive around a 5x10 mile area in one of Phoenix's suburbs. However, they are not confident enough to extend range beyond that well mapped area without a safety driver. That suggests this is another step on the way to full autonomy.
These kinds of projects would be impossible without low interest rates and abundant capital. The years-long low interest rate environment has made all manner of speculative ventures possible.
It will be years before Waymo has a chance at profitability. If every area it is providing service in needs to be meticulously mapped and understood by the central hub, roll out could take years.
The cost of lidar systems has collapsed over the last few years. Their high cost and energy draw were the primary reasons Tesla went with cameras and radar. Tesla is attempting to develop a general solution to autonomy with cars that can drive anywhere and in any conditions. That's a very different model than Waymo.
Waymo is also pursuing this model from an abundance of care perspective. A pedestrian fatality doomed Uber's autonomous venture and they are eager to avoid that fate. The risk they run is Tesla will develop a general solution first. The one big advantage Tesla has is it doesn't pay for data. By selling cars and charging for "self-driving software" it gets test subjects to pay for the privilege but Waymo has to pay for each journey.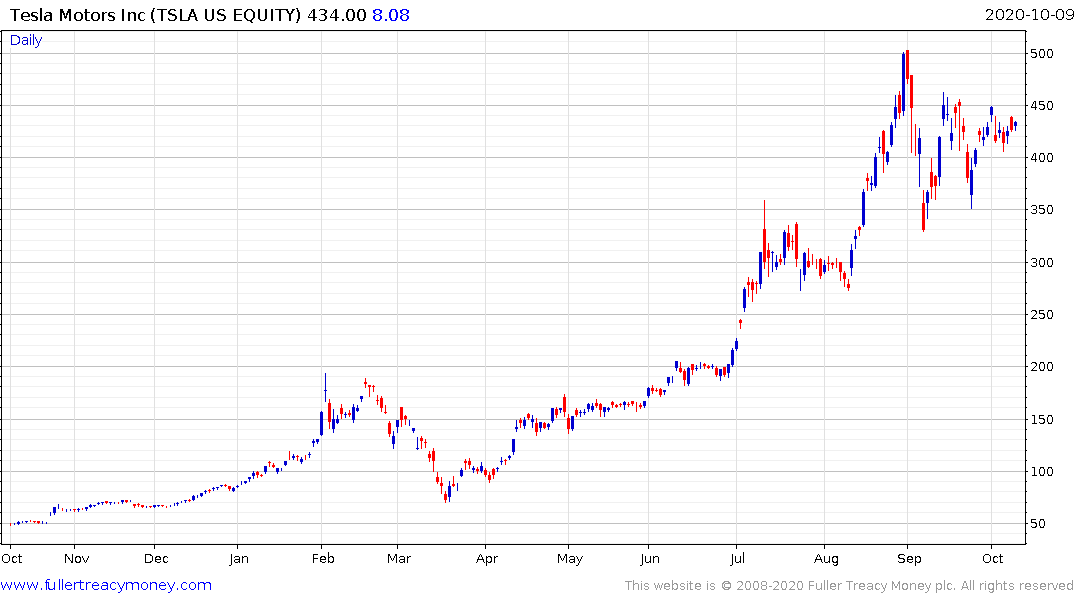 Tesla remains the move fast and break things icon of this bull market. The share has been ranging below the psychological $500 level since the stock split and the announced improvements to battery design and manufacturing are going to take at least a couple of years to implement.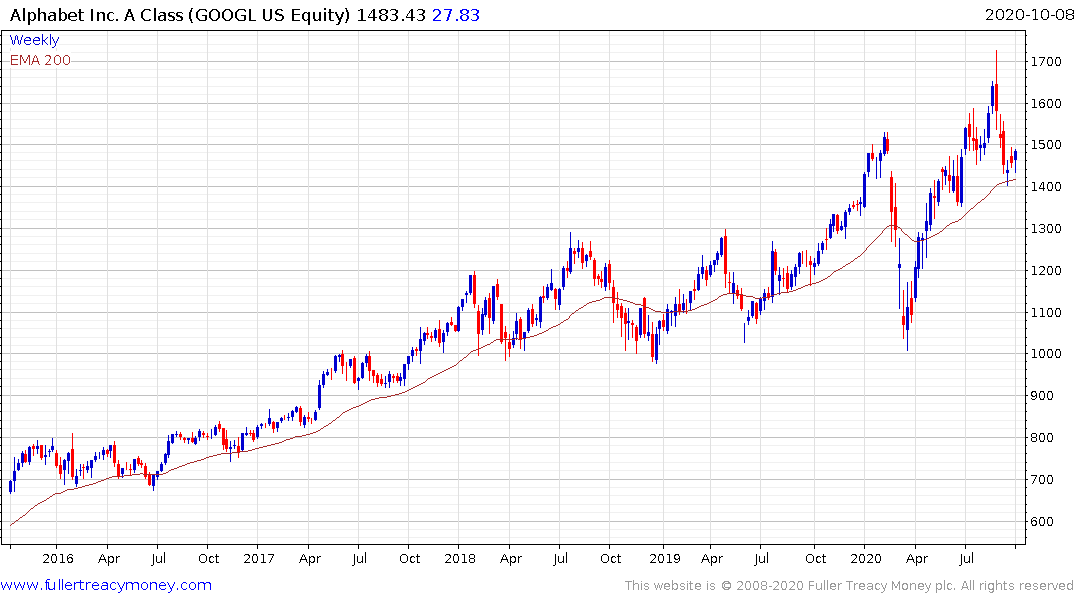 Waymo represents a negligible portion of Alphabet's valuation so it represents significant optionality if they can make the service work. The share firmed this week from the region of the trend mean and remains in a reasonably consistent medium-term uptrend.
Back to top