Walmart Allays Retail Jitters With Best Holiday Quarter in Years
This article by Matthew Boyle for Bloomberg may be of interest to subscribers. Here is a section:
This was the first holiday season for Walmart's redesigned website, plus its expanded home delivery and curbside pickup options. E-commerce sales in the U.S. rose 43 percent, in line with the gains most analysts had been expecting, helped by a broader assortment of brands and increased online grocery sales.

But some of the gains in the quarter were more related to timing: The early release of government food-stamp payments that were supposed to have become available to American shoppers in February boosted U.S. same-store sales by 0.4 percentage points
in the quarter, the company said.

The company reiterated the full-year sales and profit guidance it gave in October, including same-store sales growth at U.S. Walmart stores of between 2.5 and 3 percent -- a slight slowdown from the fiscal year that just ended. Retailers are bracing for a pullback in consumer demand this year, especially if the U.S. follows through on its threat to more than double tariffs on many Chinese goods, forcing retailers to raise some prices in
response.
In the Treacy household we refer to the Mrs. Treacy's sales of jewellery and jewellery packaging on Amazon, Walmart, eBay, Etsy and lilytreacy.com as our family indicator. If retails were truly in trouble then the real-time demand for consumer discretionary items we receive from these venues would turn down long before it became apparent in quarterly earnings reports.
The one thing she worries about is the effect an increase in tariffs would have on margins. The increase in the charges the post office is charging for packages is already contributing to upward pressure on pricing for lower priced items and that is going to affect all online sellers. The potential for further hikes in tariffs will also put additional upward pressure on prices if it is imposed. That could have an impact on discretionary items so it is certainly worth keeping an eye on. However as far as we can see there is no slowdown in demand to report right now. In fact, if anything it is accelerating.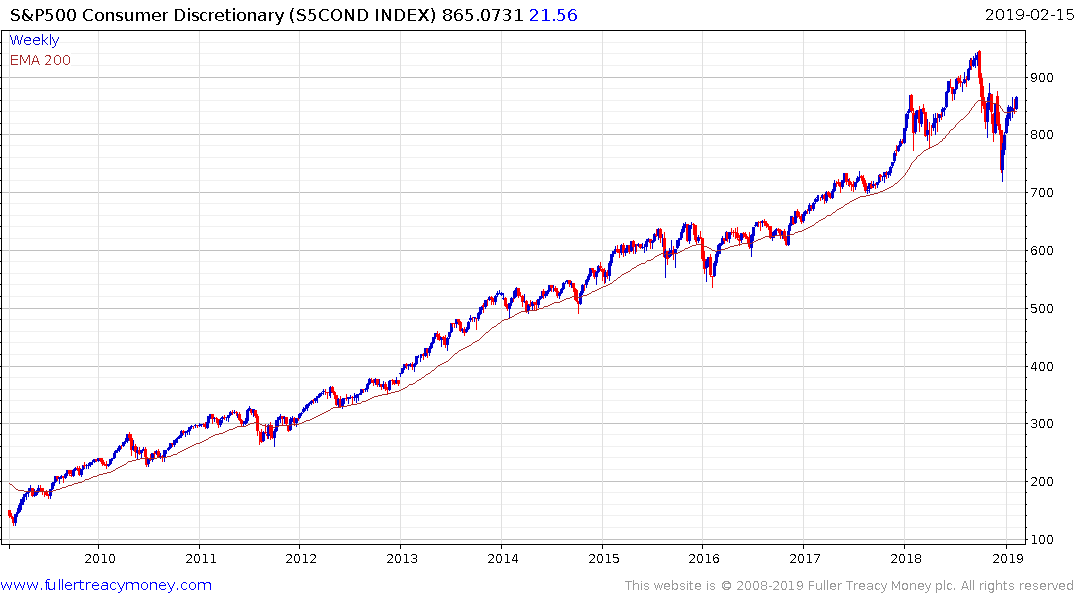 The S&P500 Consumer Discretionary Index has a very similar pattern to the broader market, not least because of Amazon's weighting. It needs to break up and through the short-term succession of lower rally highs in order to clearly demonstrate a return to demand dominance beyond the short term.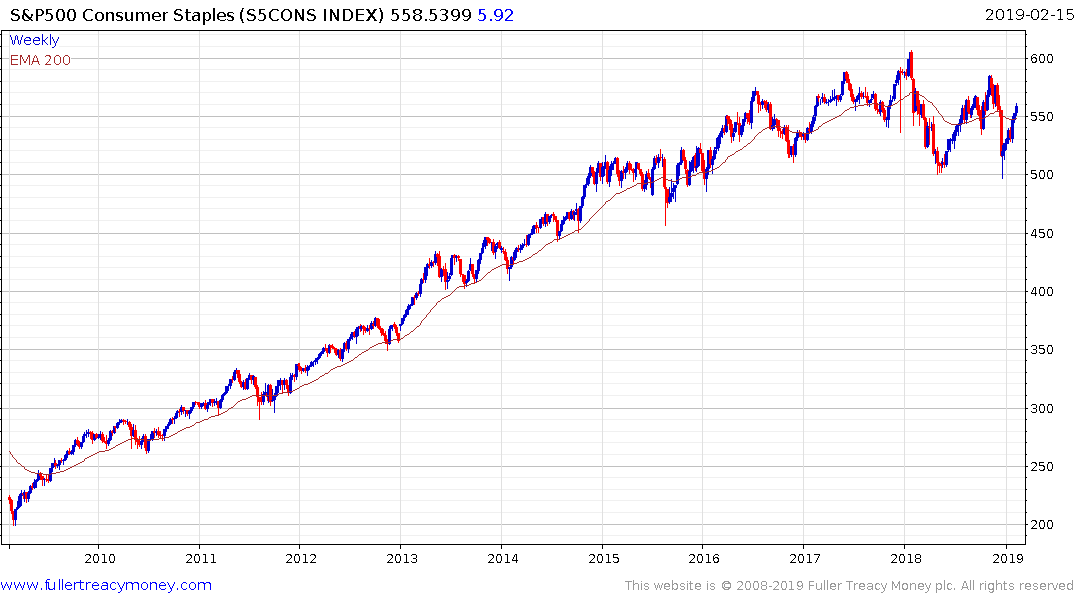 The S&P500 Consumer Staples Index has lost momentum over the last 18 months but continues to rebound from the lower side of its medium-term range.
Back to top