Wall Street Is Throwing Billions at Once-Shunned Gold Miners
This article from Bloomberg may be of interest to subscribers. Here is a section:
But junior miners are now starting to benefit. Take the case of American Pacific Mining Corp., an exploration and gold-mining firm with market capitalization of less than $20 million. The company raised $3 million in the second quarter, six times more than it had initially planned. Interest was so big that it had to turn away offers for more, said CEO Warwick Smith.

"The big boys play first, and then that money trickles down to the smaller companies, exploration companies," he said. Revival Gold Inc., a Toronto-based exploration company, said Tuesday it was increasing its previously-announced public offering by C$3 million ($2.2 million) amid "strong demand" from investors. Spot gold prices rose 1.3% Tuesday to $1,841.94 an ounce, trading near the highest level in almost nine years.

The reasons that boosted the appeal of gold miners are the very same pushing investors away from companies digging for metals like copper or lithium, which are more dependent on economic growth. Base and industrial metals firms raised just $34 million in the second quarter, data compiled by Bloomberg showed. That's a 40% decrease from the same period a year earlier.
Free cash flow became the bane of miners during the latter stages of the last gold bull market. They were borrowing money at such a prodigious rate and were so eager to build new production that any hope of profitability fell by the wayside. That contributed to significant underperformance relative to the gold price.
Today, we are at the other end of the spectrum. Miners have been reluctant to invest in new capacity and, until just now, they couldn't borrow money even if they wanted to. The continued focus on all-in-sustaining-costs (AISC) is a testament to the continued overhang of concerns about profitability from the last cycle. That suggests we are still in the early days of this bull market.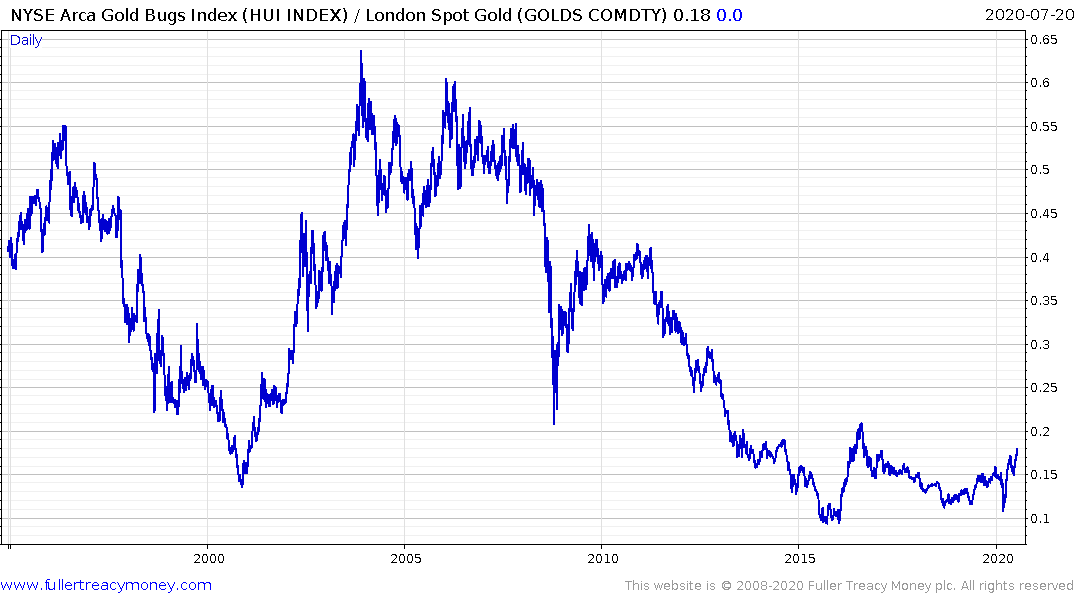 The gold miners' sector is rallying from a deeply depressed level relative to gold and this is the point in the cycle where we can anticipate outperformance to be most likely.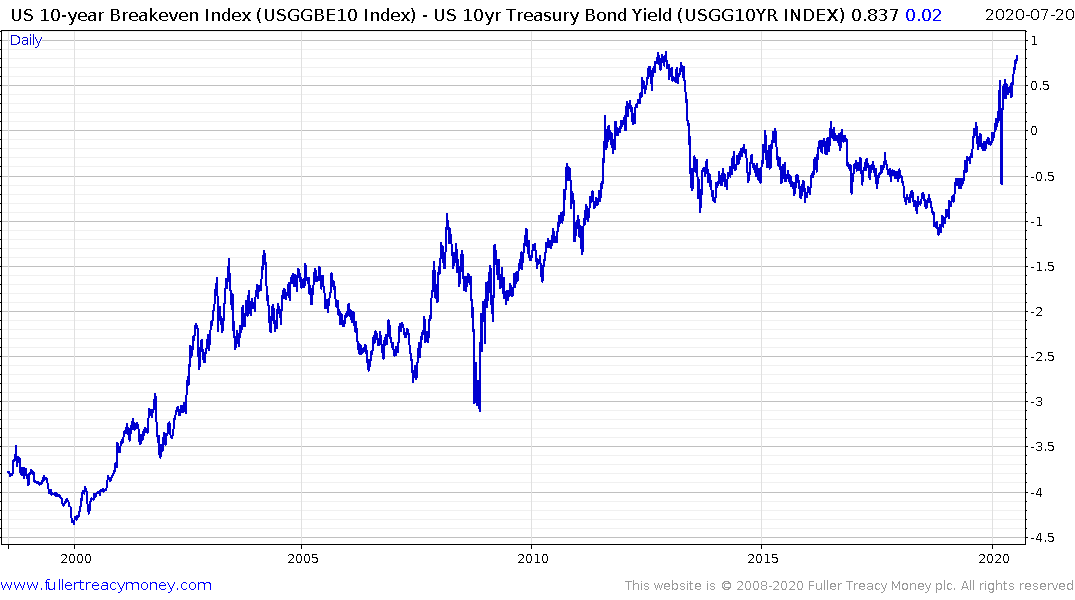 I created this spread of the US breakeven rate over 10-year Treasuries. It offers a graphic representation of how negative real interest rates and financial repression stock demand for gold. Whenever the spread is trending higher, it offers a fundamental support for gold.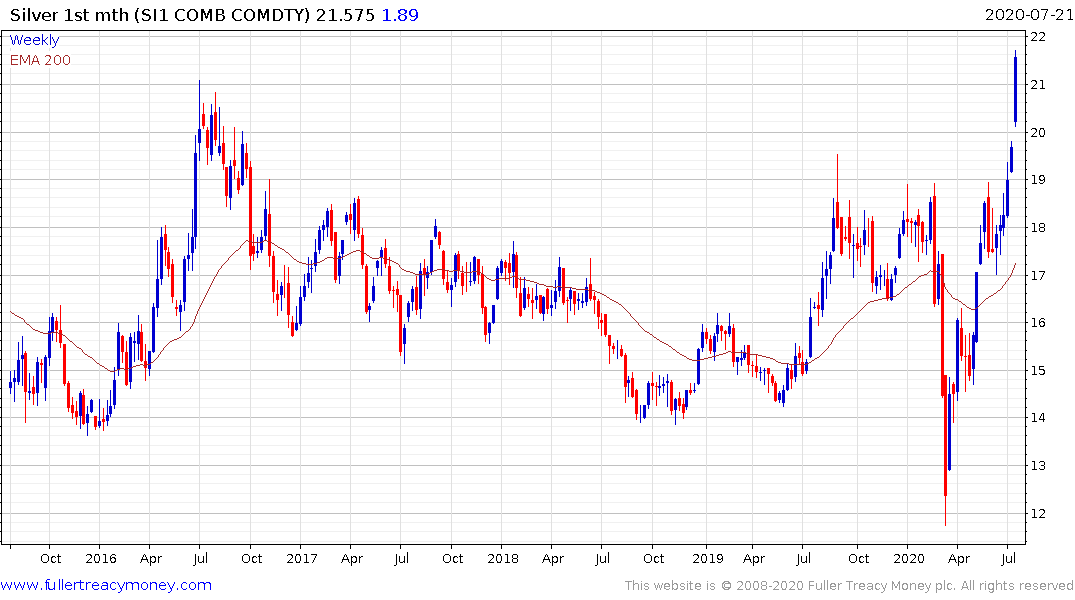 Silver hit another new high today as it emphatically completes a six-year base formation.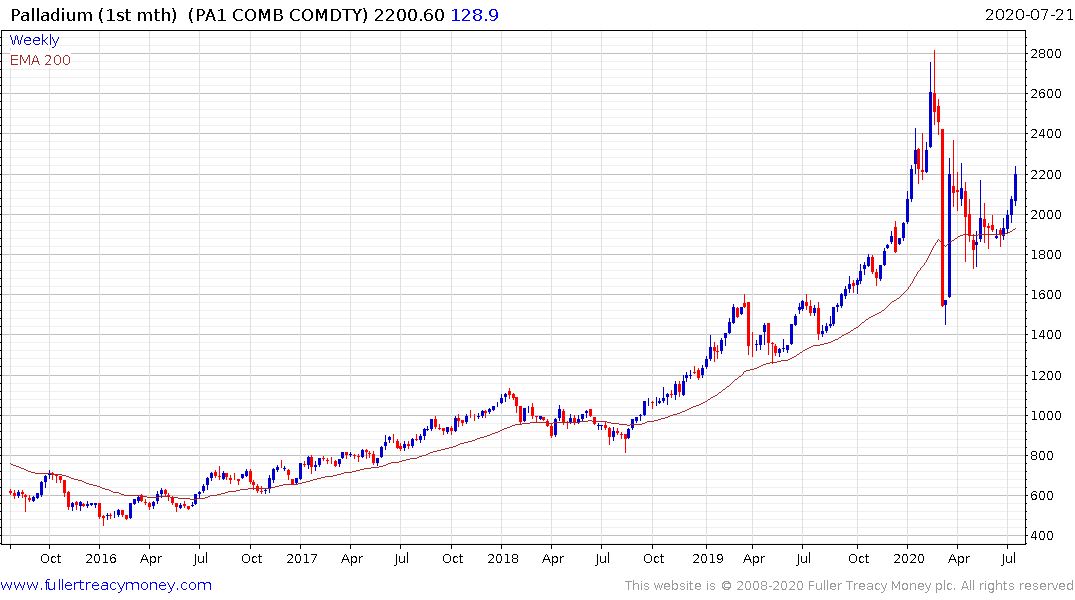 Palladium has also begun to reattract interest as it rallied to break a six-month sequence of lower rally highs.
Back to top