Wall Street Failed Dollar Call Redoubled on Fed
This article by John Detrixhe for Bloomberg may be of interest to subscribers. Here is a section:
Frankfurt-based Deutsche Bank estimates the greenback will strengthen to $1.25 against Europe's currency by the end of 2014. Last year, the firm forecast that the dollar would rally to $1.20 versus the euro in the following 12 months.

"The crucial element to the strength in core European currencies has been the normalization of the euro-area crisis," Bilal Hafeez, the London-based global head of foreign exchange at Deutsche Bank, wrote in a Dec. 18 report. "The long-term dollar cycle, a turn in the Fed cycle and U.S. capital flows and corrections in overvalued currencies should all support the dollar in 2014."
Over the weekend, I heard two different commentators pronounce that the days of Dollar¡¯s hegemony as the world¡¯s reserve currency were numbered. However, there is no evidence to support such bombastic comments. On a relative strength basis, the United States may have been the first major economy to enter recession but it has also led on the recovery and is now entering a new phase where monetary policy will eventually normalise.

In the 2013, the Euro was notable for de-risking but the region is a long way from self sustaining growth. Meanwhile Japan has embarked on one of the most ambitious quantitative easing programs in history, aimed at finally breaking its generational long deflationary cycle. Since these two currencies represent 70% of the Dollar Index it is not too difficult to figure out why strategists have taken a positive attitude towards the US Dollar.

However the currency markets are always about matching the strongest with the weakest and in this regard the underperformance of the Australian Dollar relative to the New Zealand Dollar is a clear standout. Both countries have a cash target rate of 2.5% but while Australia has adopted an outright policy of devaluation, New Zealand¡¯s central bank is talking about raising rates in 2014. Much of this policy disparity is probably already in the price. The Australian Dollar has accelerated lower against the New Zealand Dollar, but found at least short-term support last week and a sustained move to new lows would now be required to question current scope for a reversionary rally.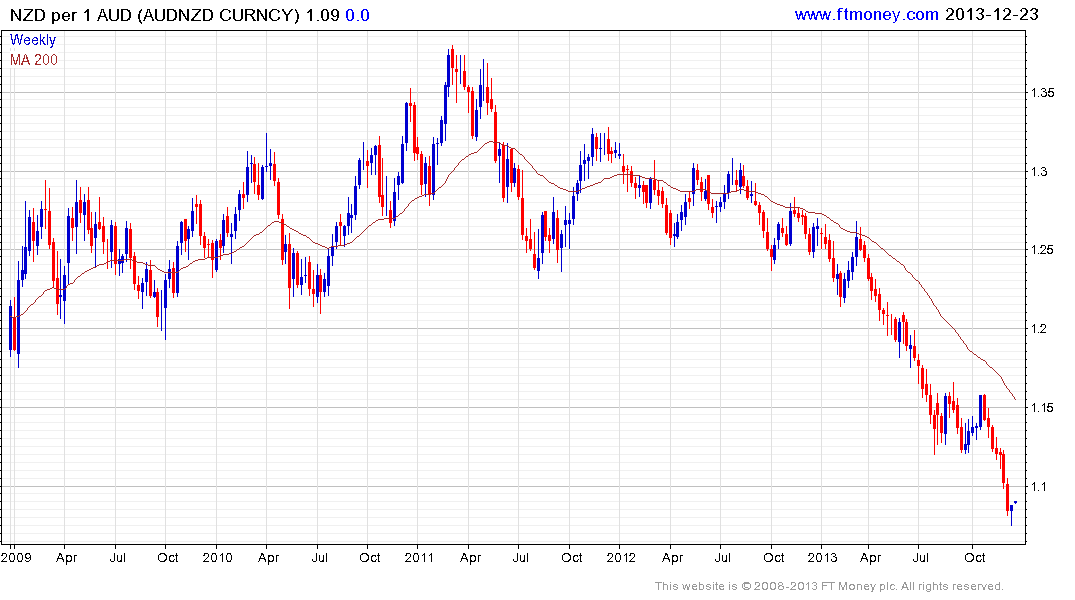 Back to top