VW Chief Winterkorn Steps Down After Emissions Scandal
This article by Chad Thomas for Bloomberg may be of interest to subscribers. Here is a section:
The new CEO's top priority will be getting to the bottom of a scheme intended to dupe regulators and consumers about emissions of diesel engines installed in 11 million cars worldwide -- more vehicles than VW sells in a year. The automaker set aside 6.5 billion euros ($7.3 billion) on Tuesday to cover potential costs.

VW's Achilles heel remains the American market. Even before the revelations of the last week, the VW marque was struggling in the U.S., despite investing $1 billion on a new factory in Tennessee to build a stripped-down, cheaper version of the Passat sedan. The brand's U.S. sales have dropped, in contrast to growth in the overall market, as VW delayed decisions on building sport utility vehicles that would appeal to American consumers. The automaker is also grappling with a slowdown in China, the company's biggest national market.

Working in the new CEO's favor is an automaker that for the moment is financially sound. Volkswagen's automotive division had net liquidity of 21.5 billion euros at the end of June, and posted record profit of 12.7 billion euros in 2014, helped by its strong presence in China and the expansion of the Audi and Porsche nameplates in the lucrative luxury-car segment. VW surpassed Toyota Motor Corp. in the first half to take the top spot in worldwide vehicle sales -- a goal that Winterkorn set early in his tenure to reach in 2018.
Unfortunately this is not corporate Germany's first corruption scandal. Over the last decade there have been a number not least at Siemens, Commerzbank, Deutsche Bank, Man AG, and Infineon among others. Often these have centred on faking expenses and bribery but this may be the first exhibiting outright fraud. These articles from NBS News in 2005, the New York Times in 2008 and the Economist in 2009 may be of interest for historical perspective. Despite these lapses in the standards of governance at large corporations the German stock market has been among the strongest in the region.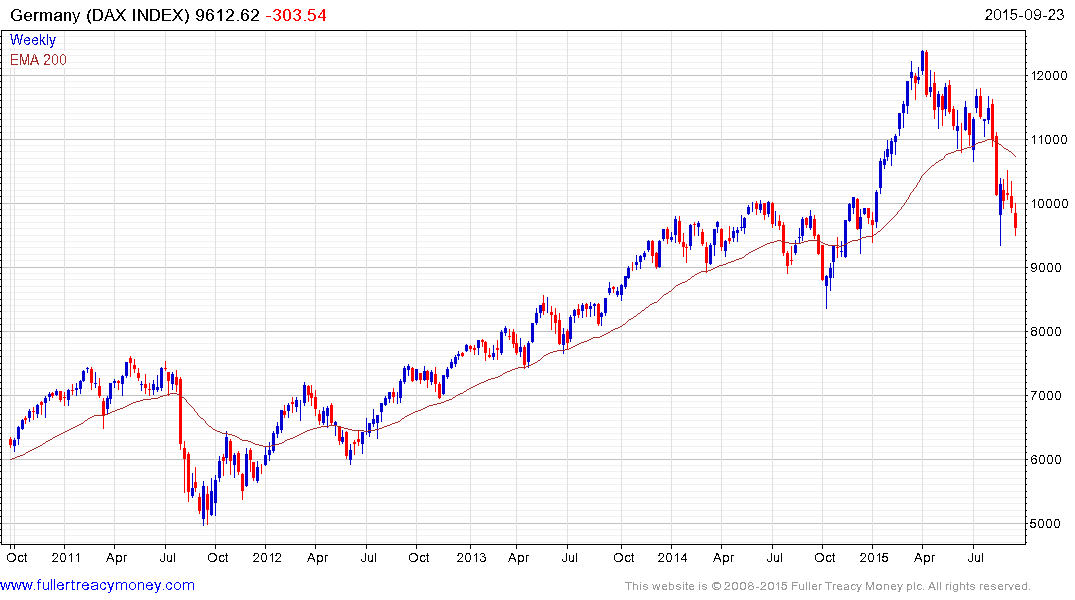 The DAX has paused in the region of the August low but a sustained move below that level would be required to question scope for some additional steadying in this area which would at least allow the oversold condition relative to the trend mean to be unwound.

As this Bloomberg article points out cheating on emissions isn't exactly new either.
It is definitely good news that Winterkorn has been removed as CEO but this whole story is bad news for diesel engines. The big question is how were other companies solving the conundrum of making diesel engines clean enough to pass tough environmental standards?

Let's consider the alternatives. The bullish case is that Volkswagen is an isolated case, that its competitors really do have better technology and that they will gain market share as a result. The bearish case is that Volkswagen is but the tip of the iceberg, that "clean diesel" was nothing more than a clever marketing campaign predicated on fraud and that irreparable damage has been done to the outlook for diesel passenger vehicles which will be under much closer scrutiny going forward.

Here is a link to the DieselForum.org's website which lists the leaders in developing diesel technology. If I bought a diesel Volkswagen car in the last 7 years am I now expected to accept reduced performance so that it can pass an emissions inspection? That sounds like we can expect ads for class action lawsuits to appear on TV stations before long. This is a story that is going to continue to get a lot of air time and it is doubtless doing damage to the outlook for the sector. If the fate of BP and HSBC are any measure the US government has no problem making an example of major foreign companies that flout US law. Therefore it would be cavalier to make any prognostication on how much of a fine Volkswagen will have to eventually pay.

An important consideration is that despite the fact diesel is dirtier than gasoline they get better mileage and diesel is cheaper in a number of countries. That means there will be a market for these types of cars provided they can pass the emissions standards set by individual companies. With a major climate change summit approaching in November this story will inevitably be discussed. It also comes in the wake of Chai Jing's disclosure in her documentary "Under the Dome" earlier this year, where she recounted how Beijing's carbon emissions peak at night when the majority of trucks enter the city. She goes on to highlight how the emission testing for trucks is little more than a rubber stamp operation.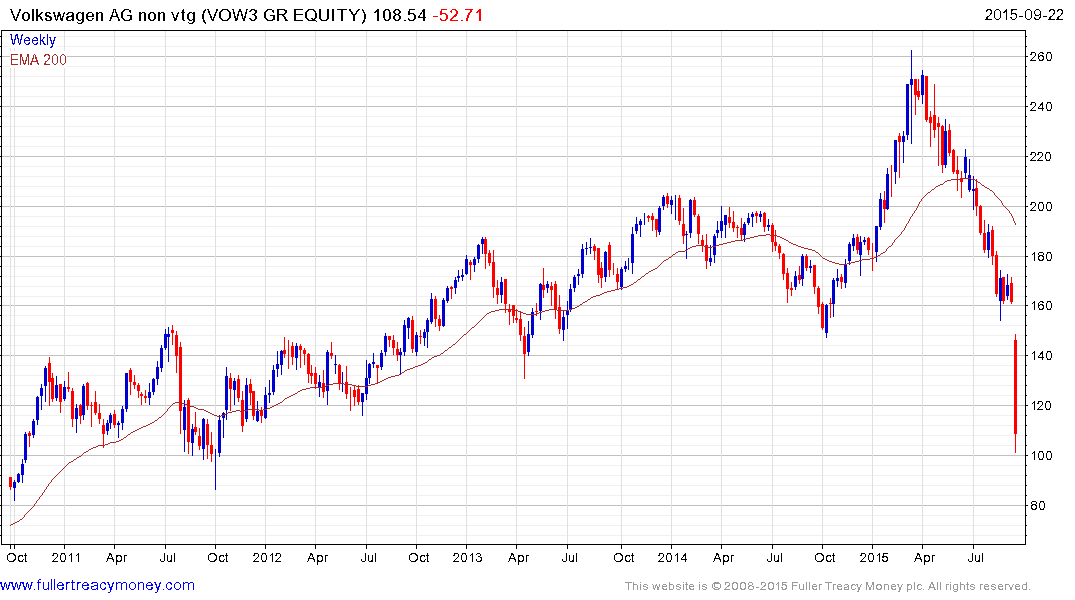 Volkswagen bounced from the €100 area today and is deeply oversold by any measure. However while there is scope for an additional bounce a potentially lengthy period of support building may be required before one could confidently sound the all clear.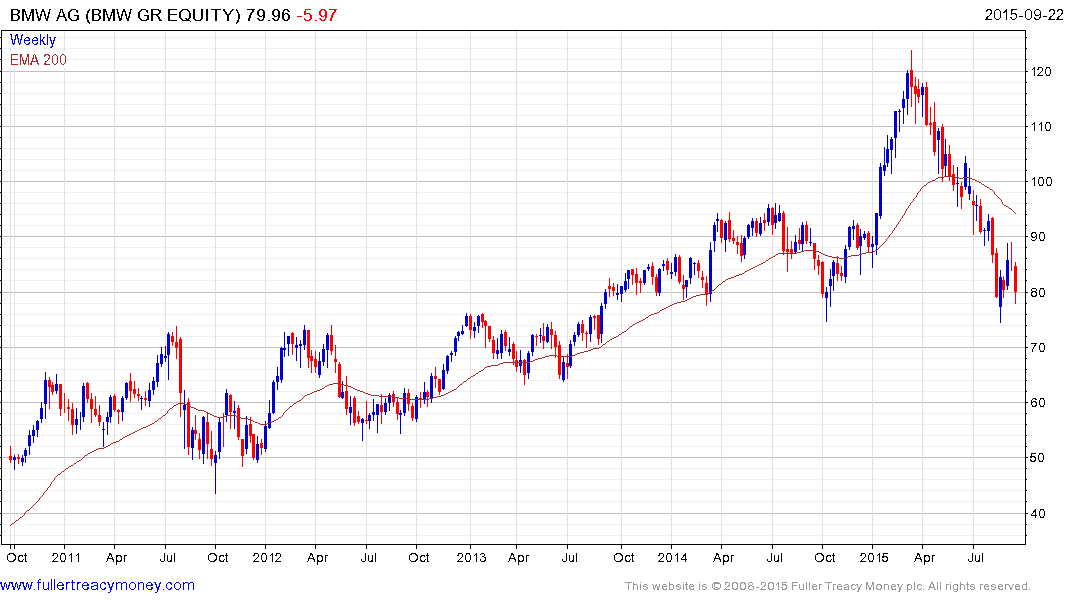 BMW has so far held its August low.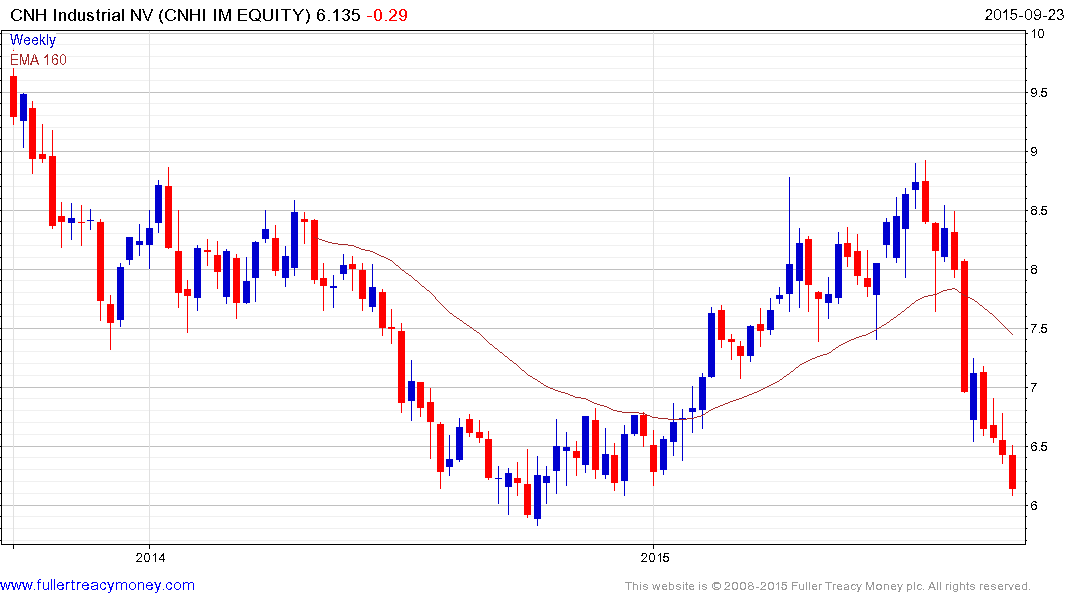 CNH Industrial has returned to test the region of the 2014 low but a clear upward dynamic will be required to confirm support in this area.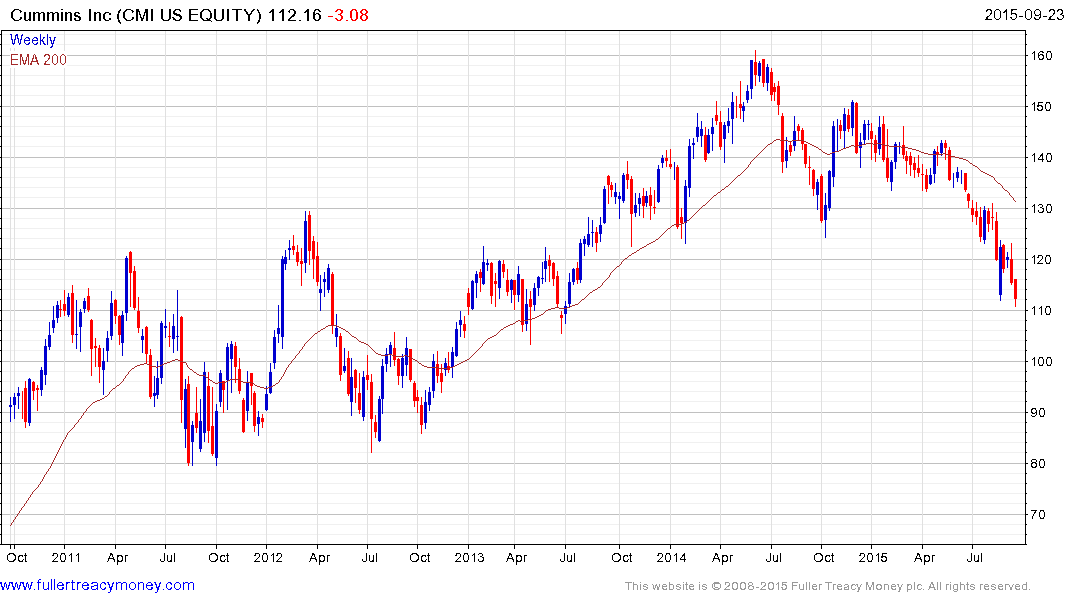 Cummins has paused in the region of the August low but will need to break the medium-term progression of lower rally highs to signal a return to demand dominance beyond short-term steadying.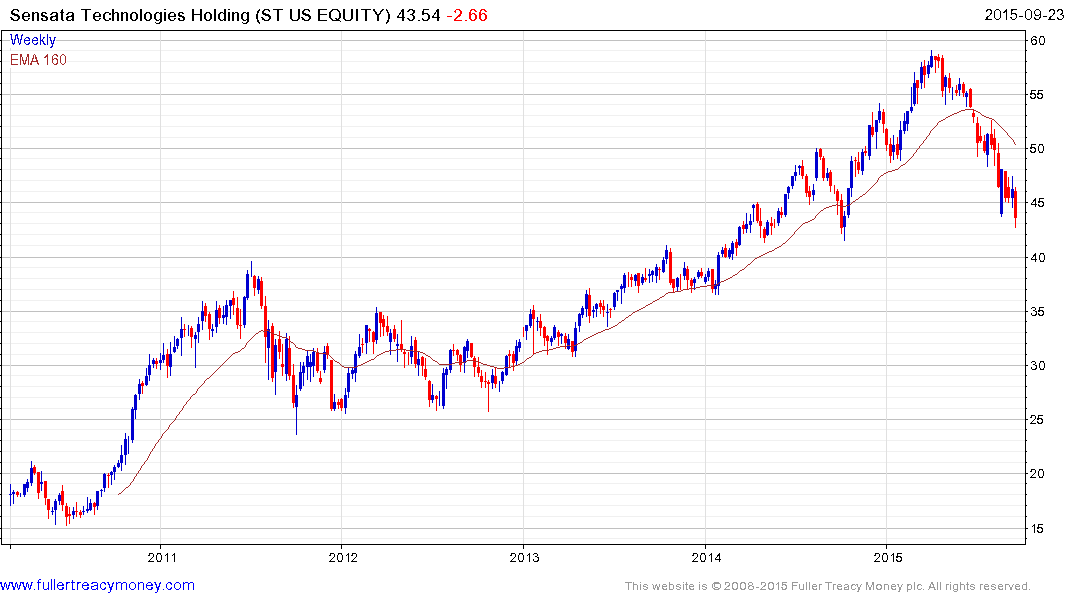 Sensata Technologies produces sensors for the automotive industry and Volkswagen represents over 5% of revenue. The share encountered resistance in the region of the 200-day MA from early August and will need to rally to break the progression of lower rally highs and sustain a move back above the trend mean to signal a return to demand dominance beyond short-term steadying.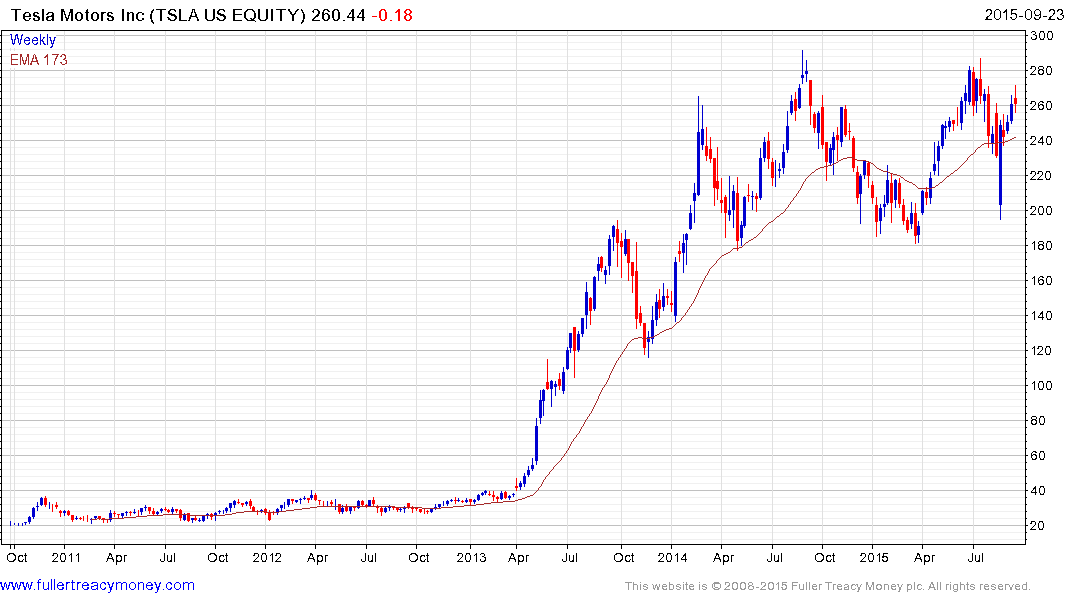 Tesla is a potential beneficiary of this debacle but the share is already trading towards the upper side of its range and is susceptible to some consolidation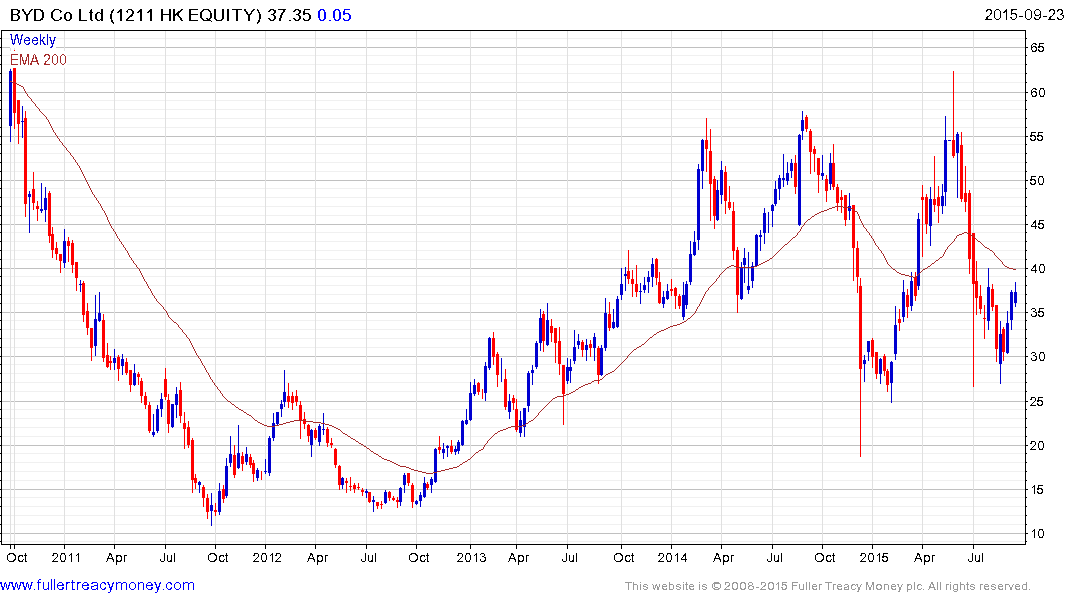 Hong Kong listed BYD has been subject to some rather extreme volatility but is currently bouncing from the most retest of the HK$30 area.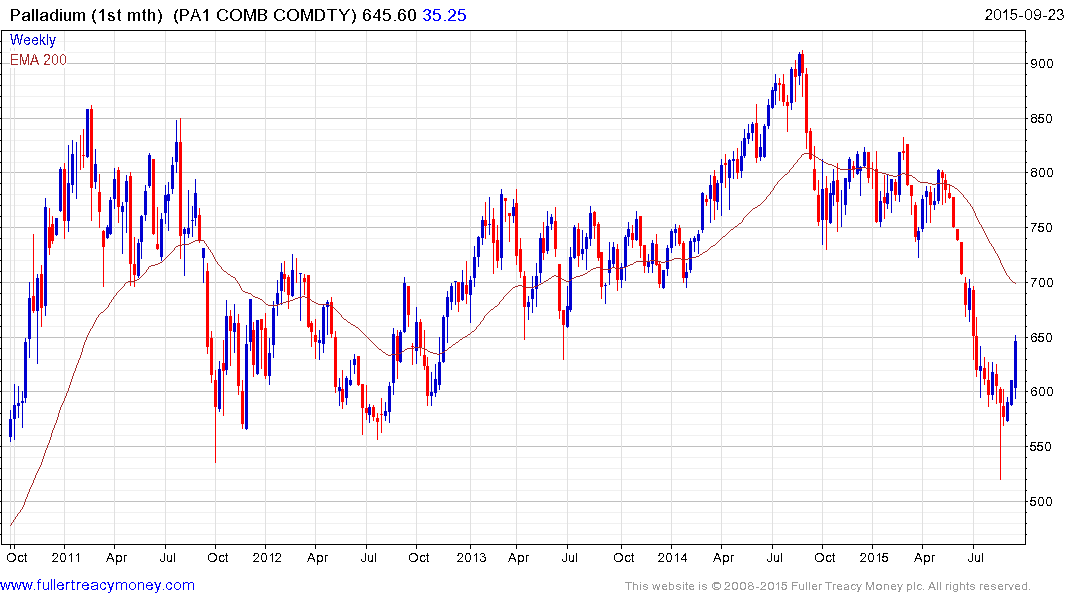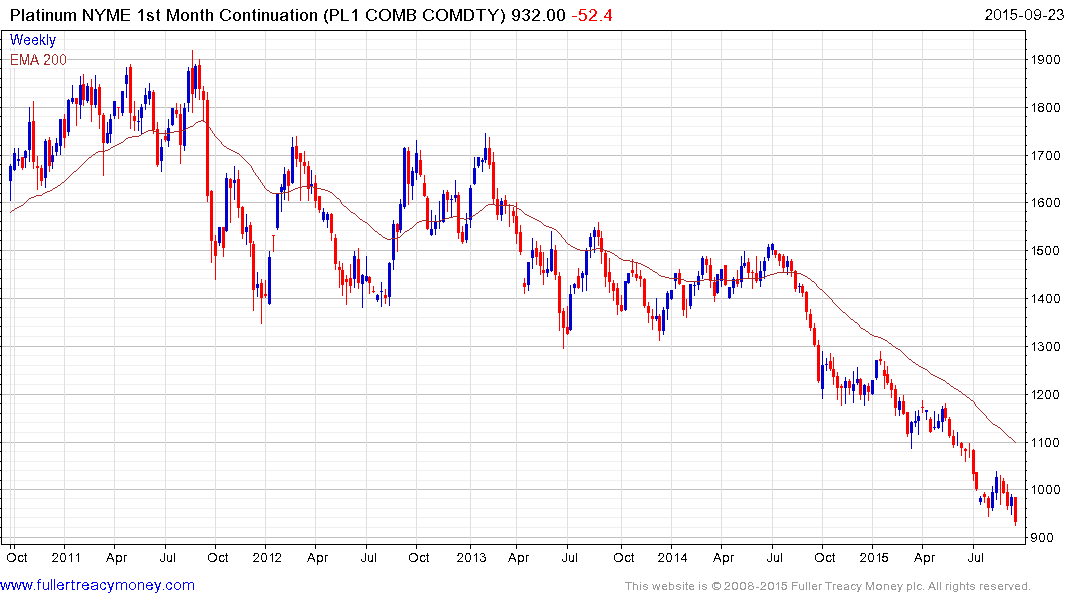 Today's announcement that China will be imposing additional air quality standards has helped to life palladium which continues to revert towards the mean and may have been a contributing to platinum's weakness yesterday.
Back to top