VW Boosts Future Tech Spending, Enlarges Management Board
This article from Bloomberg may be of interest to subscribers. Here is a section:
Volkswagen AG raised its five-year spending plan and overhauled its management board, seeking to catch up with Tesla Inc. and end an internal dispute over the changes needed to get there.

The German company will invest 159 billion euros ($180 billion) in total in the next half decade, of which 89 billion euros are for technologies like software and electric cars. That's more than in last year's rolling plan, pointing to a faster departure from combustion engines. By 2026, about a quarter of all sales will be electric only, VW predicted.

VW's aggressive transformation hasn't been without controversy, and Chief Executive Officer Herbert Diesshas come under fire from labor representatives accusing him of plotting mass layoffs to make VW more nimble.

Diess's position at the helm was the subject of public debate in recent weeks, and Chairman Hans Dieter Poetsch sought to quell any speculation today about his future by calling Diess an "agent of change." At the same time, the CEO ceded some tasks to others on the management board, which has now swelled to 12 members.

"Our exceedingly robust and solid financial base enables us to finance the necessary investments on our own," Poetsch said in a statement. "We are also therefore very confident that these investment decisions will steer the Volkswagen Group to future success."
Tesla has leapfrogged other auto manufacturers by adopting an aggressive build schedule; funded in part by the proceeds from carbon credits sold to it competitors. In today's environment, corporate boards are under increasing pressure to leverage their balance sheets because of the success of companies like Tesla.
When the discount rate is close to zero, those who take the biggest bets are rewarded handsomely. That forces incumbents to evolve because of the risk of becoming obsolete. Volkswagen's 50% increase in spending, to $180 billion, and Nissan's announcement of an $18 billion spending plan are part of a wider trend of retooling in the sector.
That virtually ensures the future of electric vehicles because the high cost of this transition will be difficult, if not impossible, to reverse. When the network of suppliers for internal combustion engines (ICE) downsizes, there will be no going back.
It also contributes to the practice of holding fewer vehicles in inventory that evolved during the pandemic. Companies appear comfortable with selling fewer vehicles for higher prices since it aids in the downsizing of ICE manufacturing. The big question that has yet to be answered is whether companies can make money selling electric vehicles. Tesla is cashflow positive because they have been able to dominate the market but competition is coming.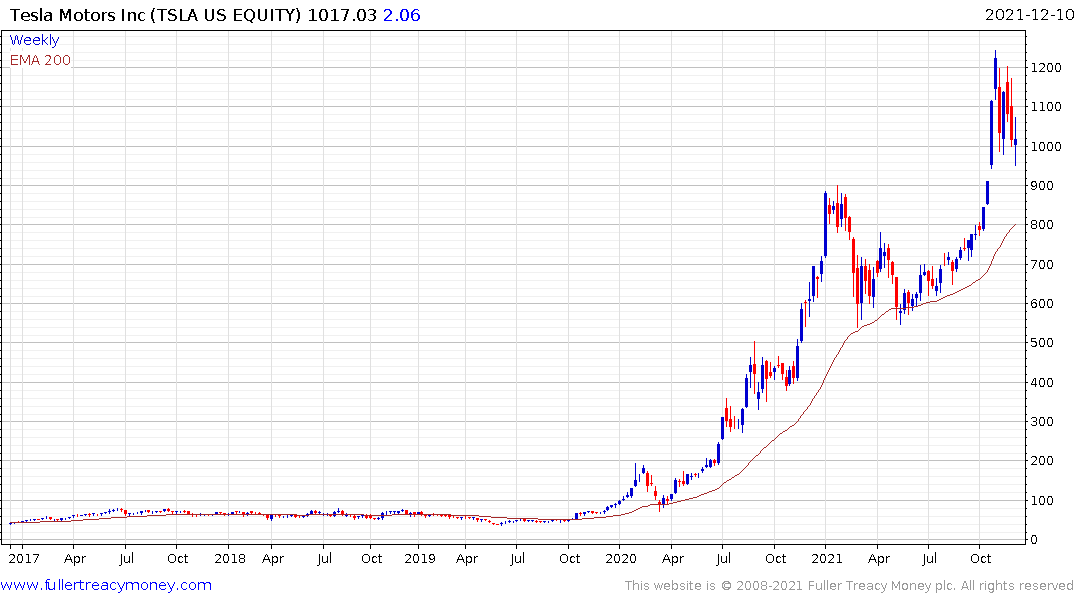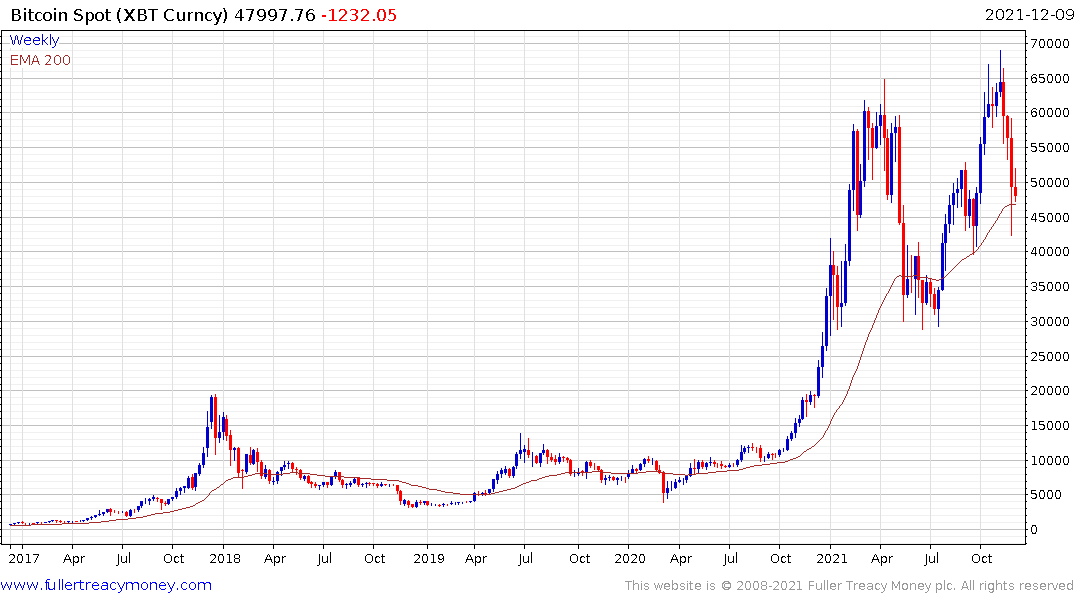 Meanwhile the big question for Tesla is how much of a proxy is the share for bitcoin traders? Bitcoin remains under pressure heading into the weekend and Tesla's stock is hovering in the region of the big psychological $1000. Since Tesla dominates options trading, it is worth monitoring because a significant decline could influence volatility and by extension the wider market. This is one pathway through which a liquidity magnet like bitcoin could be the tail that wags the stock market dog.
Back to top