Volvo Cars Rips Up Production Plans, Citing U.S.-China Trade War
This article by Keith Naughton and Gabrielle Coppola for Bloomberg may be of interest to subscribers.
Volvo Cars is shaking up production plans for much of its lineup in an effort to dodge tariffs the U.S. and China have slapped on auto imports.

The Swedish automaker owned by China's Zhejiang Geely Holding Group Co.has canceled plans to export S60 sedans from its first U.S. plant to China, just months after starting production. Volvo also will stop importing XC60 sport utility vehicles and dramatically reduce shipments of S90 sedans from China to the U.S.

Volvo will pivot to mostly exporting S60s from its factory near Charleston, South Carolina, to focus mostly on supplying the American market, according to Anders Gustafsson, the president of the carmaker's U.S. unit.

"We'll go at this change not with a smile, but we know what we need to do," Gustafsson said. "We have a global manufacturing structure that helps us maneuver in these tough waters."
Volvo is a Chinese company so the next step will be to deprioritise investment in US based production and to make big decisions about which models to sell where. The automotive industry has long depended on the ease of access to a global supply chain and the ability to manufacture cars in one country and sell them somewhere else. The prospect of the trade war persisting is likely to shape corporate decisions well into the medium term.
This additional article also from Bloomberg focusing on companies migrating production from China in response to the threat of tariffs is also relevant. Here is a section:
Interviews with regional business chiefs indicate major -- and potentially permanent -- changes to supply chains are taking place because of the economic dispute. Even if President Donald Trump reaches an accord with President Xi Jinping in coming weeks, the diversion of Chinese manufacturing may be irreversible, partly because tensions could flare up again, some leaders say.

"Nobody's running away from exporting to the U.S. or losing share," said Francisco Aristeguieta, chief executive officer of Citigroup Inc.'s Asia unit. "What they're very active in doing, however, is assessing their supply chains. One of the things they believe is that the genie is not going back into this
bottle."

The manufacturing ecosystem in China, particularly for electronics, is unrivalled anywhere else but that does not mean it is a permanent feature. Guangdong has been able to prosper because it had cheap land, labour, incentives and government backing to try and dominate every part of the supply chain. That is all predicated on being able to sell the products produced internationally. The once vibrant industrial heartlands of "post-industrial" countries are an object lesson that when a sector becomes uncompetitive it is diminished.
There is no shortage of countries with cheap labour and a race is on to attract businesses. The country that benefits most will be the one with the vision to pursue exactly the same strategy as China did and go all out to make itself the most attractive destination possible.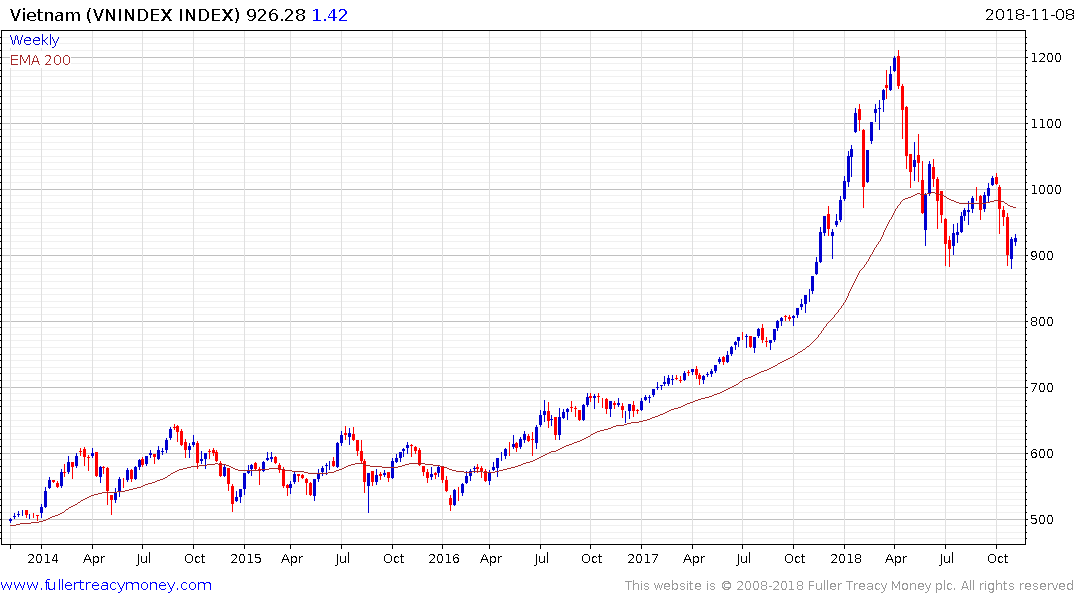 Right now, Vietnam is leading that charge. The Index accelerated to its April peak and is now ranging below the psychological 1000 level. It has at least paused in the region of the July low but will need to sustain a move above the trend mean to confirm a return to demand dominance beyond the short-term.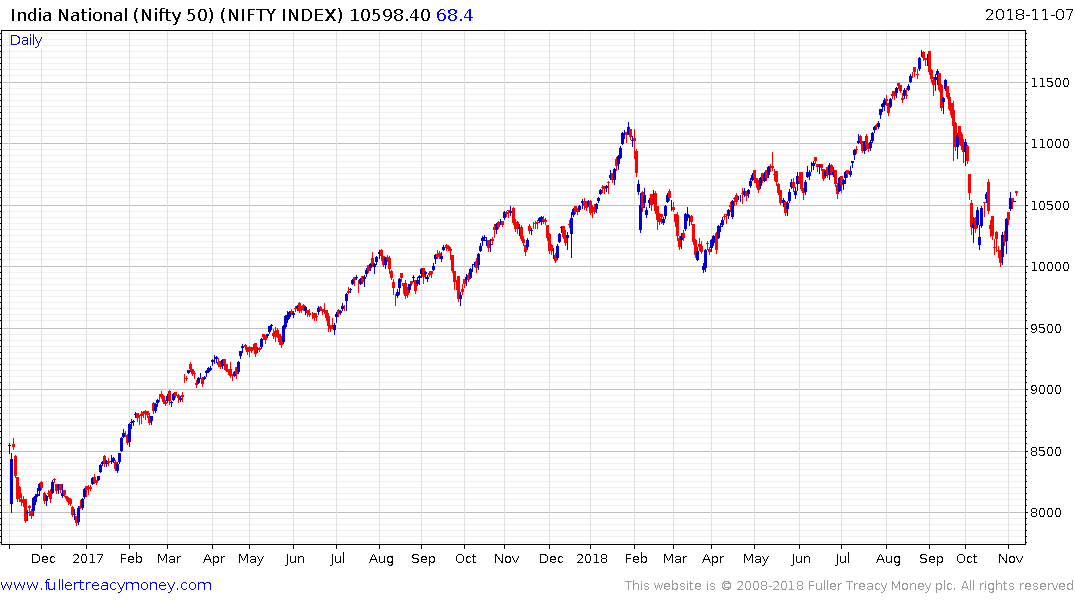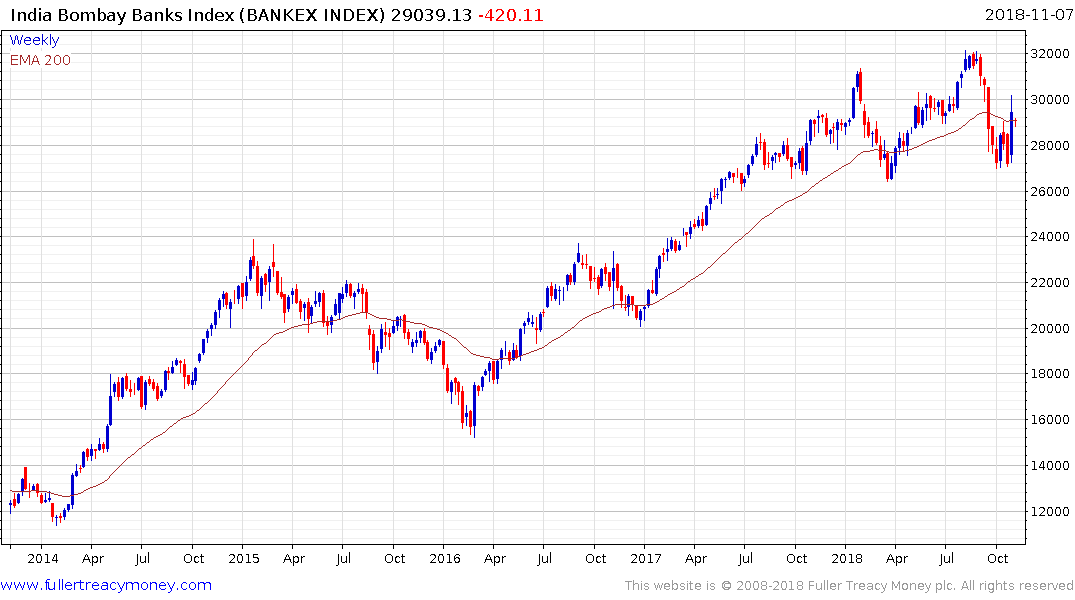 India has a massive young population that needs jobs. The big question is whether the administration can get behind a long-term plan to boost manufacturing. Right now, the RBI is focusing on its attempts to tackle bad loans which has resulted in some extreme volatility in parts of the banking sector.
Meanwhile the Nifty Index has firmed from the 10,000 level but will need to sustain a move back above the trend mean to confirm more than near-term support.
Back to top