Virtual Reality Is Not Just About Games: Nongaming applications sneak up on an unsuspecting public
This article by Christopher Mims for the Wall Street Journal may be of interest to subscribers. Here is a section:
Imagine a version of Google Maps that doesn't end at the front door of buildings, or an Instagram consisting of immersive experiences rather than snapshots.

"Immersive 3-D content is the obvious next thing after video," Facebook CEO Mark Zuckerberg said during a recent earnings call.

?All of this is possible because, like the PC and the smartphone, virtual reality isn't so much a single technology as the happy coincidence of a bunch of related ones. Motion tracking, 3-D capture, ultra-high-resolution displays, fast graphics chips and a deep library of 3-D software developed for games and other applications are coming together at just the right time. Google, Facebook, Sony, HTC, Microsoft and countless smaller competitors have already made public their plans for VR, and given its hiring and patents in the area, it's likely Apple is working on it too.

VR is a technology that is truly in its infancy, despite decades of work in academia, industry and the military. Rapid progress in frame rates, displays, interfaces and more realistic rendering are already in everyone's development pipeline.

"Keep in mind, this is just the Atari 2600 of VR," says Cymatic Bruce, head of developer relations at Altspace VR, as he helps me take off a bulky headset I wore to experiment inside the company's VR play space.
Microsoft's release of Windows 10 appears to represent a change of focus for the software company since the product is now free but comes with a suite of features aimed at encouraging spending. The purchase of Minecraft last year and bundling an Xbox controller with every Oculus Rift when they are eventually shipped represent additional insights suggesting Microsoft sees its future as a media enabling platform rather than simply a spreadsheet builder and user interface.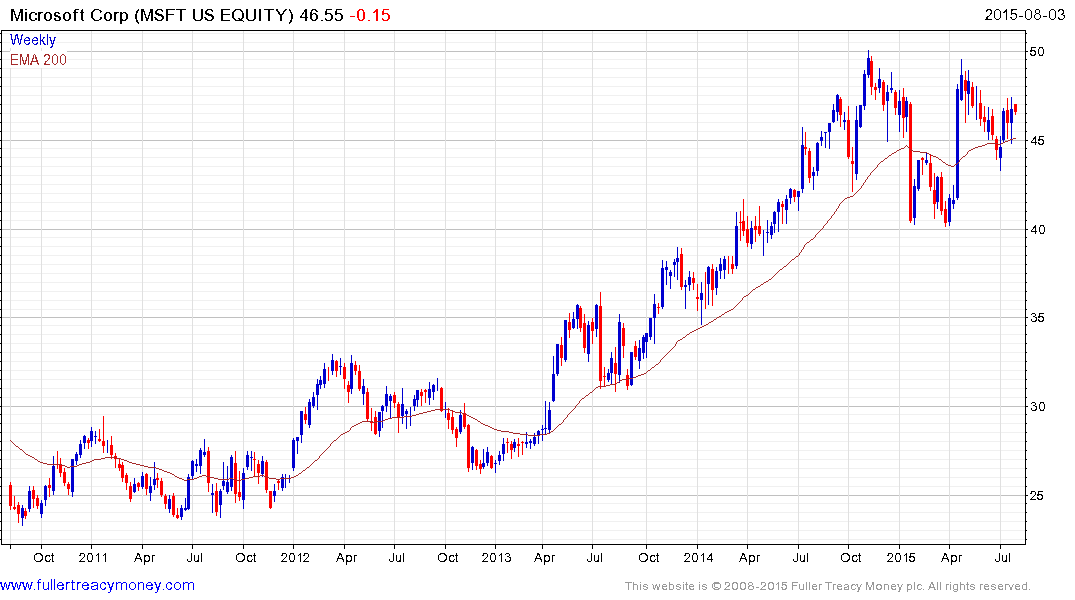 The share reflects this transition and has been ranging with some wild swings since October. It continues to find support in the region of the 200-day MA but will need to hold that level if potential for additional higher to lateral ranging is be given the benefit of the doubt.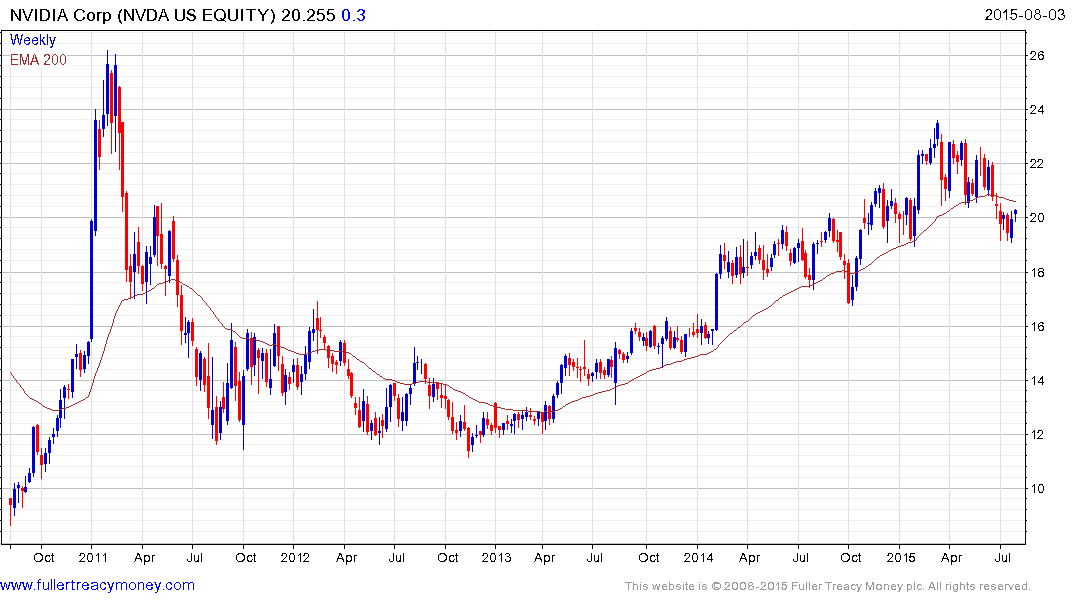 Nvidia dominates the graphics card sector and appears a natural beneficiary of potential demand growth for virtual reality systems. Over the course of the three-year uptrend the share has dipped below the trend mean but swiftly bounced back. It found support last week in the region of $19 and will need to sustain a move back above the 200-day MA, currently near $20.60, to confirm more than temporary support.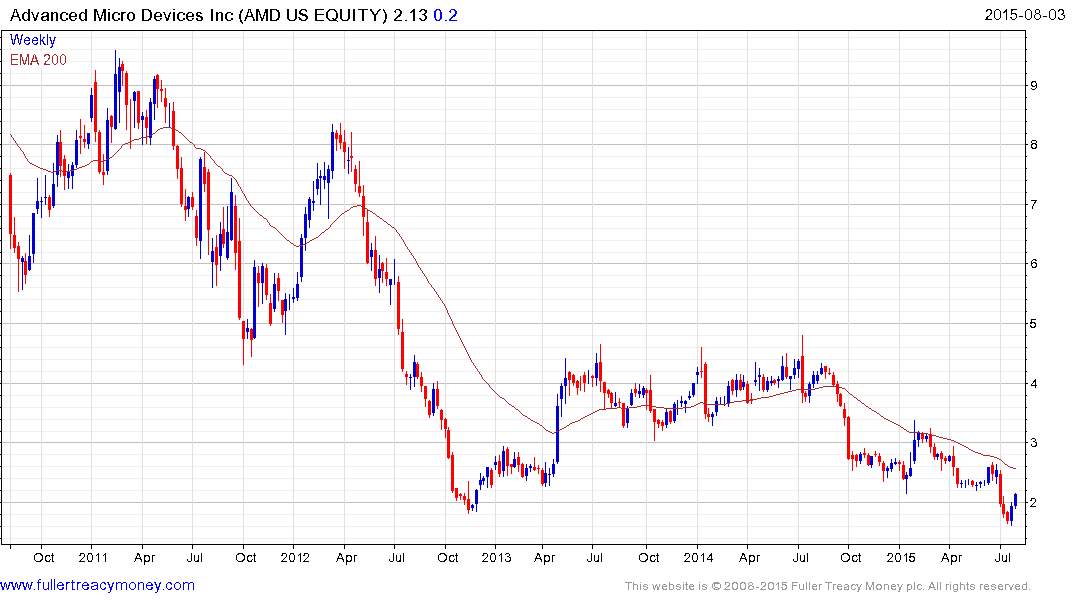 AMD is the other major graphics card manufacturer but the share has not enjoyed the same success. There is speculation that AMD and Qualcomm are exploring a merger which contributed to the share posting an upside weekly key reversal last week, raising potential for a further unwind of the oversold condition relative to the trend mean.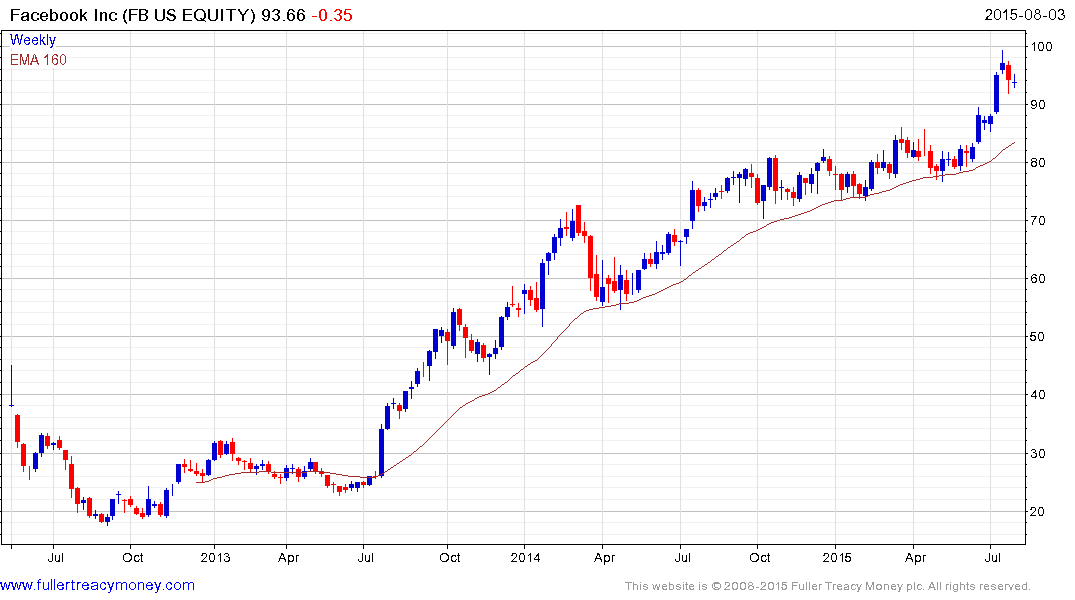 Facebook has so far held the majority of its recent breakout and a sustained move below the 200-day MA would be required to question medium-term scope for additional upside.
Back to top