Value creation in Chinese public hospital privatization
Thanks to a subscriber for this report from Deutsche Bank which focuses on the Chinese healthcare sector and may be of interest. Here is a section:
We expect the private healthcare service sector to outgrow the public sector in the mid/long term. We have identified three key growth drivers for the sector, including favorable policies towards private healthcare services, accelerated growth in capacity expansion and utilization, as well as rapid growth in commercial insurance coverage. We expect approximately 8,000 public hospitals will be privatized over the next 5-10 years due to policy shifts, which will create substantial growth opportunities for private service providers in the mid/long term. From 2005 to 2013, the CAGR of total beds in private hospitals was 22%, much higher than 7% of the public hospitals in the same period. We also anticipate the utilization rate will improve significantly over the next 5-10 years, from mid-60% to 80-90%. Additionally, the rapid growth of commercial insurance is likely to add another leg of growth for the private healthcare service sector.
​
We anticipate value creation on two fronts in public hospital reform, including growth acceleration after privatization and significant margin improvement, driven by change of incentive mechanisms and efficiency improvement respectively. According to past experience, revenue growth acceleration will be sustained for 3-4 years after takeover while it will take 4-5 years to reach approximately 10% net margin from breakeven. By our estimates, the order of ROI generation among four major business models is as follows: OT, IOT (invest, operate and transfer), equity ownership and greenfield hospitals. We highlight an approximate 4-5 year payback period for the IOT model and 10 years for the equity method.
The Communist Party understands that in order to hold onto power they need to deliver on improvements in standards of living. Finding work for much of the rural poor in factories and investing heavily in infrastructure fuelled growth for the last two decades and lifted hundreds of millions out of poverty. The current fire year plan has seen a refocus on improving human capital through investment in education, services, social security, sanitation, healthcare and the environment.
The hukou system of registration segregates rural from urban dwellers. In effect this means that many of the services urban dwellers take for granted are not available to those living in the country. Rolling out services to the hinterland represents a significant growth story for the healthcare sector.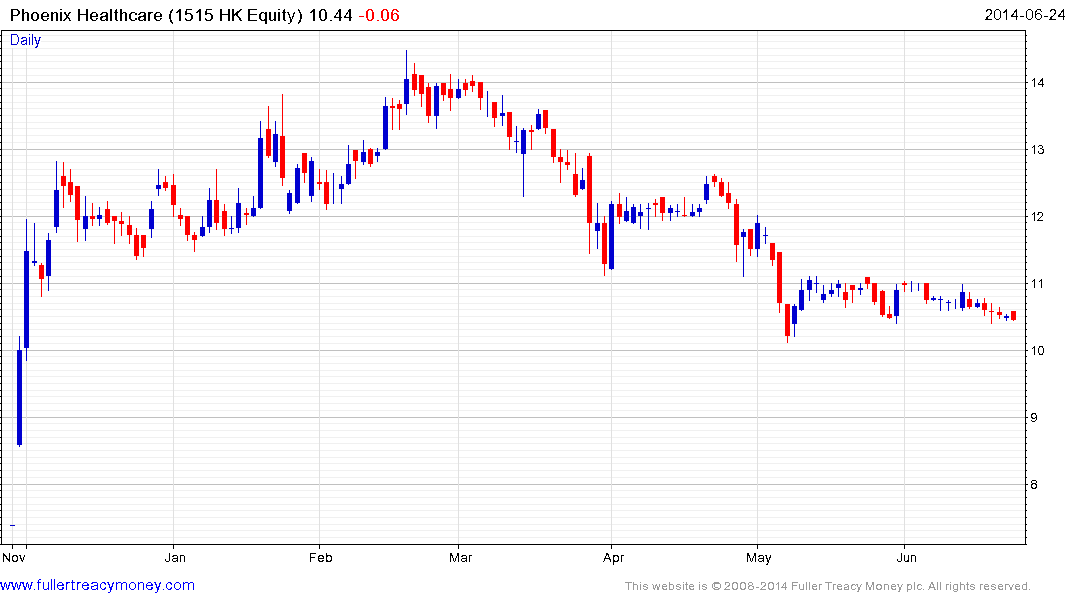 Phoenix Healthcare IPOed in November, hit a medium-term peak in February and has been ranging between HK$10 and HK$11 since early May. A sustained move above HK$11 would break the progression of lower rally highs and signal a return to demand dominance.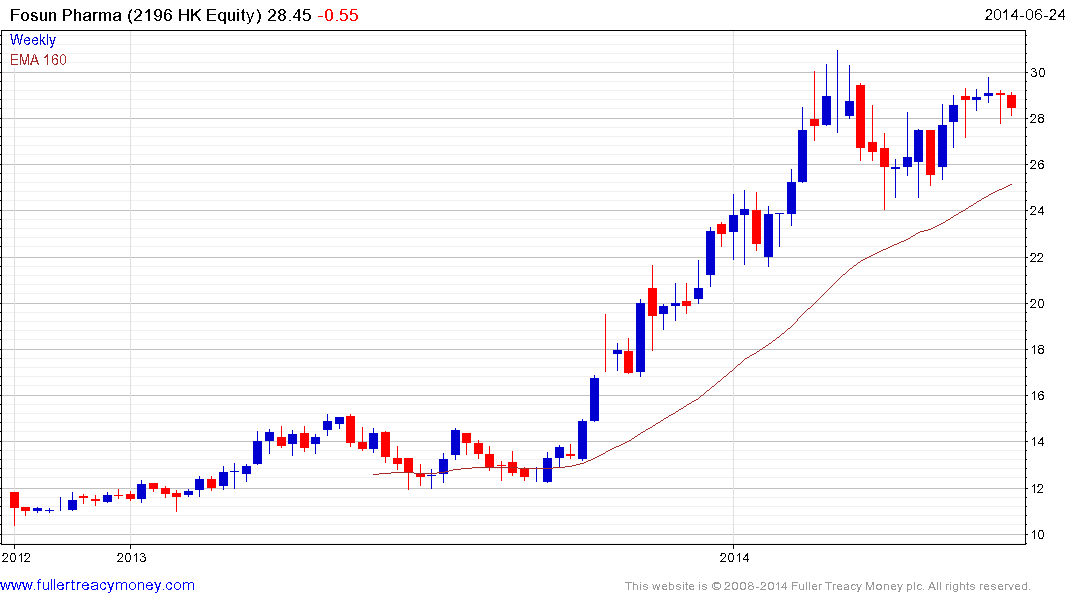 Fosun Pharmaceutical has been on an aggressive acquisition spree and the share lost upward momentum from March. Is has so far held the majority of its advance and a sustained move below HK$24 would be required to question medium-term scope for continued higher to lateral ranging.

Tong Ren Tang Technologies hit an accelerated peak a year ago and has been largely rangebound since. The share found support last week at the lower side and a sustained move below HK$11 would be required to question potential for an additional bounce.
Back to top