US-China rivalry will shape the 21st century
This article by Martin Wolf for the Financial Times may be of interest to subscribers. I found the comments section to be particularly enlightening because it highlights just how emotive this topic is. Here is a section:
China is a rival of the US on two dimensions: power and ideology. This combination of attributes might remind one of the clash with the Axis powers during the second world war or the cold war against the Soviet Union. China is of course very different. But it is also potentially far more potent. China's rising power, economic and political, is evident. According to the IMF, its gross domestic product per head in 2017 was 14 per cent of US levels at market prices and 28 per cent at purchasing power parity, up from 3 per cent and 8 per cent, respectively, in 2000. Yet, since China's population is more than four times as big as that of the US, its GDP in 2017 was 62 per cent of US levels at market prices and 119 per cent at PPP. Assume that by 2040, China achieves a relative GDP per head of 34 per cent at market prices and 50 per cent at PPP. This would imply a dramatic slowdown of the rate it is catching up (a fall of around 70 per cent from the rate since 2000, starting in 2023). China's economy would then be almost twice as big as that of the US at PPP and almost 30 per cent larger at market prices. (See charts.)
Here is a PDF of the article.

China is an increasingly confident ascendant power. The investments it is making in Europe, Africa and commodity producers are well reported upon while it is also a major holder of US Treasuries. It is also a middle-income country with a well telegraphed desire to become the world's pre-eminent power over the course of the next few decades.

Everything China is doing today, from securing long-term commodity supplies, to investing in infrastructure projects in order to form long-term relationships, to investing in technology and IT ability and infrastructure, to building up the domestic economy and migrating up the value chain in manufacturing are all aimed at achieving that long-term goal.

Singapore, and to a lessor extent Taiwan and South Korea, proved that a command and control-based model can deliver economic development. They are the examples China's magnification of the model are relying on for success.

There is a great deal of discussion on the challenges facing Europe and North America but China has challenges of its own, not least in its reliance on land sales and debt at the local government level. As it moves up the value chain the transition from a focus on infrastructure and property development represent challenges for the economy that do not appear to be considered by those predicting China's trajectory as undeniable.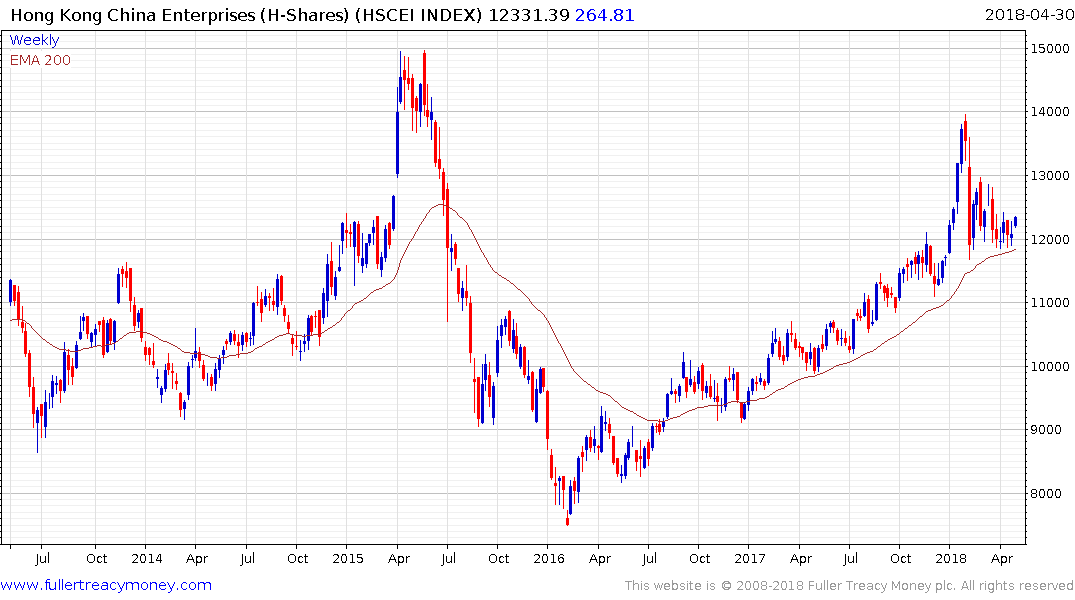 The stock market is a function of the command and control nature of the economy and falls victim to government intervention. The easing of reserve requirements and delay on tighter regulations of the financial sector have lent some respite to the market of late and the China Enterprises Index (H-Shares) in Hong Kong is showing increasing evidence of bouncing.
Back to top