Update: Bitcoin, Crypto and Digital Currencies
Thanks to a subscriber for this report from Morgan Stanley which may be of interest to subscribers. Here is a section:
Here is a link to the full report and here is a section from it:

Leverage drives prices up and down: A 900+% rally in bitcoin followed by over a 50% correction is typical for the volatility seen in bitcoin's history.
Bitcoin and other cryptocurrencies currently trade as speculative assets and not as currencies. We are not saying this cannot change in the future for any of these tokens.

Over the past year, prices were boosted by retail and institutional involvement but also increased leverage in the cryptocurrency industry. For example, leverage via futures (up to 100x levered), options, decentralized finance projects offering flash loans and the growth of USD-based stablecoin issuance.

China's historical participation via mining and exchanges has made its crackdown on the industry (bitcoin in particular), and speculative leverage overall, important. Miners are likely in the process of moving elsewhere (to use other energy sources) or cashing out, which has not helped prices.

Alt-coins outperformed bitcoin for a variety of reasons including: lower $ value so more chance of high percentage gains, momentum in prices increasing at times, worries about bitcoin energy usage and Ether's new money supply plan.
Leverage is a major component in any momentum move. It also tends to trend higher in line with prices as paper gains collateralise additional new position sizes. That inevitably raises the average purchase price and greatly increases the sensitivity of traders to even modest setbacks. The net result is that leverage trends higher but can just as easily evaporate as prices decline.
After a 50% decline, profits from leveraged trades on the way up to the March peak have been erased. It now means even ardent bulls need to source new funding to increase position sizes on margin. That's why companies like MicroStrategy are selling bonds to buy more bitcoin. That action helped the price to stabilise over the last few sessions. However, progressively more leverage and profits are required to reignite the momentum move.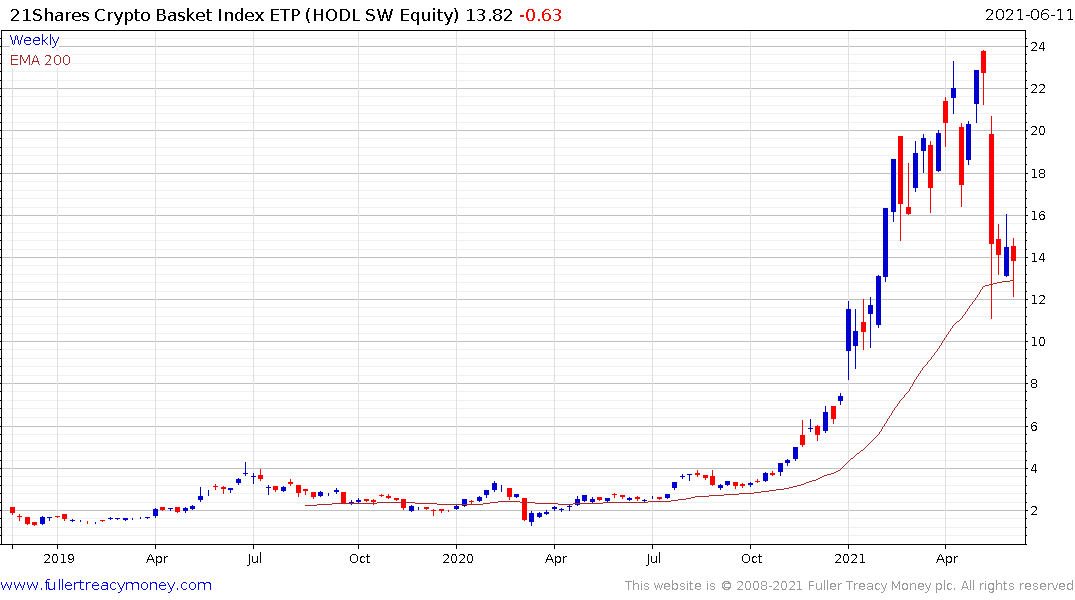 The 21Shares Crypto basket ETP is currently steadying in the region of the trend mean following an abrupt decline from its May peak. A potential lengthy period of support building will probably be required if a move to significantly higher levels is to be sustained.
Back to top