Unloved and Uninteresting, Gold Heads for Worst Year Since 2015
This article from Bloomberg may be of interest to subscribers. Here is a section:
One key factor has been a lack of interest from financial investors, who are crucial to driving gold's rallies. Holdings in exchange-traded funds have dropped almost 9% through the year, while hedge funds trading Comex futures have kept their bullion bets muted.

While the prospect of monetary tightening hurt gold's appeal, prices were supported by strong demand from Asian jewelry consumers and central bank buying.

The opposing drivers have left bullion hovering almost magnetically around the $1,800-an-ounce mark. While that's a historically high price, it will be disappointing to those who enjoyed the surge to a record in 2020.

However, the equilibrium between dip buyers and sellers may not hold for long. More gains in the dollar could spell misery. On the other hand, signs of persistent, runaway inflation could finally provide the spark needed for a sustainable gold rally.

BlackRock Inc.'s Evy Hambro said earlier this month that gold could climb in 2022, driven by a combination of real interest rates, U.S. dollar performance and demand for haven assets. However, analysts at JPMorgan Chase & Co. see gold coming under more pressure as the global economic recovery continues, forecasting an average price of $1,520 an ounce in the fourth quarter.

On the last day of 2021, gold edged up 0.3% to $1,820 an ounce by 1:04 p.m. in London. Silver also gained, while platinum and palladium declined. The Bloomberg Dollar Spot Index weakened.
In a market accustomed to instant gratification, gold has been conspicuously quiet. 2021 delivered meme stocks with no earnings or prospects, yet they soared to unimaginable levels. We've also seen grainy jpegs achieve prices comparable to those of the great masters. It was also a year when the FANGMANT shares persisted in gaining market share which supported the dominance of Wall Street in currency adjusted terms.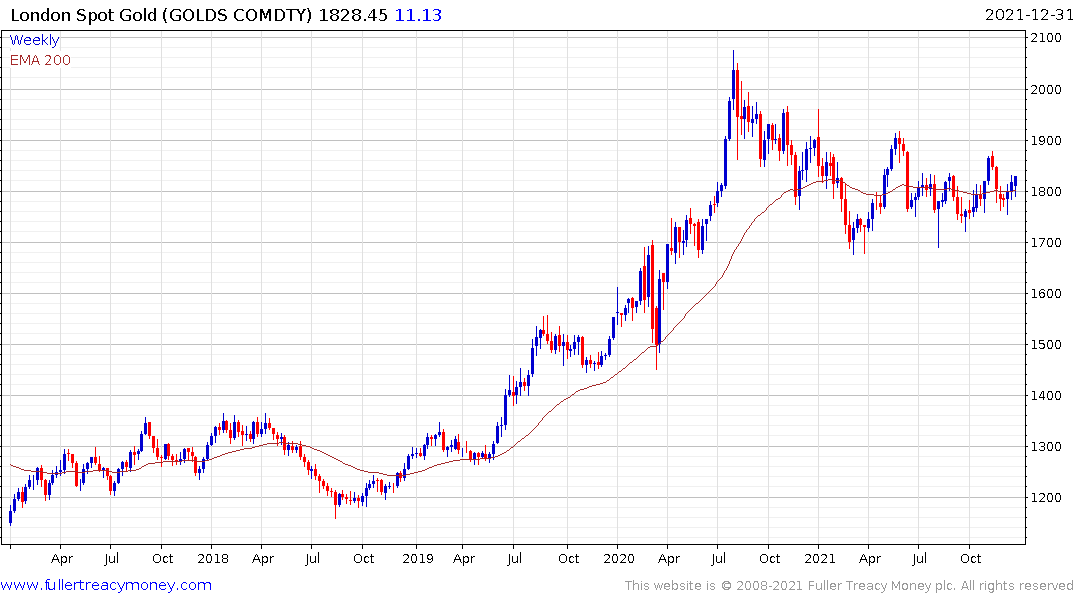 2021 was a year for stock investors who stuck with what has worked for the last decade but also for those willing to throw caution to the wind and invest in the most speculative of assets. Against that background gold was quite volatile without really going anywhere. All it succeeded in doing was frustrating most people who bought it.

The pattern of trading has changed over the last six months. It is characterised by a range with narrowing breadth. The decline from the August 2020 peak bottomed in March. Since then, a sequence of higher reaction lows has been evident. One of the biggest lessons from The Chart Seminar is "ranges are explosions waiting to happen". The catalyst for a breakout could be the Dollar, debt, the renminbi, Iran, Ukraine, or any of a host of other factors. The thing to remember is when the breakout comes it should unleash waves of new buying.
Back to top